A cat window perch, hammock (has a stretch surface supported by a sturdy frame), bed or seat is an elevated platform attached to the window (windowpane or windowsill) for sunbathing, lounging, taking a nap, viewing scenery and so on. Besides those with a shelf-like flat platform, you can also buy box and pod types.
Cat's love being on elevated places and perches are beneficial to them, i.e., for their happiness, wellbeing, and health. They will help make them feel secure, give them a chance to exercise as they leap on to them, participate in their instinctive nature like hunting, reduce boredom, and stimulate your cat, etcetera. 
At a glance: Top picks
Best cat window perches to buy
Window perches are a must-have for all cats and kittens above six months. For kitties with mobility problems or those that are overweight or old, consider giving them an access ladder. Besides window perches, you can also buy wall mounted cat perches, as well as scratching posts or cat tree with perches.
Why let your kitty try to perch on the cabinet, sofa, table, dresser, TV armoire, cabinet, windowsill or ledge when you can get a quality perch at a very affordable price? It will also provide extra vertical space, keep your kitty occupied and healthy and people with smaller houses require it more.
Here are the best cat window perches, beds, seats, or hammocks. You will get them at your local pet store or Amazon, PetSmart, Petco, Chewy, Chewy, Martha and Stewart as well as Bed Bath and Beyond, among other places.
1. K&H Pet Products Deluxe Kitty Sill Perch – No Suction Cups
K&H Pet Products Deluxe Kitty Sill is a premium quality, sturdy and comfortable indoor cat window perch perfect for sunbathing, naps, or viewing the beautiful outdoor scenery. You will love every aspect of this aesthetically appealing oval-shaped, easy to care, and very functional perch.
Key benefits
It comes with an easy to clean (machine washable) removable cover, available in various colors if you want to match or compliment it with your house décor.
You don't need special tools or skills to install it. Just fasten it with hook & loop fasteners that accompany it, something good for people in rental homes. However, it comes with screws for permanent installation to attach it to the window sill.
It has a cozy sleeping surface that offers orthopedic support, thanks to the very comfy orthopedic foam.
This Deluxe Kitty Sill Perch has a detachable (zip-off) bolster that provides extra comfort if your cat loves snuggling or something to cuddle. However, if you don't need the bolster, some versions don't have it, or you can just remove it.
It's sturdy to accommodate large cats.
Additional information
Measurements: The top is 14″ x 24″ while legs are ¾ of an inch in width and 8 inches from their bottom to the window seal.
Warranty: 1 year
Colors: Tan kitty print and leopard print for bolstered and zebra print while the one without bolster comes in zebra and fleece.
Maximum weight: Safe for to kitties weight up to 40-pound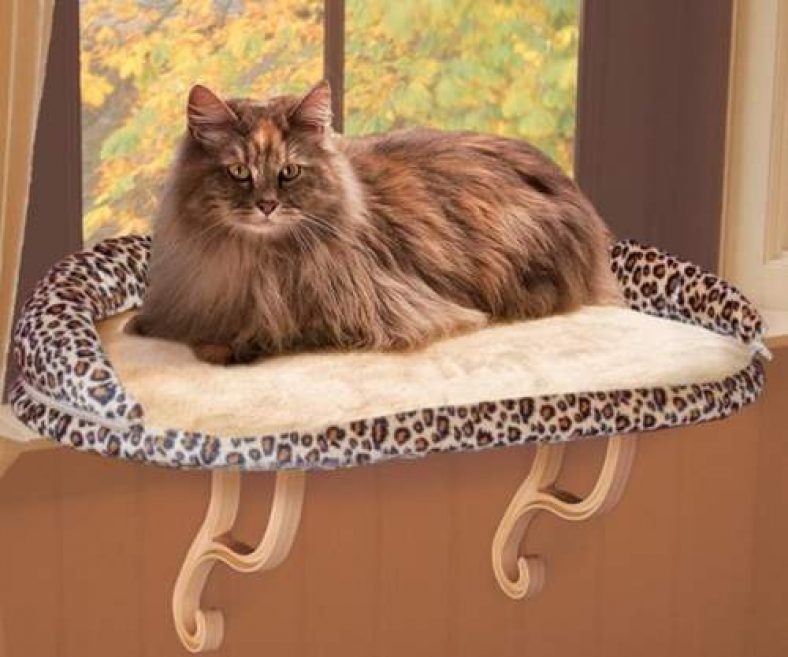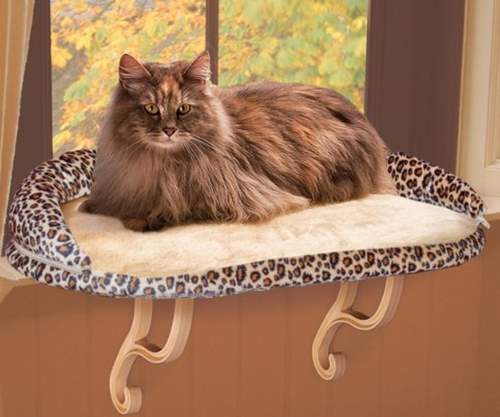 If you live in a place with a freezing climate, you can opt for the Thermo-Kitty Sill, which is an energy-efficient (uses 6 watts), thermostatically controlled, and MET listed heated perch. Your feline friend will find it very enticing.
2. Kitty Cot Original World's Best Cat Perch
Arguably as one of the best cat perch, the Kitty Cot Original World's Best Cat Perch comes in small, medium, or large.
Give young or old cats a chance will enjoy sunbathing, birdwatching, especially if you place it next to a bird feeder and remain mentally stimulated. If your kitty is a snuggling bug, consider adding her favorite blanket on top of the perch for added comfort and warmth.
Key benefits
Kitty Cot Deluxe Kitty Cot that will allow you to use your curtains, shades, and blinds without removing it. Just unclip the wire for it to roll downwards.
Easy to install. You only need to attach the suction cups to any non-porous smooth surface, including mirrors and windows. You don't need any tools.
It is durable and ideal for indoor and outdoor use. The rugged and tough nylon mesh is perfect indoor or outdoor weather. Similarly, the PVC pipe and fitting for the small, medium, or large or the lightweight a quarter steel rod frames for the deluxe can withstand outdoor conditions.
Easy to clean. You only need water and soap, nothing more.
Additional information
Maximum weight: Safe for up to 25-pound cat
Average sizes: The small, medium, and large have a depth of 14 inches width (outside to outside of suction cups) of 19.5, 22.5, and 25.5 inches, respectively, while the deluxe 12″ deep and width of 25.5 inches.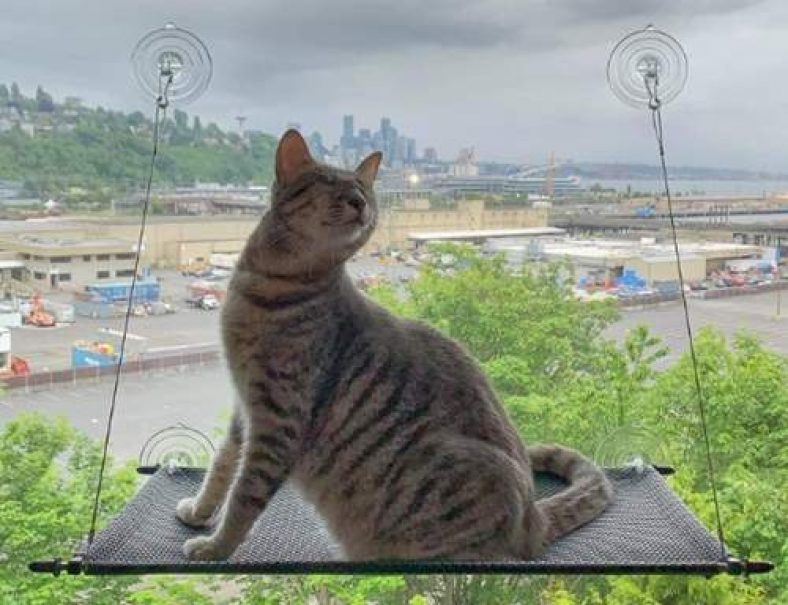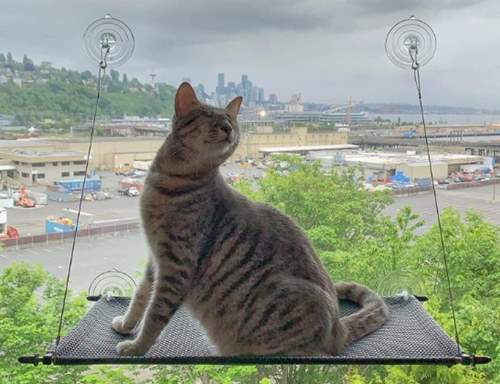 3. PEFUNY Cat Window Perch Cat Hammock Window Seat Cat Bed for Large Cats
Pefuny Cat Window Hammock Perch is not just one of the best-rated brands but also the most selling cat window perch on Amazon.com. They can't all be wrong.
It will give it will offer your kitty 360 degrees of view for bird watching, sceneries, or sunbathe. You will like everything about this window perch, from its features to price.
Key benefits
It has a durable, intuitive design with sturdy, eco-friendly ABS tubes (not PVC), an easy to maintain or wash durable and tough rugged outdoor waterproof fabric plus a free super soft flannel mat for indoor use.
Very safe and reliable. It uses 3-inch strong industrial-grade suction cups, powerful enough to support large kitties without dropping and 2mm stainless steel cable.
Easy to install. You don't need special skills or any tool.
Cost less than $20.
Very stable, thanks to the added rob clip slot to its ABS frame structure to prevent the rope from slipping.
Additional information
Maximum weight: Suitable for up to 40-pound felines.
After-sales service: They offer refund or replacement if you get a defective piece.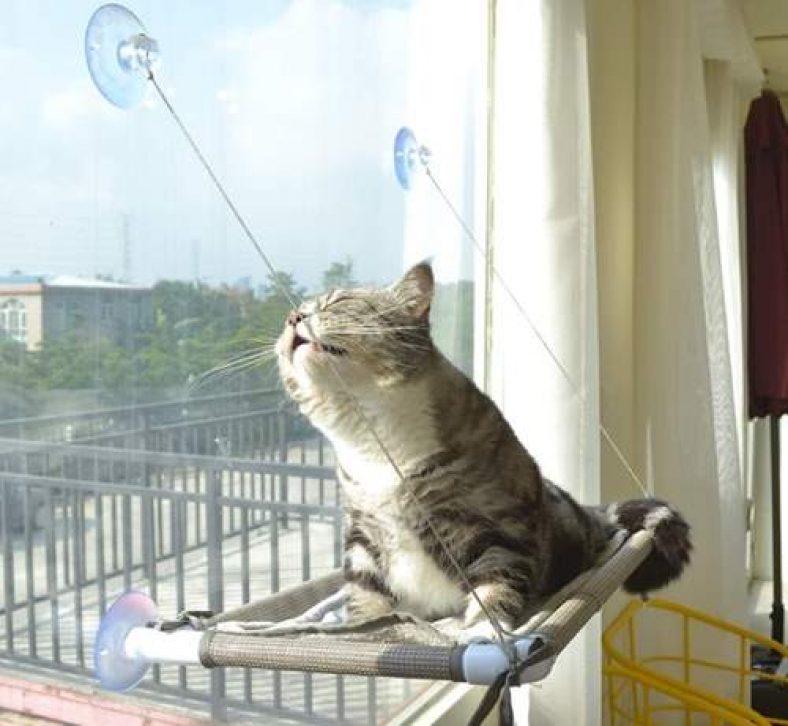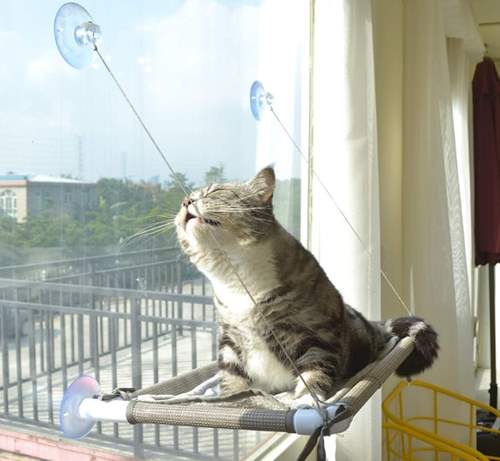 4. PetFusion Ultimate Cat Window Climbing Perch
What makes PetFusion Ultimate Cat Window Climbing Perch a unique brand to buy is the fact that it has a cat window perch with a climbing or scratching pole. It will give your kitties perch for snuggling, viewing outside, sunbathing, etcetera, and scratching and climbing pole.
Key benefits
Best deal ever. For a price below $70, you receive a climbing and scratching sisal post, two density fiberboard (MDF), three strong suction cups, a sleeping pad, and catnip leaf (organically grown in the USA) to entice your kitty.
Very stable. Besides the 16 inches by 12 inches 1-inch thick base, it has three strong suction cups for attachment to the window.
It is more fun, interactive, and easy to access, i.e., it is easy to access via the climbing post and then via the open left platform as well as satisfy natural scratching or climbing instincts.
Safe for cats. The premium E0, medium-density fiberboard (MDF) passes formaldehyde safety regulations while the product passes much stringent European REACH standards.
Additional information
Dimensions: The perch measures 21 inches by 21 inches with a small open left place for access while the replaceable sisal post is 15 inches high.
Warranty: 1 year covering any manufacturer defects.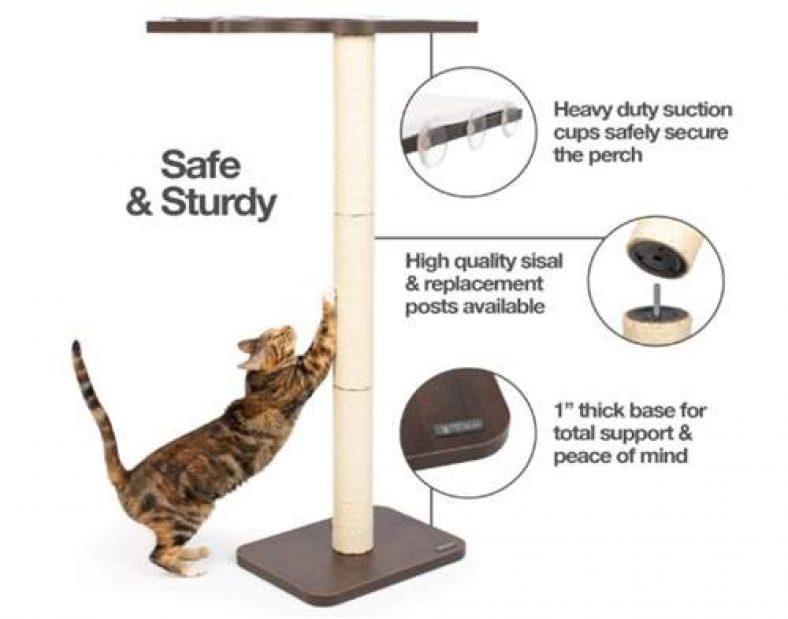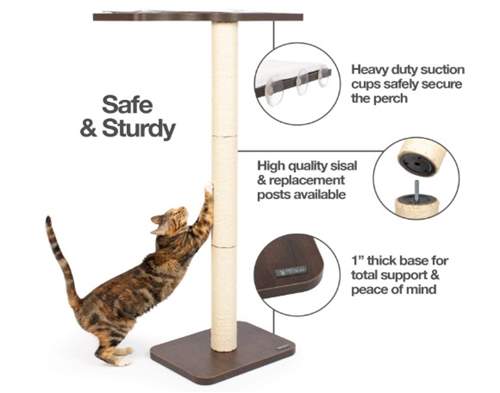 5. PETPAWJOY Cat Bed, Cat Window Perch Window Seat Hammock
Whether you live in a large mansion or a smaller city apartment, this brand by PETPAWJOY is an excellent affordable choice. It will give your kitty a magnificent outdoor view, a chance to sunbathe or snuggle while staying above everything, and feeling more secure.
Key benefits:
Durable and strong. It is made with PVC pipe, stainless steel wire, and covered with machine-washable oxford clothe to ensure it doesn't overheat, and it is easy to clean. During winter, just add your cat blanket to keep her warm.
Allows 360 degrees sunbathing without your kitty having to her position to catch sun rays as long as the sung is still up.
It has industrial strength suction cups to allow your cat to jump in or out of it without it dropping.
Easy to install. The whole process is easy and straightforward. No special tools or skills needed.
Additional information
Measurements: It is 22 inches long, 12 inches wide, and 1.5 thick, a 23-inch stainless steel cord and a 3.3-inch suction cup.
Maximum weight: Safe for up to 30pound kitties
Warranty: 1-year warranty and lifetime free support.
Refund policy: 100% refund within up to the first 30 days.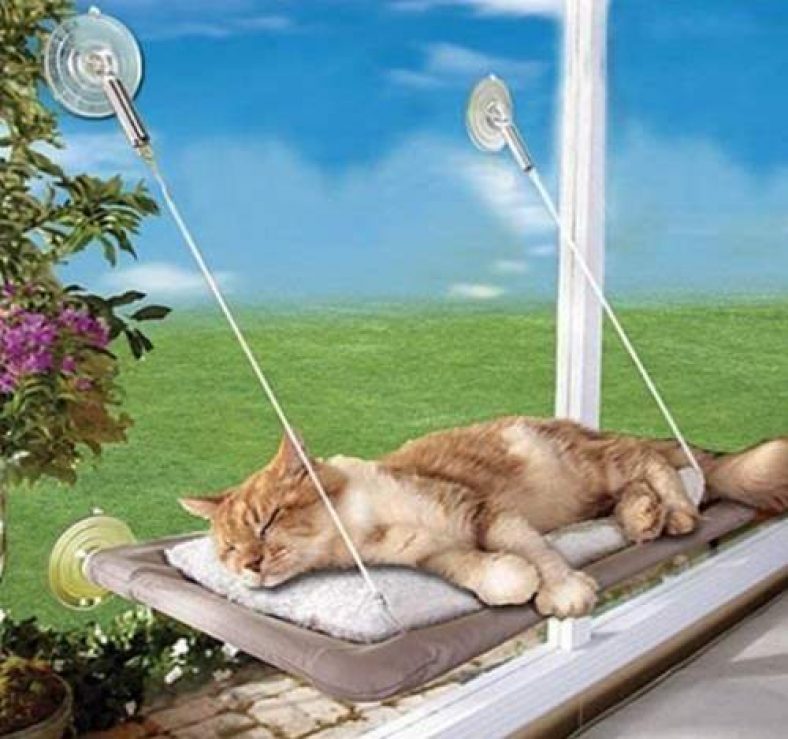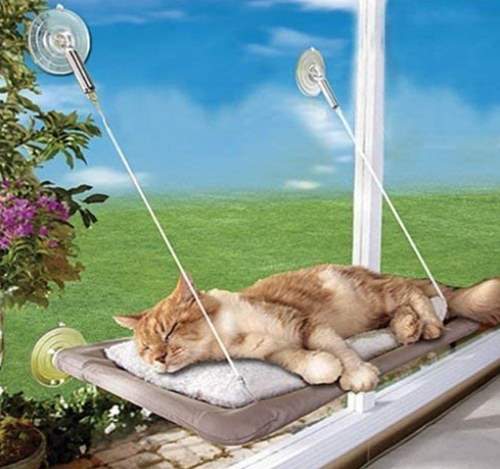 6. K&H Pet Products EZ Mount Double Stack Kitty Sill Cat Window Perch
K&H Pet Products EZ Mount Double Stack Kitty Sill Window Perch is beautiful double perch that will provide a vantage view inside and outside your house, a place to sunbathe, relax or snooze. Two cats can also use it.
Alternatively, you can pick as EZ Window Mount, including one with a bolster for extra comfort, if you don't like the double stack. Whichever you choose, you get a pack of simplicity, durability, and unmatched versatility.
Key benefits
Both the single and stacked perches allow you to use your blinds, shades, or curtains if you fold it. Just fold it up. Why struggle removing it every evening or when you want your curtains up?
Easy to maintain. The removable cover and the bolster are machine-washable. You will remove it without mounting off the perch. Isn't this a feature you would want?
Easy to install and very powerful suction cups that can hold up to 100 pounds. The perch comes with a pair of giant push cups as well as another pair of push' n' turn suction cups for ultimate strength, making it ideal for even huge cats.
Unlike most of its competitors that use PVC, its frame is made with fine reinforce steel that is appealing, strong, and very durable.
The second level perch has a hole to allow easy movement to and from this level.
Additional information
Warranty: 1 year
Colors: Grey.
Dimensions: 12 inches in length and 23 in width
Maximum weight: safe for up to 100 pounds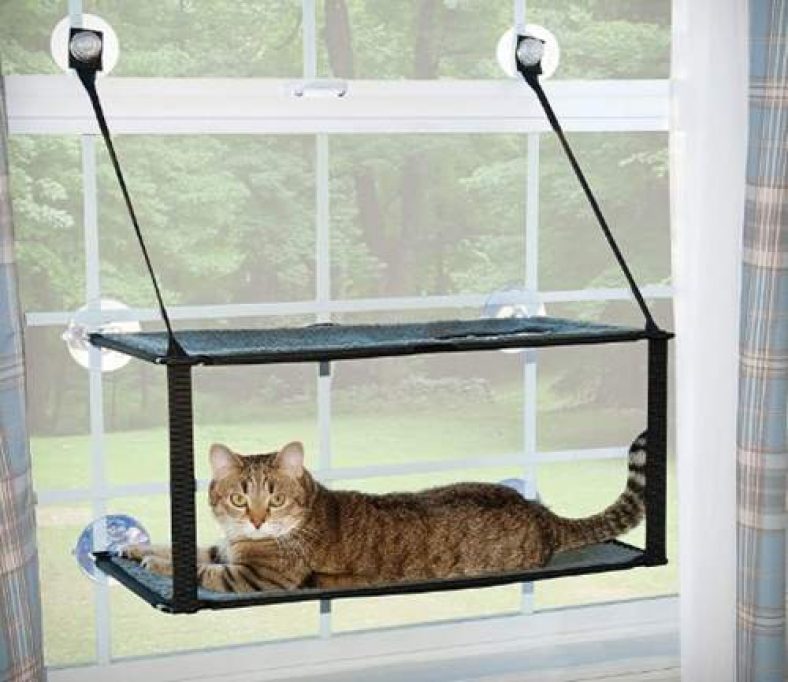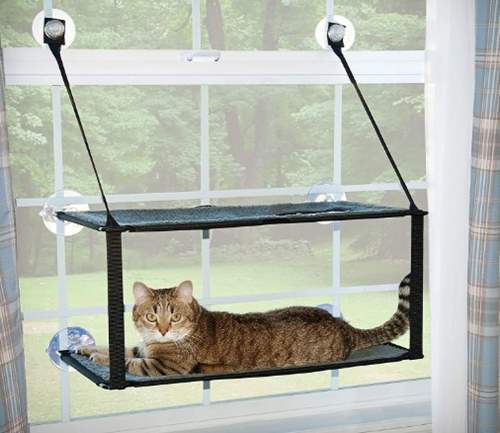 If you want to try something else, a good alternative is the Bobby Pet Big Cat Window Perch for Multi Cats. Also, K&H Pet Products has:
Kitty Sill Cradle – EZ Mount Scratcher and refill
Kitty Sill – EZ Mount Scratcher and Refill
K&H Pet Products EZ Mount Penthouse
K&H Pet Products Universal Mount Kitty Sill) with cardboard track or with hood
7. LSAIFATER All around 360° Sunbath and Lower Support Safety Iron Cat Window Perch
With this LSAIFATER Cat Window Perch or Hammock Window Seat, your kitties enjoy the sunshine from 360 degrees, snuggle or watch everything scenery from a vantage point with extra comfort.
Key benefits
Sturdy and strong. The window perch has powerful suction cups and a sturdy iron and steels frames to give it the extra strength it needs in case you have a large cat.
Easy and effortless to assemble. No tools needed. Just follow the provided instruction
The machine-washable, easy to clean, rugged, waterproof, quick-drying fabric mat is easy to maintain.
LSAIFATER offers Free and speedy replacement for any faulty or missing part.
Additional information
Measurements: The hammock area is 23.62 inches wide by 11.81 inches deep while the support is 13 inches high.
Maximum weight: It can hold kitties up to 50 pounds without dropping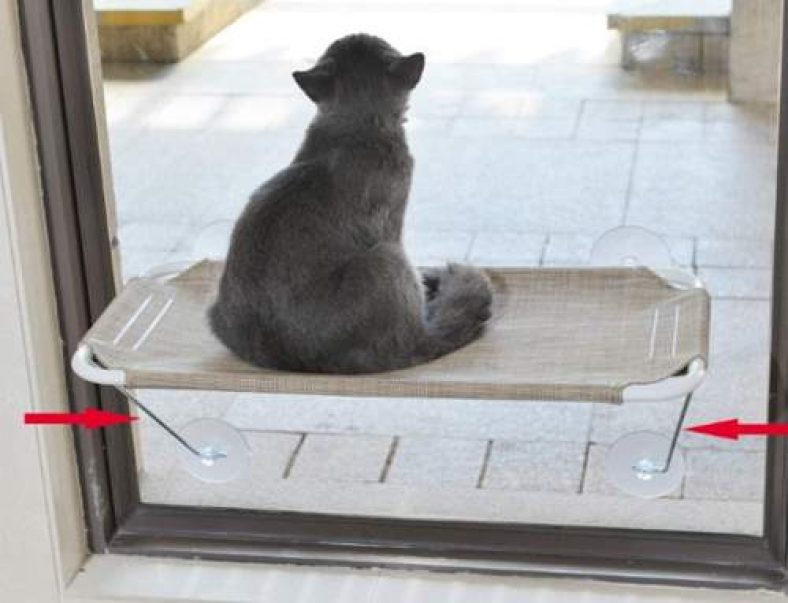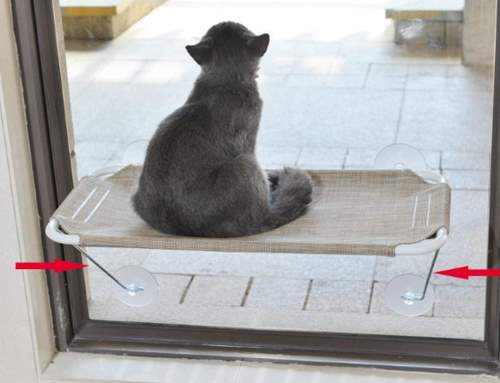 8. NOYAL Cat Resting Seat Perch Window Hammock Cats Kitty Safety Bed
If you have a cat below 30 pounds, NOYAL Cat Resting Seat Perch Window Hammock Cats Kitty Safety Bed is an affordable, comfortable and durable choice.
Key benefits
Sturdy, safe, and comfortable. The window seat has stainless steel cords, strong 3.3-inch industrial-strength suction cups, and sturdy plastic frame and oxford cloth.
The oxford cloth cover is breathable to prevent a cat's body overheating, very comfortable, and easy to maintain, i.e., hand washable.
Easy to install on glass doors or windows.
You receive two extra suction cups.
Additional information
Measurements: 21.25 inches wide x 12.625 inches deep and x 1.25 inches thick, has 26-inch stainless steel code and 3.3-inch suction cups.
Maximum weight: Safe for cats weighing up to 30 pounds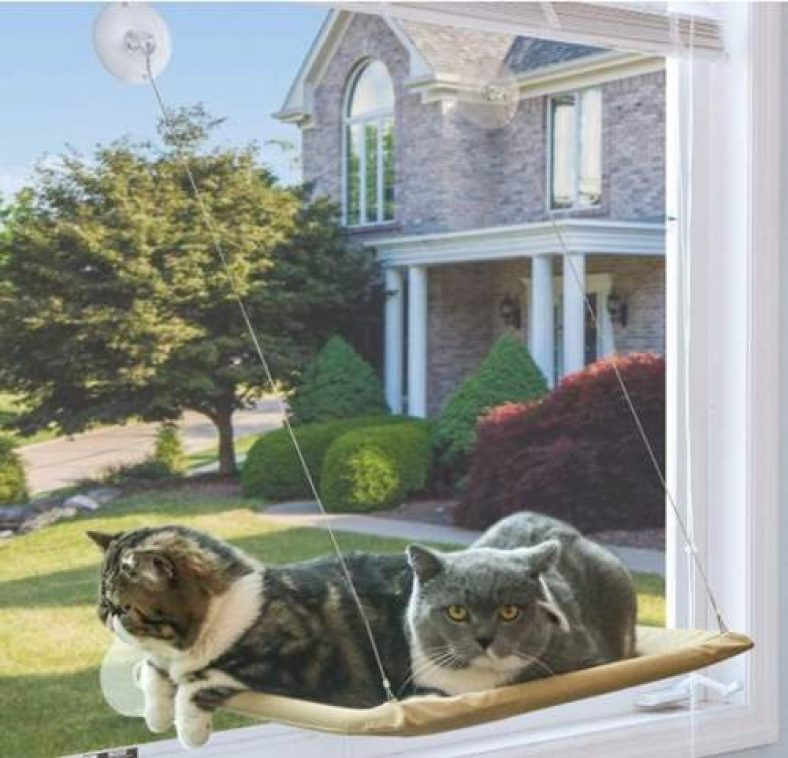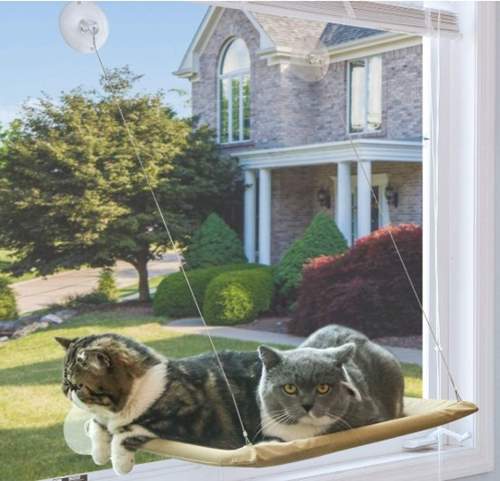 9. K&H PET PRODUCTS EZ Mount Window Bed Kitty Sill
If your kitty prefers to snuggle on your windowsill, consider buying her the K&H PET PRODUCTS EZ Mount Window Bed Kitty Sill, which will provide a comfy place while allowing her to see birds, scenery, or sunbathe.
Key benefits
It comes with proven industrial suction cups that will firmly mount it to virtually any window within no time and can accommodate large cats of up to 60 pounds.
This window bed has an open top for easy access by your kitty as well as allows her to have a great view, especially bird watching.
It has the Amazin' Kitty Pad, which will provide a soft, warm, and cozy surface for hours of sleeping or watching outside or indoors.
Additional information
Warranty: 1 year limited
Dimensions: 11 inches by 27 inches
Colors: Tan and green
Maximum weight: Safe for up to 60 pounds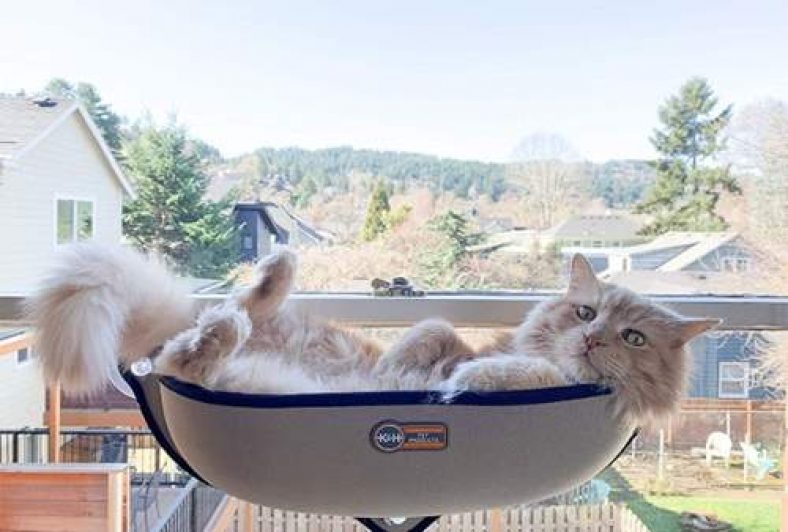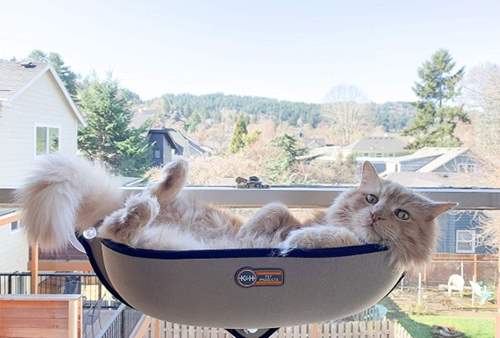 Besides the Kitty Face Window Bed, K&H Pet Products also have never version, the EZ Mount Kitty Face Window Bed. Also, you could opt for the EZ Mount Window Bubble or the EZ Mount Window Pod, which will are equally good.
10. Selify Cat Window Hammock Extra Large and Sturdy – Holds Two Large Cats
Selify's premium cat window hammock that will give your furry friend a luxurious and cozy place for snoozing, sunbathing, birdwatching, or relaxing. Buy it if you don't want something that will often tumble down or break with no time.
Key benefits
Sturdy, safe, and durable. The frame is made with heavy-duty ABS tubing supported by stainless rings and soft rubber coved stainless codes, while the shelf surface has a durable, breathable, food-grade mesh without any chemicals or smell.
It has a very soft, cozy, or easy to wash (machine washable) fleece cushion to ensure your kitty feels comfortable.
Selfy window hammock has a potent 3.5-inch suction cups that can support up to 60 pounds of weight
You get a free fun feather cat toy that will give your kitty a prolonged time of fun.
Easy to install. You don't need any tools.
Additional information
Maximum weight: Can hold two cats with a combined weight below 60 pounds.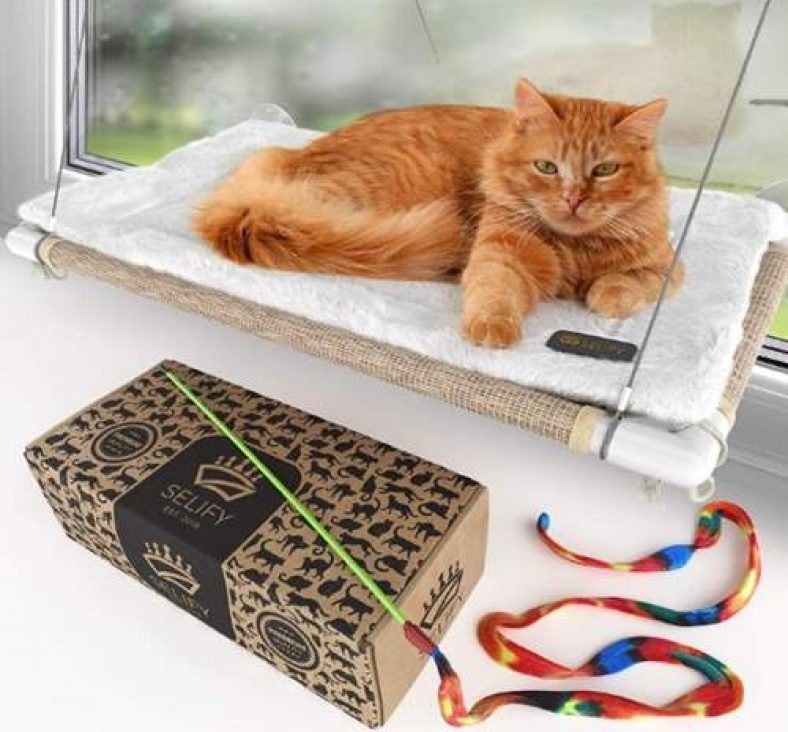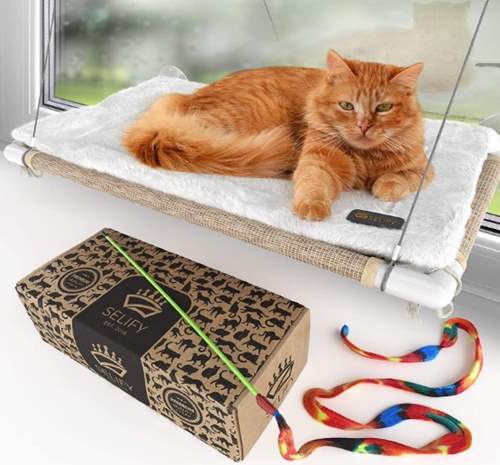 11. Angela & Alex Window Cat Bed, Seat or Perch Bed Hammock
Angela & Alex cat perch, bed or hammock will save space and give your one or two kitties a chance enjoy 360º sunbathing, great views, and the comfort.
It has a sturdy PVC tube frame, very comfortable easy to wash, and breathable oxford cloth to prevent overheating, and highly effective suction cups and stainless steel code that can support up to 60 pounds.
Finally, it is effortless to mount, and you will also receive two extra suction cups and not spend more than $20.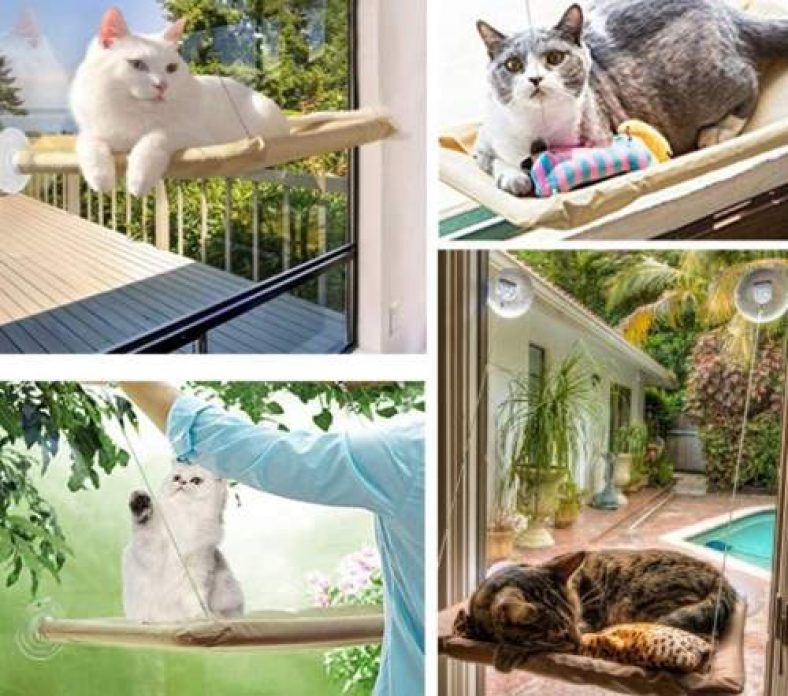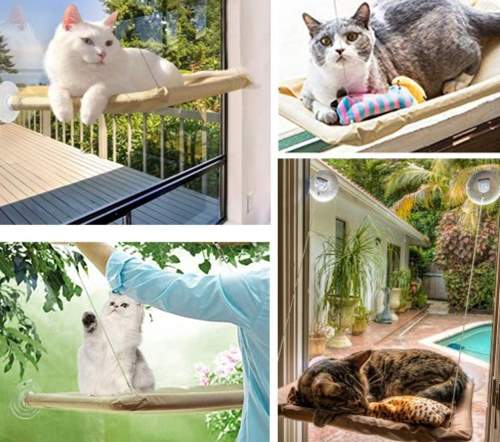 14. ZALALOVA Window Cat Seat, Cat Window Perch Hammock Space Saving Design
Save space and give your kitty a remarkable vertical space with ZALALOVA Window Cat Hammock. You will also receive a free sisal cat toy and two extra suction cups.
Measuring 21.5″ x 12.8″, ZALALOVA has a sturdy PVC pipe frame, strong suction cups (with a 3.3-inch diameter) that can hold up to 50 pounds of weight, and a high density woven machine-washable, breathable oxford cloth cover.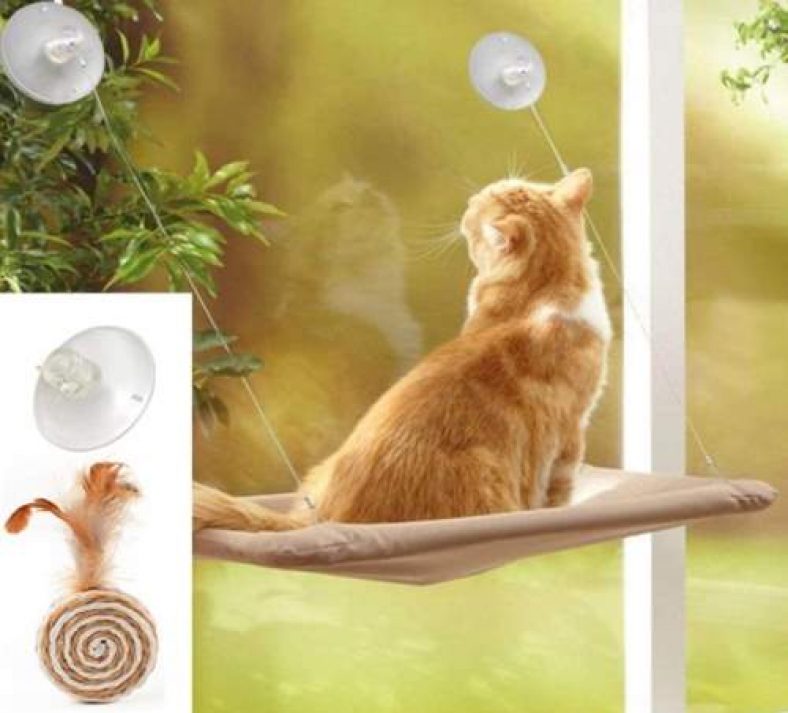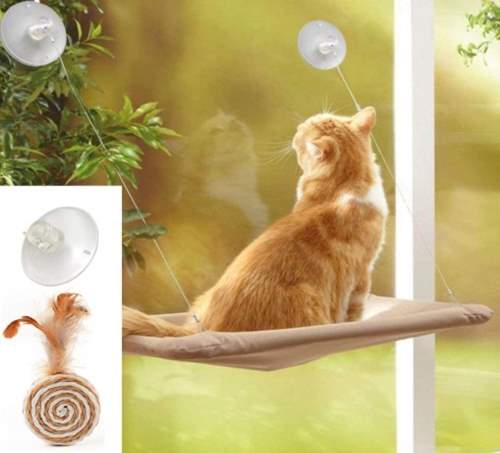 12. Orangelight Cat Window Hammock Perch Bed – Most affordable
Do you have a window measuring at least 24 inches by 26 inches? Orangelight Cat Hammock is what you need to add an extra space-saving vertical dimension for your kitty. It will offer 360º sunbathing while enjoying outdoor sceneries.
Don't worry about safety, durability, and price. It has a very tough PVC frame, chew-resistant stainless steel cables, and a comfortable a bite and scratch-resistant, breathable oxford cloth cover to prevent overheating.
Finally, this brand that measures 23.62×13.79 inches is the cheapest cat window perch going for less than $14, and its strong 3.35-inch suction cups can hold up to 40 pounds of weight. You still in doubt; everyone has rated it highly!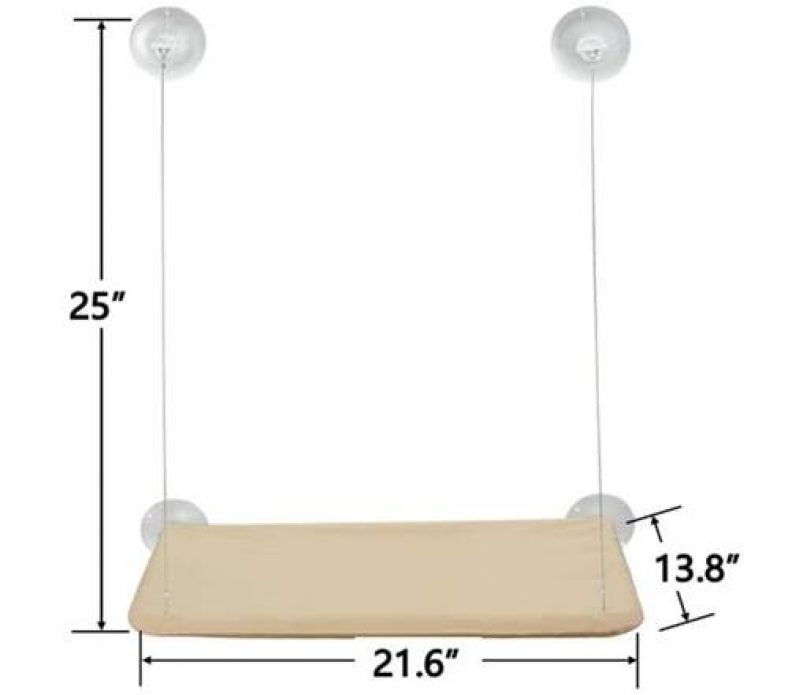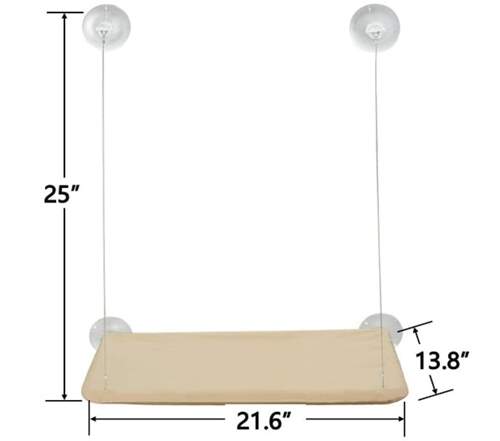 13. Pawslife Deluxe Window Cat Perch
If you are among people who don't prefer a window cat perch that uses suction cups, the luxurious and exquisite Pawslife Deluxe Window Cat Perch will be a great way to give your kitty a place to lounge, sunbathe, watch scenery or snooze.
It is very secure and easy to install, has a comfortable surface made with 60% medium density foam, and has a removable polyester cover.
Deluxe Window Cat Perch from Pawslife is easy to assemble, measures 24″ W x 12″ and is for indoor use only. You will like it.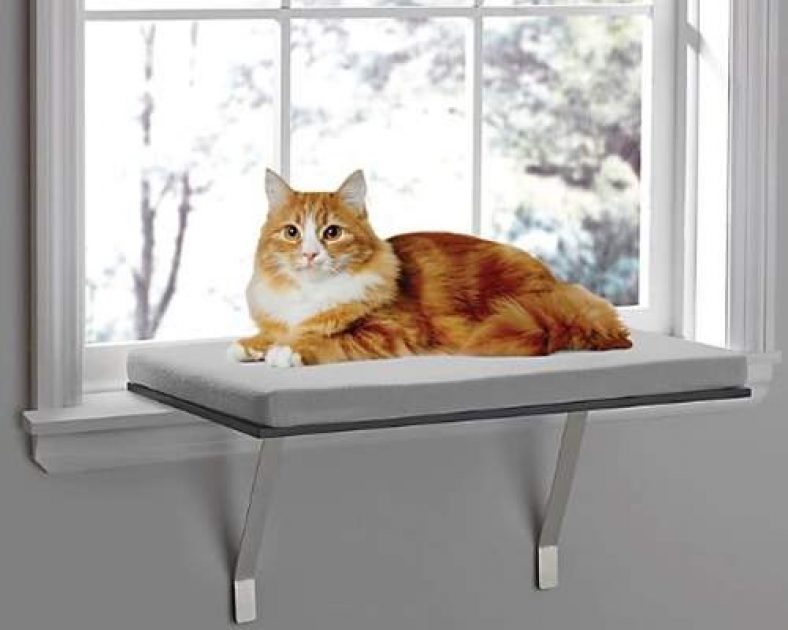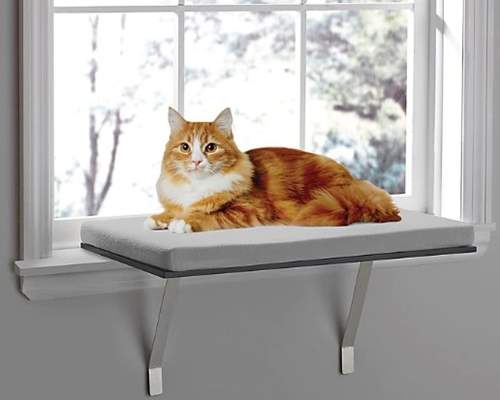 14. You & Me Memory Foam Window Cat Perch
You & Me Memory Foam Window Cat Perch is a classy and robust feline perch without suction cups. It has a memory foam mat to provide extra comfort, an easy to wash removable fleece cover, and industrial strength hook and loop for anchoring it to your windowsill.
You don't need any tools to fix it, and it will look great inside your house. Your cats won't help to notice or like it.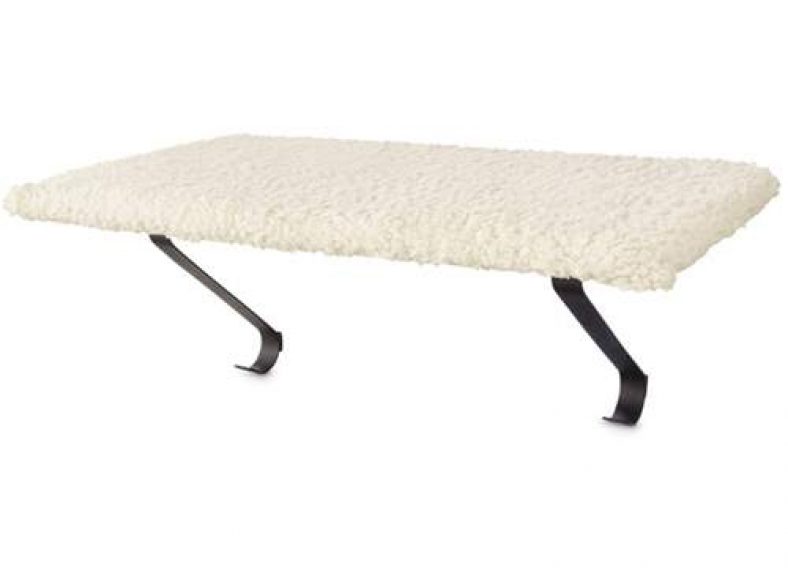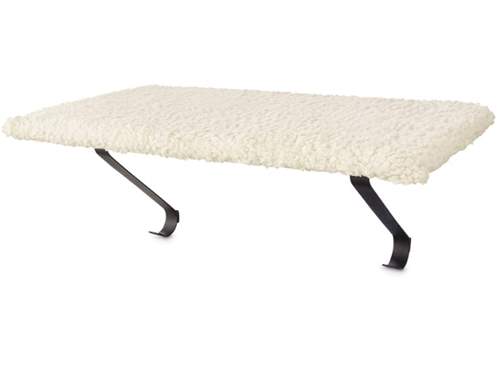 15. Camlinbo Cat Hammock Bed, Cat Window Perch for Large Big Cat Shelves
Do you need a cat window perch or hammock with a large shelf for two kitties? Camlinbo is a perfect choice. It has four large (3.5 inches) suction cups that can hold up to 70 pounds, stainless steel cords, and measures 28.5 inches by 15 inches.
The durable and high-quality food-grade and breathable placemat materials are easy to clean and maintain, while the sturdy tubing frame will ensure it serves for a long time. It can withstand cats jumping on it without tumbling down.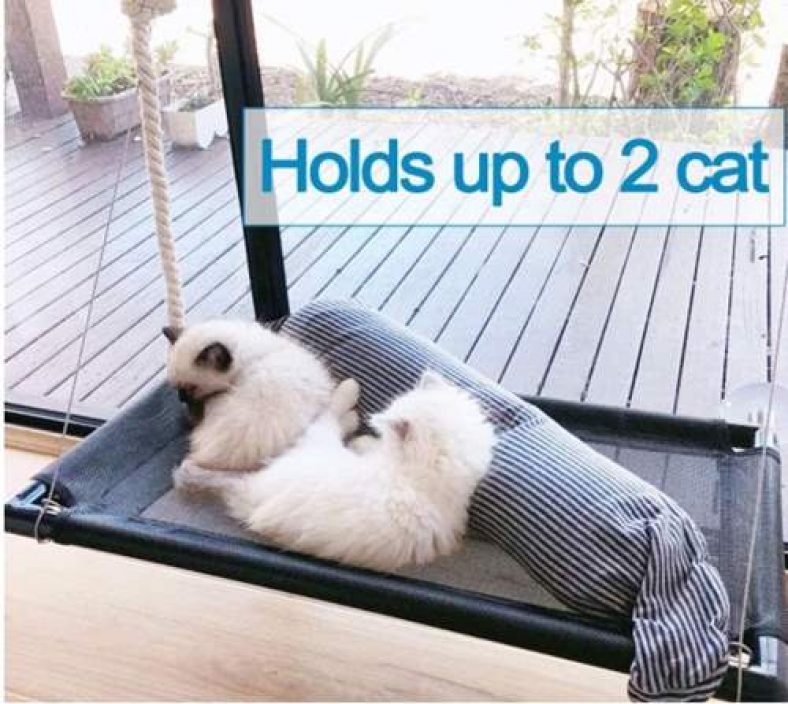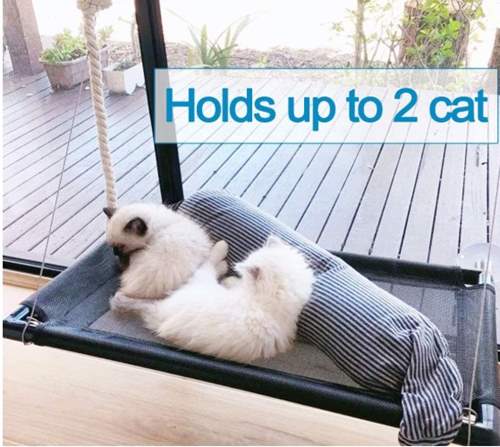 16. Oster Sunny Seat Window-Mounted Cat Bed
Oster Sunny Seat Window-Mounted Cat Bed has industrial strength suction cups. A high grade reinforced plastic frame that will last long and removable machine washable, highly durable machine washable polyester cover.
While it is one of the most voted cat window perch (hammock or bed), a few people say it is not authentic and from Oster.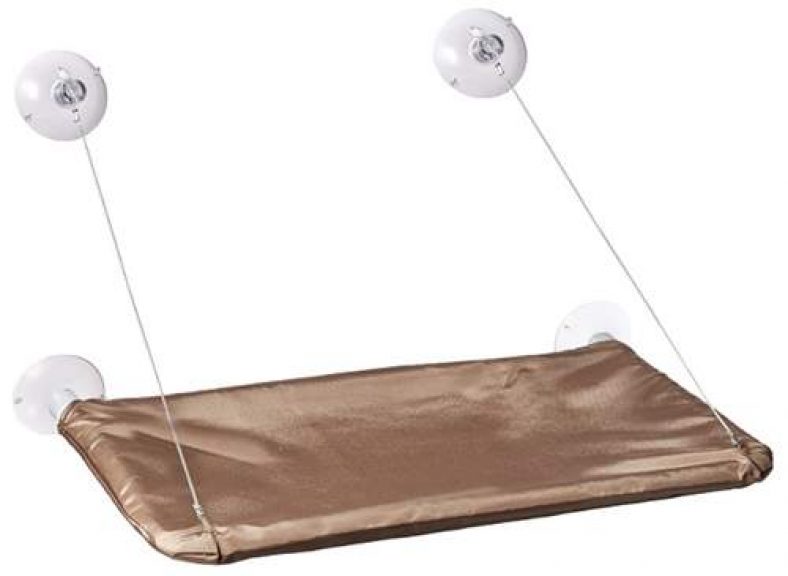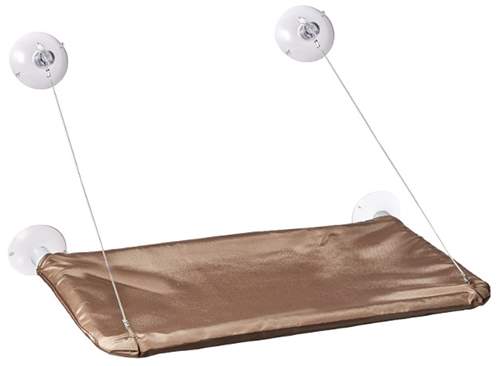 More brands
It is imposible to review all products. Other brands worth a mention include the following:
FURRY Buddy Cat Window Perch with Waterproof Removable Plush Mat
BobbyPet Cat Window Perch Warm Cotton Fabric
Pakeway Cat Window Perch Hammock Cat Bed with Upgraded Version
TRM Deluxe Pet Cat Window Seat Perch
Foam Cushion Deluxe Kitty Window Perch with Fleece Cover
Whisker City® Foam & Plush Window Perch
LAZY PET Deluxe Cat Window Perch Assorted Colors
Choosing the best cat window perch
There are many window cat resting stations – perches, shelves, beds, hammocks, or seats – that come in various shapes, designs, sizes, and ways of mounting them. When looking at the best window perches for your kitties, here is what to consider:
1. Suction cups vs. windowsill cat perches
While most brands are mounted directly to the window pane using suction cups, there are those which you install on the windowsill. Factors such as the size of your window sill, how permanent you want it to be, and so on may influence what you pick. Let us look at each:
a). Suction cup window perches
They come with suction cups and overhead cords. Suction cup perches are more popular and ideal for temporary installation and have a maximum weight they can bear. Buy them if you have a narrow windowsill and smaller kitties, i.e., they are not the best choice for people with giant cats.
While they have maximum weights, they do present the risk of tumbling, and they cannot work on frost or textured glass.
b). Windowsill mounted cat perches
They use hook & loop with some having screws. You have to drill holes on to your windowsill. They are more permanent and have minimal chances of dropping off. Buy them if you have large, extra-large, or more cats as they can bear a more significant load.
Unfortunately, people with a narrow windowsill or ledge may find types mounted on windowsill not practical. Also, they may not work for glass doors.
2. Is it durable
A long-lasting brand will have a sturdy frame, a cover or withstand frequent washing, scratching, biting, or chewing as well as other resilient and chew and scratch resistant parts.
Depending on the type, you will have one with a PVC frame, PP, or ABS plastic or stainless steel. The latter is more durable but will cost more.
On covers, you will have fleece, nylon mesh, polyester, breathable oxford cloth, and other woven materials.
Finally, installation means may have an impact on durability, i.e., they may not last long if they keep plummeting down. Go for a brand with industrial-grade, strong suction cup. For the no suction cups perches, you will get brands with hook & loop and screws with are more permanent.
3. Do you want a small or large cat perch?
Depending on the space available and the size of your cat, you may decide to go for a small, medium, or large window perch. However, ensure your kitty can fit on it without its backside, limbs, or any other body part dangling.
Otherwise, she may feel insecure and vulnerable while it tries to nap, especially if you have several other cats. Also, it should let your kitty curls against your window. It will make it feel more secure.
Finally, if you intend it for two cats, ensure it can withstand the weight, and it is large enough to allow both to fit well.
4. Is it safe?
You don't want something that will tumble down with your cat on it. Therefore, buy a brand that is made well and can withstand the force of your furry friend leaping on to it, continuously test and ensure you securely install it. Typical brands can withstand from between 20 to 100 pounds.
We recommend tasting with weights before letting your cat use it and keep testing it from time to time.
5. Is it comfortable?
Since your cat will be spending a lot of time on it snuggling, sunbathing or lounging, ensure it is very comfortable. Go for a brand with a soft resting pad or material. One with an orthopedic form will be an added advantage. Also, you can choose one with a hammock-like soft and stretchy material.
By looking at what your cat likes, you should be able to get something that will make her comfortable and support her sleeping or lounging habits.
6. Easy it easy to maintain or wash?
As your cat uses it, it is bound to be dirty. Is it easy to wash and maintain or not? Don't just fall for aesthetic appeal. Instead, go for one with an easy to clean cover.
One with a hand-washable or machine washable cover will be an ideal choice. Also, go for a brand whose cover is removable without having to disassemble it.
7. Is your cat a scratcher?
Is your cat a scratcher? If your kitty loves scratching everything, including your furniture, train her not to scratch things and consider a window perch with a scratching surface.
For instance, the K&H Pet Products EZ Mount Scratcher Kitty Sill will offer your feline a sizeable curved space for scratching she sunbathes. It also has a kitty sill cradle refill
8. What is your cat's weight, size, age, and breed?
All these aspects will affect the maximum weight as well as other behaviors. For instance, the Maine Coons and Abyssinian tend to love scratching. Also, the breed has a bearing on size and weight, while younger cats tend to more active than older ones.
Your cat window perch must accommodate weight, size, individual behaviors, including the level of activity. Active, large, or heavier ones need more robust brands.
9. Extra features
Besides the standard features, consider other features such as a heated brand if you live in a cold place or foldable. Foldable brands will allow you to use your window curtains or blinds without having to remove them.
10. Offer 360º and views
Unless you need a window bed, go for a brand that gives them a chance to enjoy views and sunshine from all angles, i.e., 360º. You don't want the hustle of having to change its position to allow your pet sunbathe.
11. Do you need an indoor or outdoor cat window perch
Depending on the material used, cat window perches can be for indoor as well as outdoor use. If for outdoor use, they should withstand weather elements, especially the cover.
Most manufacturers will tell you if it's intended for indoor or outdoor use. If you need one, brands such as Kitty Cot Original World's Best Cat Perch with a rugged and tough nylon mesh is an excellent choice.
12. Other factors
Besides the above, other important factors to consider when buying a window perch for your kitty include the following:
Preference – It will influence the type, color, material of construction, and so on.
Price – How much are you willing to spend? However, while trying to save, don't buy something not functional.
Well rated and having customer feedback
Where to place your cat perch
Once you have your window perch, you need to decide on where to place it, especially if you have may windows. You want a place where your cat will be happy and comfortable
First, try putting it where they spend more time, consider individual needs since some felines find comfort in being alone. If unsure, just keep changing positions until you find a place where she will curl up and sleep effortlessly.
Also, place where they will sunbathe and see outside to enjoy the scenery, especially a place with flowers that will attract bees, butterflies, or insects. If you have a birdfeeder, a place where they can see birds eating will be perfect. It will make things more exciting, and your cats will spend hours just staring out.
Finally, you also make it more interesting by adding a toy, catnip, treats, or any other thing that your kitty likes to entice her to use a place you prefer. For people with several cats, consider having several perches located at various points and let each kitty choose the ones they like.
Cat window perch, hammock or seat DIY
Instead of spending money on buying feline perches, you can create from a very simple to a more permanent windowsill cat perches.
You can just do a little modification such as position a couch or sofa, cabinet, chair, or table in front of a low window or use some of the excellent easy to follow only DIY guides or videos which require essential tools.
If you need guides and ideals, Hill's Pet, Joe Lydic on YouTube, DIY Show Off, WoodLogger on YouTube as well as Building Martha Stewart's Cat Window Perch.
Warning
Cats notoriously curious, making them at risk of high-rise syndrome, which refers to cats sustaining injuries after falling from buildings. It may result in broken or splayed limbs, jaws, pelvises, puncture lungs, or even death. High-rise syndrome is common during warmer months.
While their survival instincts may not make them jump from dangerous heights, distractions, including birds or predators like owls and hawks, may make them lose balance and fall.
Don't assume by falling from a one or two-story building won't hurt them. Sometimes, these pets may not have time to rearrange themselves to land on their feet.
Therefore, ensure you keep windows or balcony doors where you place your perch closed. Avoid placing them in places with screens.