What does lysine do for cats
Besides being a basic building block for proteins, its other benefits including to help boost immunity, aid in calcium absorption, decrease some viral shedding and severity of conjunctivitis and reduce feline herpesvirus severity ( a common cause of upper respiratory tract infection).
Feline herpes is a contagious virus that causes conjunctivitis as well as other upper respiratory diseases with symptoms such as squinting, eye discharge, red eyes, runny nose, lethargy, sneezing (sudden and repetitive), swollen red eyelids, fever, no interest in food due to a lost sense of smell among others.
Therefore, this amino acid is said to help in managing symptoms such as
Sneezing
Squinting
Conjunctivitis
Watery eyes
Inflamed eyes
Sinus congestion
While previous studies support the use of l-lysine to reduce symptoms especially slowing replication of feline herpesvirus and boosting immunity, recent research thinks otherwise and others [1][2] state this amino acid will only worsen things.
Possible lysine for cats side effects and interaction
If given as directed by your vet or manufacturer, chances side effects are very rare. Some of the side possible side effects include:
Stomach upsets
Vomiting
Diarrhea
Nausea
However, in the case of lysine allergy in cats, expect symptoms such as skin itchiness, inflammation, excessive licking, and biting. This may lead to skin infection and alopecia. [3]
Also, seizures, face swellings, pale gums, may also be noted as possible side effects and there might be interactions with other drugs such as those that suppress the immunity and steroids, aminoglycoside medications and calcium supplements.
We already looked at lysine food sources, required amounts, functions, deficiency symptoms and much more. This discussion will be focusing more on supplements for cats as well as the dosages.
Best lysine supplements for cats
There are many supplements for this amino acid in the market that come in gel, powder, liquid, pill/tablet form or soft chews. Some of them include:-
1. Vetoquinol Viralys for cats powder, gel, and Enisyl-F oral paste
If you decided to go for Viralys, you have a choice to choose from oral powder (100g and 600g). a gel or Enisyl-F oral paste (tuna flavored)
The 100g powder goes for $21.28 and the 600mg goes for $94.10 at Amazon.com. The 100mg goes for $21.17 at Walmart, $21.28 at Enterelypets.com, just but to mention a few.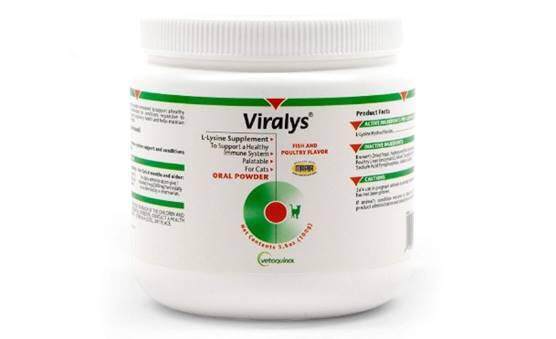 If you want the 100 Enisyl-F Oral Paste for Cats, its price is $28.99 at HealthyPets and starts from $26.75 at Amazon.com.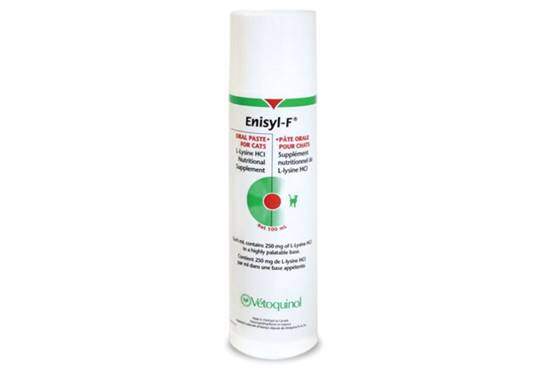 Finally, the 5oz gel starts from $17.10 at Amazon.com and $17.09 at Chewy.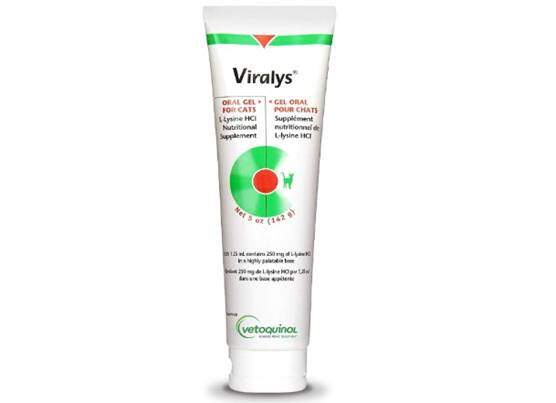 Finally, you also have the choice of buying bites. The Vetoquinol Enisyl-F Lysine Bites: L-Lysine Chews for Cats & Kittens – Chicken Liver-Flavor go start at $23.37 for a 180-gram sealable bag.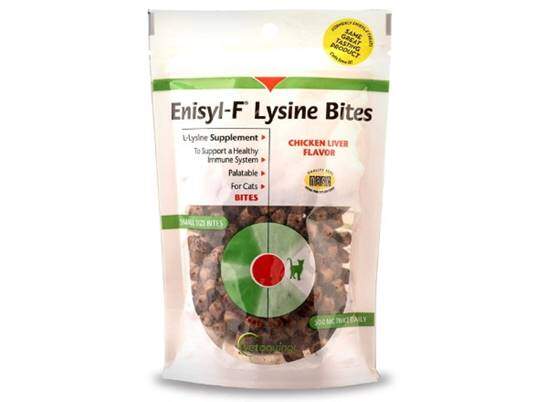 a). How much Viralys lysine to give a cat – dosage
For your adult fluffy friends, dosages are 500mg of l-lysine hydrochloride given twice a day while dosages for kittens are 250mg given twice a day. Therefore:
For Vetoquinol Viralys powdered formulation, give one scoop daily to adult felines while half a scoop for kittens below six months.
For Vetoquinol Viralys gel, give for half a teaspoon for adult felines and a quarter a teaspoon for kittens below six months.
For Vetoquinol Enisyl-F is a lysine paste for cats and each 1ml has 250mg. Recommended dosages are 1 to 2 ml twice a day for adult cats. Kittens should be given 1ml twice a day or as indicated by your vet.
Finally, the dosage for bites should be 500mg twice a day for adult cats while kitten should have 250mg twice a day.
b). Viralys lysine uses and side effects
Viralys uses are the same as those we have already mentioned, i.e, boost immunity or any other condition that responds to l-lysine. Furthermore, although rare, the expected Viralys powder for cats side effects maybe some of those we have already mentioned.
2. Vetri lysine plus for cats – bite-sized soft chews
Manufactured by VetriScience, these chews for cats may help reduce herpesvirus (Feline viral rhinotracheitis or FVR virus) replication, its symptoms, and other conditions that respond to it.
Their price per a 120 chew packet is about $16.69 at Amazon.com, $15.00 at Walmart, 15.69 at Petco, and $15.00 at Chewy.com.
a). What does it do?
According to its manufacturer, VetriScience, some roles it plays include " to support immune system function, collagen formation, tissue repair, antioxidant activity, and antibody and lymphocyte production."
b). Dosage
Normally, two chews have 250mg of l-lysine and 50mg of N-Dimethylglycine HCl (an amino acid). Recommended dosages are 1-2 chews, twice a day for adults felines while kittens should have 1 chew given twice a day or as directed by your veterinarian.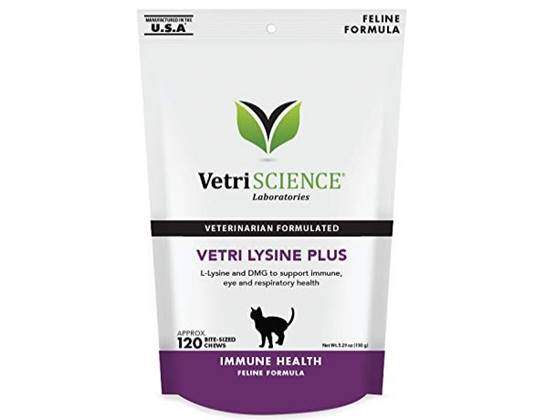 3. Pet Naturals of Vermont cat chews
These Pet Naturals Lysine chews are chicken and liver flavored and each chew has 250mg lysine. Recommended dosages are 1-2 chews daily.
Like others, it will support your feline friend's respiratory, ocular and tissue health and one pack has 60 chews (3.7 oz) and it goes for $4.33 at Amazon.com and $4.33 at Chewy.com.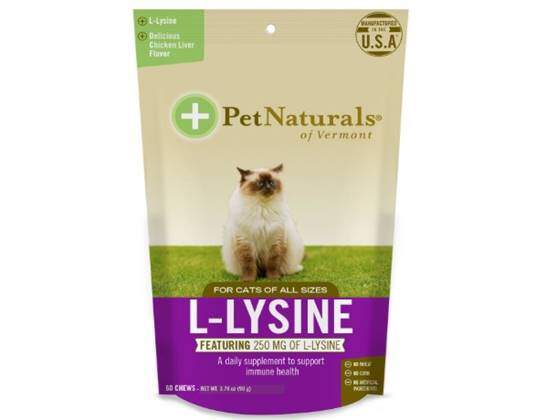 4. Tomlyn Immune Support Daily L-Lysine Supplement powder
This fish-flavored lysine powder is another excellent choice to buy. Like others, it will support eye function, strengthen immunity, and promote respiratory health.
It will help kitties that are squinting or have watery eyes, runny nose, or inflamed eyes. You only need to give them 1-2 scoops every day and is safe for both kittens and cats.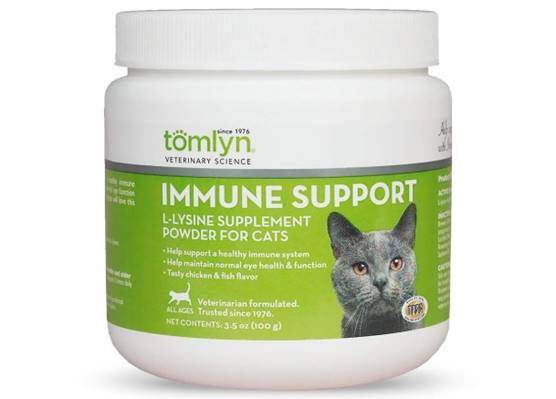 5. Now Supplements, L-Lysine (L-Lysine Hydrochloride) Powder
Formulated for felines, this brand strengthen your pet's immunity as well as maintain excellent ocular and respiratory health. It is NASC certified, recommended by many vets, and formulated to meet the highest standards of quality.
Dosages will depend on your cat's age. If below six months, give them 1/16 of a teaspoon twice a day while for those over six months, the amount should be 1/8 a teaspoon.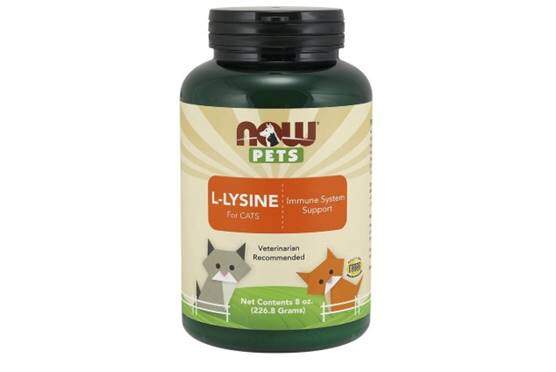 6. Doggone Best Products Lysine Powder
This powdered brand is all-natural and meets human-grade quality. It will help maintain proper respiratory and eye health, including those suffering from herpes virus symptoms like runny nose, sneezing, watery eyes, and upper respiratory infection, and so on.
It is tasteless, has no additives, and has added 74 minerals, including calcium. Give your felines a scoop of 900mg in each serving twice a day.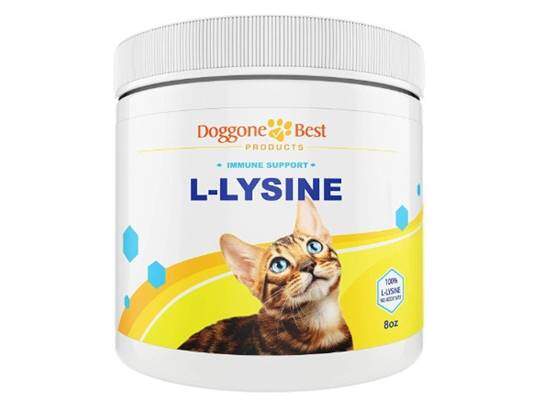 7. Vet Worthy Lysine Paw Gel Aid for Cats gel
This veterinarian-approved gel will support your feline's immune system. Its salmon flavor makes it irresistible even to the pickiest kitties. Just apply it on their paws and let them lick it.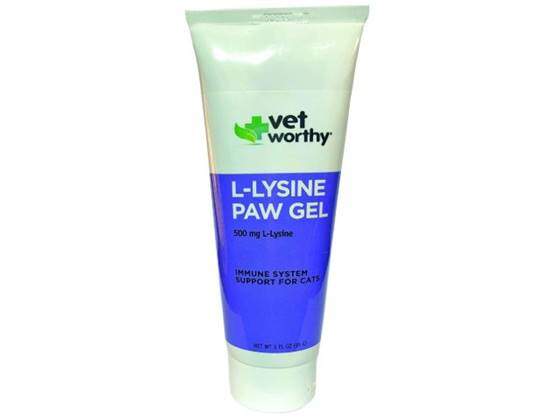 Other feline lysine brands
GNC Pet l-Lysine- Chicken Flavor Soft chews
VitaPaws 500mg sprinkle lysine capsule
Felisine – Paste
NaturVet Lys monohydrochloride 500mg with vitamin C and astragalus root
Duralactin Feline L-Lysine paste with microlactin
Where can I buy lysine for my cats?
We have already listed a few places including Amazon.com, Walmart, Chewy.com among others.
Other places you will get them to include your local pets stores, online stores such as PetSmart as well as Amazon.ca and Walmart.ca (in Canada)
Also, try Amazon.uk, Viovet.co.uk or Vetsend.co.uk (in the UK) and vetproductsdirect.com.au and vetoquinol.com.au among many other online stores.
Lysine treats for cats – soft chews and paste
Treats can be used to disguising medicine, training, help cat teeth, among other uses. If you intend to give treats, consider the soft chews we have listed as well as those in paste or gel form.
The liquid lysine for cats and those in powdered form are ideal for mixing or sprinkling on feline food.
Lysine for cats dosage
From the above discussion, we can conclude that the most recommended dosage is 500mg given twice a day for cats above the age of 6 months while kittens below six months should receive 250mg twice a day of most of these supplements.
However, ensure you carefully read what the various manufacturers recommend and/or follow the use instructions given by your veterinarian.
In case of a missed dosage?
Give it as soon as you remember but skip it if it is about the time for the next dose.
Cat Lysine overdose
These pets can tolerate much higher amounts of these supplements without any serious overdose symptoms.
However, talk to your vet in case of an overdose, especially if you notice any abnormal clinical signs.
Conclusion
This amino acid is an oral supplement that comes in the various forms we have looked at there are no lysine eye drops for cats