What are they?  
Coccinellidae otherwise referred as to ladybugs (North America) or ladybirds (Britain) or what entomologists refer to ladybird beetles or lady beetles is a family of small beetles whose size ranges from 0.8 to 18mm.
These insects have various colors with varying patterns, play dead when caught by a predator, and secretes an oily nasty tasting and foul-smelling fluid that oozes out of their legs' joints to deter their predators.
There are over 5000 different species of coccinellids (Coccinellidae species) with most of them being useful since they prey on smaller herbivorous scale insects under the superfamily Coccoidea such as aphids.
However, some are herbivorous such as the Mexican bean beetle which is considered pests that eats various crops including potato, grain, and bean leaves.
During winter, it is common for the different species of ladybugs to move to cracks on your window, door frames, walls, exterior sides, and so on to shelter from the extreme weather conditions. During this time, it is possible for your pets to find and try eating them.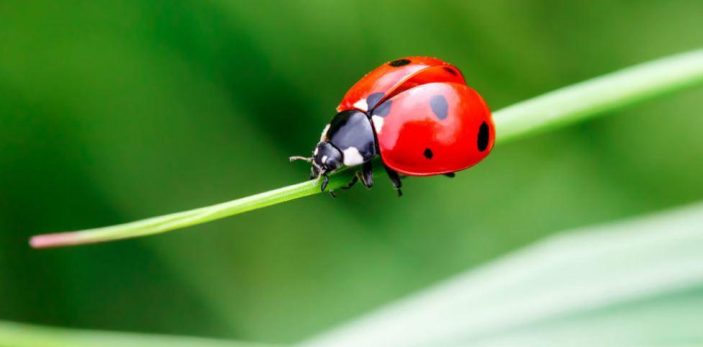 Are they toxic or poisonous to dogs?
Most of the ordinary ladybugs are not toxic or poisonous to dogs. However, you should discourage your pooch from munching them. One specific type, the Harmonia axyridis (multicolored Asian, Japanese, harlequin or Asian lady beetle) is known to be harmful to these pets.
Note that it is normal for dogs and cats to hunt for and eat various bugs including grasshoppers, stink bugs, crickets, flies, and so on. Whereas some of these insects and other invertebrates may be harmless, some are not only poisonous but also harmful.
Therefore, unless you can identify which coccinellid species your dog or cat has eaten, you need to be watchful and discourage your pets from eating any ladybirds. Besides their nasty taste which your pooch may not like at all, there are some of the risks associated with some types of ladybugs, especially the Asian ladybird.
Firstly, the Harmonia axyridis (Japanese or multicolored Asian beetle) may cause a chemical burn that can result in "a little bit of ulceration on the roof of the mouth were the bugs secrete that hemolymph."[1]. These toxic secretions may also damage your canine friend's teeth.
Secondly, they are associated with various symptoms including drooling, lethargy, mouth forming, refusal to eat and so on, in case your dog eats the Asian ladybirds and they get embedded in its mouth roof.
Furthermore, the corrosive nature of the hemolymph may erode the intestinal tract, leading to ulceration, impaction and stomach upsets, especially if consumed in large amounts. You should know that these pets may not be able to digest their hard shells hence the impaction.
We have a detail case study on what was reported at the Kansas vet's office on ladybugs in dog's mouth where we will be singling out only this one species.
If you suspect your dog has eaten a lot of the Harmonia axyridis, you can begin looking at the various symptoms of a dog with ladybugs on the roof of mouth we have noted. Physically examining their soft palate, and manually removing them in case you note any.
If you do not see any, you need to consult your vet since some of the gastrointestinal problems such as diarrhea that may be bloodstained, impaction, lethargy, drooling, etc., could also be caused by other disease and conditions.
Conclusion
Most of the ladybugs are not bad or harmful to dogs or cats. However, some species have been reported to be harmful. Always discourage your dogs from eating any type. If you suspect your canine friend has eaten some, you need to check their mouth.