Treats vs. rabbit snacks
Rabbit treats are tasty fun foods given to these pets once in a while, usually in small quantities. While most people may use the word synonymously to mean a snack, the two are not the same thing. Snacks are small portions of foods eaten in-between meals that provide nourishment.
Are bunny treats necessary?
Yes. Treats are necessary but not as a recommended diet replacement. If you feed your bunny the right diet, which has unlimited grassy hay like timothy, about 10-15% greens including weeds, plants and vegetables, and about 5-10% pellets, you don't have to give them treats.
However, just like human beings, rabbits have a sweet tooth, and they will enjoy or even beg for tasty treats. Therefore, although they are not a basic need, bunnies will want them.
You use them on various occasions, including the following:
Add variety: Giving them new exciting, and tasty treats is a great way to add a variation to their routine daily diets.
Use them to bond: They can help build a connection with your bunnies. Give them while calling their name, spending time with them, and so on. They will learn to recognize you.
Mental simulation: They are powerful ways to stimulate your bunnies if you have puzzle toys mentally. All you need to do is to hide them in a puzzle or logical toy, including in empty toilet rolls filled with hay while they are seeing and let them find them.
Exercise them: Hiding them in exercise balls that have holes will make these pets frantically roll the ball to eat the treats that fall out. By so doing, they will be exercising.
Training rewards: You can use them as rewards while you train them to use their litter trays, and so on. They will quickly learn since they want more treats in return.
What to look for in good treats for rabbits
When buying bunny treats, look at all the ingredients and calories. Avoid those that are highly calorific or have added sugar, artificial colorings, flavors, preservatives, or any other unsafe chemicals. Furthermore, avoid those with fillers that may be hard to digest, worthless additives.
Additionally, consider your bunny's preference, their prices, nutrition (avoid those with empty calories), age of your rabbit (some treats for young bunnies may not be suitable for older ones), among other factors.
Best healthy bunny treats reviews
We went through dozens of various brands looking at their ingredients and. Below are some of the healthy, nutritional, and beneficial ones to buy.
1. Kaytee Timothy Biscuits Baked Treat Apple
These Kaytee Timothy Baked Apple Biscuits are a healthy and nutritious treat that your bunnies, chinchillas, and hamsters will find delicious and delightful.
Key benefits
They are nutritious and very healthy, thanks to the real apple fruits and sun-cured timothy hay.
Timothy hay makes them fiber-rich. Fiber will promote a healthy gut and digestion.
They are compressed to encourage natural chewing that will support dental health (they will condition their teeth as they chew them).
They will satisfy the chewing urge since it is one of these pet's natural habits.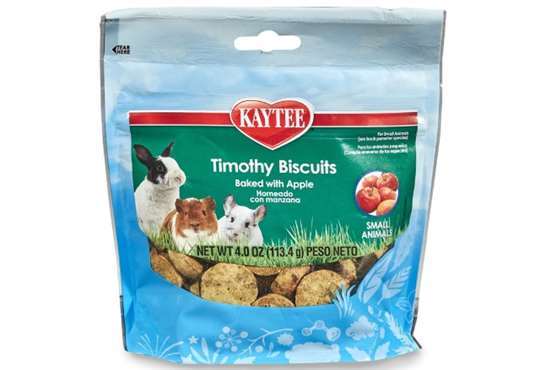 Most bunnies will find them very enjoyable. Furthermore, they very healthy with safe rabbit ingredients and very affordable.
2. Vitakraft Slims Carrot Rabbit Treats
Vitakraft Slims with Carrot crunchy bars are a delicious baked bunny treat with a blend of real carrots and grains ideal for bunnies, guinea pigs, and other small animals.
Key benefits
They are not only very palatable but also easy to digest.
Vitakraft Slims with Carrot crunchier than carrots making them ideal for keeping your rabbit's teeth healthy and clean. Furthermore, they will satisfy their natural chewing urge.
They have less sugar than real carrots and don't have any added sugars, preservatives, or flavors.
They have added vitamins and minerals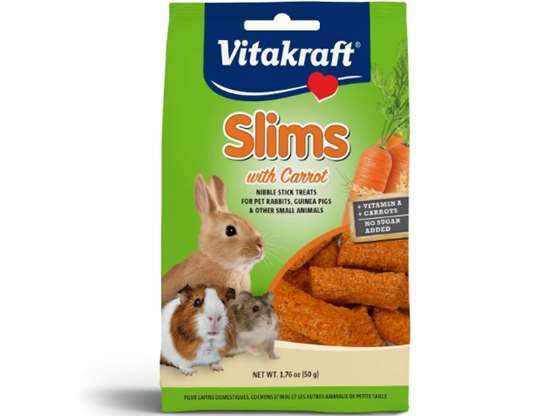 3. Kaytee Timothy Hay Blend Cubes
Kaytee Timothy Hay Blend Cubes is another option from Kaytee that most small pets will enjoy eating. They are an added nutritional variety source and will complement any of the Kaytee fortified food
Key benefits
These cubes made using sun-cured timothy and alfalfa hay are high in fiber and very nutritious. High fiber supports digestion and a healthy digestive tract.
They are low calcium for a healthy urinary tract and low in proteins, making them ideal for your adult bunnies.
Compression makes them less messy and encourages chewing, which is good for your pet's dental health.
Kaytee uses the highest quality hay to ensure your rabbits benefit maximally.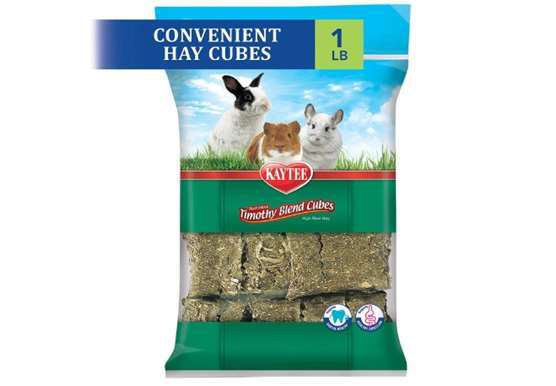 4. Oxbow Simple Rewards Veggie Treats
Veggies and greens make not only a tasty but also a very healthy treat for rabbits, guinea pigs, gerbils, rats, hamsters, mice, and chinchillas. These benefits are nothing short of what Oxbow Simple Rewards Veggie Treats provides to your pets.
Key benefits
This baked blend of wholesome vegetables and greens is not only nutritious but also a great enrichment to your pet's diet.
They have no added sugar or artificial colors
Nutritionally balanced with low proteins and calcium as well as an ideal fiber to protein balance.
Alfalfa hay makes them very nutritious.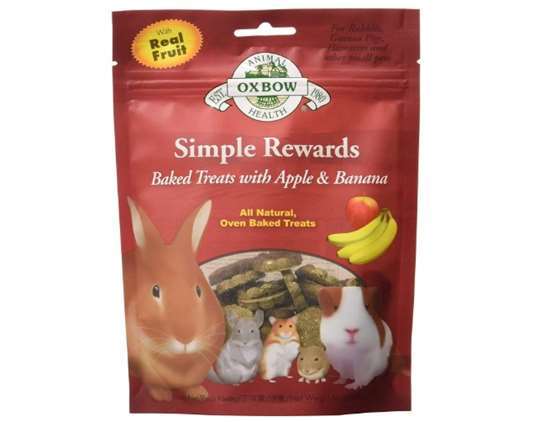 If excellence and understanding what is best for your pets play an essential role in deciding what you buy, Oxbow Animal Health will not let you down. You can also take advantage of the following healthy treats:
5. eCOTRITION Snak Shak Treat Stuffer, Small, Peanut Butter-Flavored
The eCOTRITION Snak Shak treat stuffer is made using original edible Snak Shak log with peanut flavor stuffed fresh alfalfa and a blend of seeds. It is ideal for your adult bunnies, chinchillas, and hamsters.
Key benefits
It is a 2 in 1 treat and a chew toy. The outer Snak Shak Log is a perfect chewing item that will stimulate natural chewing instincts and give hours of fun while inside it, there is a tasty treat.
It is delicious and flavorful. Your rabbits will find it irresistible.
While this is a much-loved treat, it has pine shavings that are associated with a chance in liver enzymes unless the shavings are kiln-dried.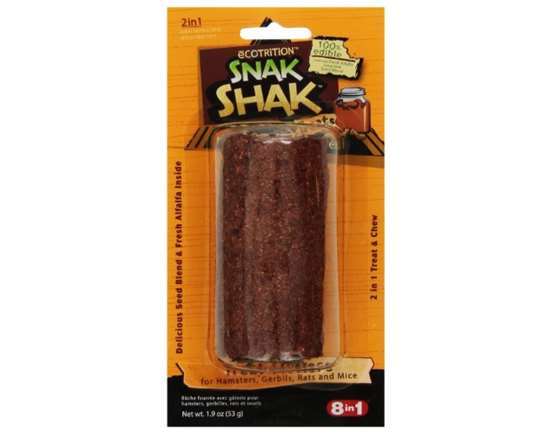 Alternately, you can buy the eCOTRITION Snak Shak Rabbit, Guinea Pig & Chinchilla Original Treat Stuffers
6 Simple Rewards Baked Treats with Apple & Banana
If you need a healthy and delicious treat for your rabbits, mice, gerbils, hamsters, rats, or chinchillas, the Simple Rewards Baked Treats with Apple & Banana is a great option.
Key benefits
They are healthy, i.e., baked with real banana and apples as well as fiber-rich timothy hay (ideal for a healthy gut and digestion).
They will add variety enrichment to your rabbit's usual diets.
Have no artificial additives, flavors, or colors.
Most people are very excited about these baked treats with apple and banana because bunnies love them, and they are very healthy.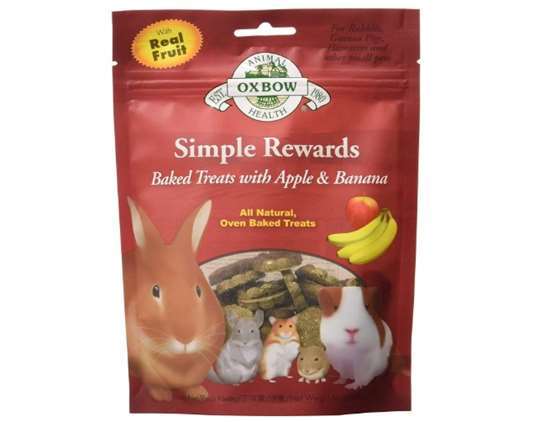 If you need a different flavor, Oxbow has Simple Rewards Baked Treat with carrot and dill, with cranberry, with peppermint, and with bell pepper.
7. Vitakraft Slims with Alfalfa Rabbit, Guinea Pig & Small Animal Nibble Stick Treat
If your rabbits, guinea pigs, chinchillas, and other small pets need a pleasant, light snack, Vitakraft Slims with Alfalfa Rabbit is a perfect choice.
Key benefits
These nibble sticks are delicious, healthy, and nutritious, thanks to the alfalfa hay and grains used to make them.
This crunchy oven-baked snack is easy to eat and digest.
It will promote healthy teeth and satisfy natural chewing urge.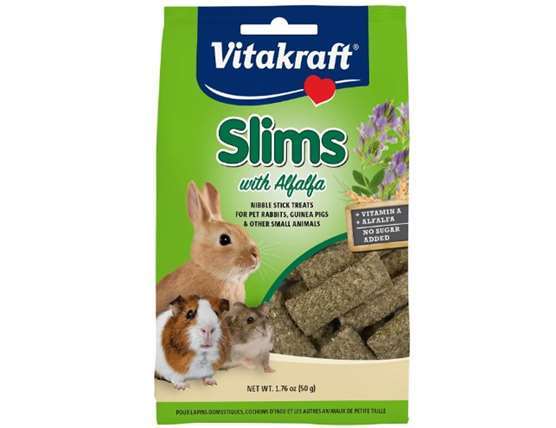 8. Rosewood Pet PouchNature's Salad Food for Small Animals
Buying the Rosewood Pet PouchNature's Salad Food for Small Animals is a great way to break away from calorific and starchy treats. You bunnies, chinchillas, and guinea pigs will lovey every bite of the over 21 tasty ingredients they have.
Key benefits
Made using high-quality ingredients that will ensure your pets benefit from the various nutrients, including vitamins, bioflavonoids, fiber, and minerals. Fiber will promote digestion and a healthy gut.
They are delicious, thanks to the beneficial and aromatic herbs like nettle, dandelion, marigold, and peppermint.
This salad has only all-natural ingredients from Wild Meadows in Germany and doesn't have any cereals.
They are highly palatable and will keep your pet interested and chewing them.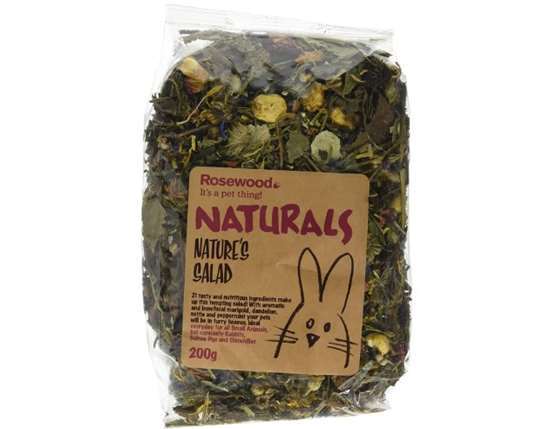 9. Small Pet Select – Healthy Snacker Bundle
These five bags of healthy treats are bites filled with awesomeness and are very tasty. Each bag has a mixture of fresh hay and one of premium fruits or vegetables, i.e., pears, pumpkin, carrots, oats, apples, or bananas. Your guinea pigs, rabbits, and other small animals will enjoy a great variety.
Key benefits
You get five packs of healthy snackers that will offer variety.
They have high-quality and healthy ingredients, including hay, that will provide the much-needed fiber.
No harsh chemicals, binders or preservatives.
They will serve both as a training and foraging aid. Reinforcing or breaking some behaviors is going to be a walk in the park.
If you don't prefer buying all of them together, you can buy each bag separately. However, this is a great deal!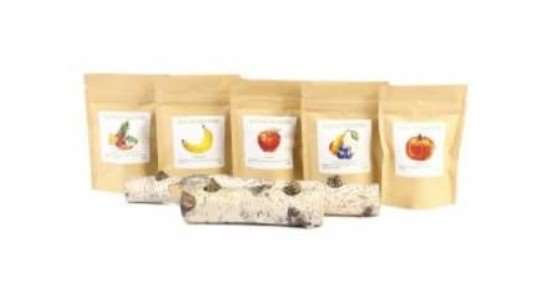 10. Ware Manufacturing Large Rice Pops Small Animals
One of the ways of spoiling your rabbits, chinchillas, hamsters, guinea pigs, and other small animals with a tasty, crunchy flavorful treat is giving them the Manufacturing Large Rice Pops. You can put them in the Ware Treat-K-Bob or hand feed them if you need to spend time together or bond.
Key benefits
These crunchy chews will clean their teeth and promote dental health.
They very enjoyable to eat, making them great in minimizing boredom
They are very flavorful and tasty
While most bunny owners note that their pets love them so much, you need to make them a rare treat since they have rice and corn, both with are starchy.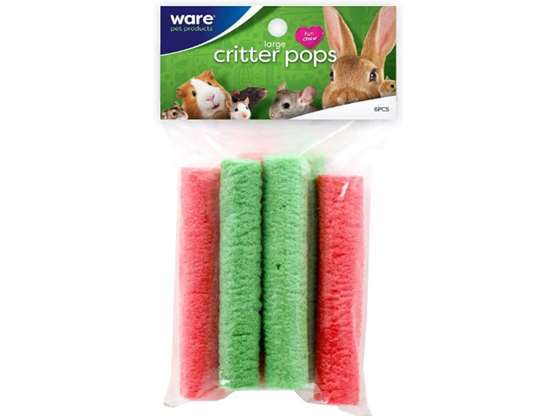 If you find these rice pops so large, you have an alternative of going for the smaller Ware Manufacturing Rice Pops.
11. Vitakraft Bursts Wild Berry Flavor Treats
Vitakraft Bursts Wild Berry Flavor Treats for rabbits, guinea pigs, and hamsters is an appealing and crunchy snack with the outer layer made of timothy hay while its center has soft wild berries.
Key benefits
It is nutritious and healthy thanks to the hay and real berries used in making it. Hay is high in fiber and has nutrients that well balanced while the fruit fillings are high in vitamins.
It is flavorful. Most bunnies will enjoy every nibble.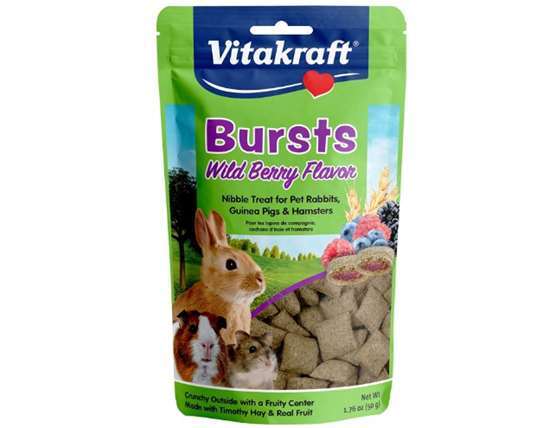 12. Kaytee Fiesta Healthy Toppings Papaya Treat for Small Animals
These real papaya fruits are a perfect addition to your often bunny treats, especially during training and bonding. They are nutritious and will add variety.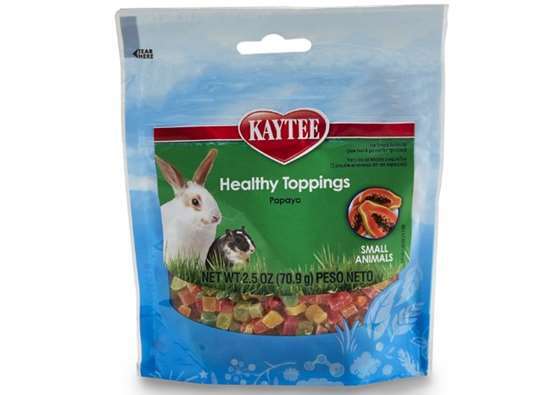 Other good treats for rabbits
Vita-Licious Essentials – Natural Herbal Treats for Rabbits and Guinea Pigs
BALLMIE Apple Sticks Pet Chew Toys Timothy Grass Rod Bamboo Stick
Exotic Nutrition Herbivore Treats – for Guinea Pigs, Rabbits, Hamsters, Gerbils & More
If you need any of the above brands, you will find them at your local pet stores or Pets at Home, Walmart, Amazon.com, Chewy, Petco, among other places.
How much should they have?
A bunny should have about two tablespoons of treats per 6 pounds of their body weight, i.e., should account for 0-5% of what these pets eat. Avoid giving them more as it is likely to cause stomach upsets and weight gain.
Treats not to give rabbits
Just as humans should avoid or minimize junky foods, some treats are unsuitable to these pets. Common ones include:
1. Starchy and sugary foods
These include wheat-based products like pasta, biscuits, bread, crackers, pretzels, cookies, candy, and among others as well as sweets, lollipops, and so on.
Most are high in starch and sugars and very low in fiber. Such kinds will overload your rabbits with sugars and may cause GI upsets and cecal microflora imbalance.
Cecal microflora imbalance happens because, unlike recommend diets that have fiber or cellulose that slows fermentation, starch will quickly be fermented, resulting in bacterial overgrowth, GI stasis, diarrhea (soft stool), bloat, and gas, among other issues.
Finally, since they are highly calorific, your pets may also gain weight or end up obese.
2. Mueslix cereals
These are cereal-based human snacks that may have corn, locust beans, flaked peas, oats, sunflower seeds, peanuts, puffed corn, cornflakes, milo, and dried fruits, among other grains and seeds.
They are marketed as mineral-enriched, energy boosters, normal diets, delicious energy sources, fortified diets, and so on. Honey often helps bind them together.
Like starchy and sugary snacks, they are high sugar and starch while low in fiber. Therefore, they may cause fatty liver disease, GI upsets, obesity, among other conditions.
Additionally, seeds and grains high in fats, yet bunnies need about 1-1.5% fats. The excess fats they have will be stored in your rabbit's body as they are not able to process them. Expect fatty liver disease, or some may end up in arteries.
3. Any animal products
Avoid foods for other pets not intended for your herbivorous furry critter, including those for cats and dogs. These foods include cheese and yogurt drops, milk drops, yogurt chips, and so on, even if they even if labeled as rabbit-safe.
4. Kibbles
These are crunchy puffs that may have extras such as digestive enzymes like amylases or proteases, cheese flavoring, plant, and herbal extracts, freeze-dried bacteria, among others.
Rabbits don't need them because they are low in fiber, high in fats, have excessive of some nutrients like calcium (predisposes bunnies to urinary calcium stones), are calorie-dense, etcetera.
5. Toxic foods
Any toxic food including ivy, scallions, onions, shallots, garlic, avocados, chives, leeks, among any other food that is toxic to rabbits.
6. Vitamin supplements
Largely unnecessary so long as your rabbit ingests its cecotropes (nutrient and bacteria-rich droppings) and has the right diets with pellets and veggies. However, in some circumstances, they may be necessary. Only buy them after talking to your vet.
By following the above criteria, some brands that are entirely nuts, seeds, or grains, as well as those animal products such as yogurt drops or cheese, include the following:
7. Vitakraft Rabbit Drops with Yoghurt
These drops that have yogurt are highly rated and loved by many people with small pets. They are made with yogurt and whey protein as feature lecithin. They don't contain artificial coloring.
However, dairy products, including cheese and yogurt, are not suitable for bunnies. MediRabbit notes that "yogurt drops as treats should never be given to rabbits. They contain too much sugars, and can lead to tooth decay."
Furthermore, a rabbit's gut isn't a natural host for Lactobacillus or Acidobacillus. Rabbits lose the ability to digest milk derivatives as they grow, and having them may lead to an onset of GI stasis.
If you prefer this brand, have a word with your vet before buying it.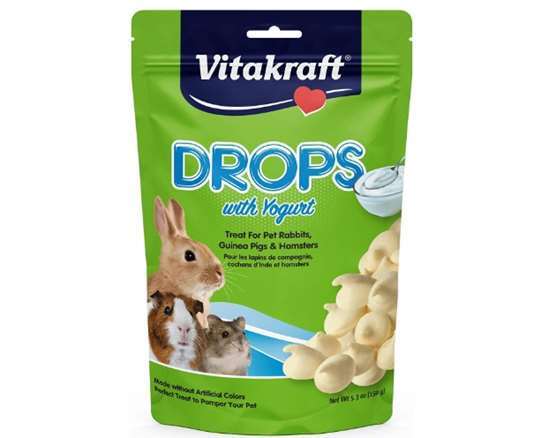 8. Vitakraft Mini-pop Rabbit Treat
These are nothing other than Mini Pop Corn on the cob served that way or after microwaving them. They present a choking risk and not one of the healthiest you can buy.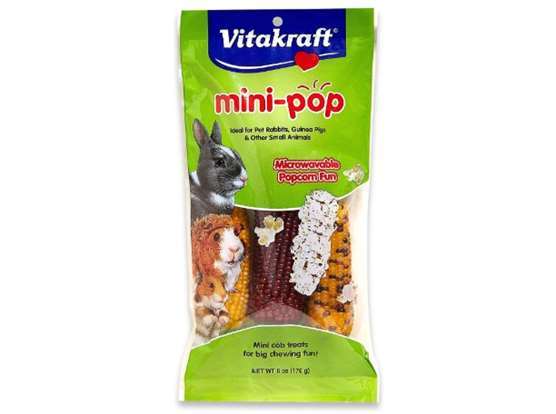 9. Kaytee Fiesta Awesome Country Harvest Treat Blends for Small Animals
Kaytee Fiesta Awesome Country Harvest Treat Blends for Small Animals is delicious and tasty. Most bunnies will find it irresistible.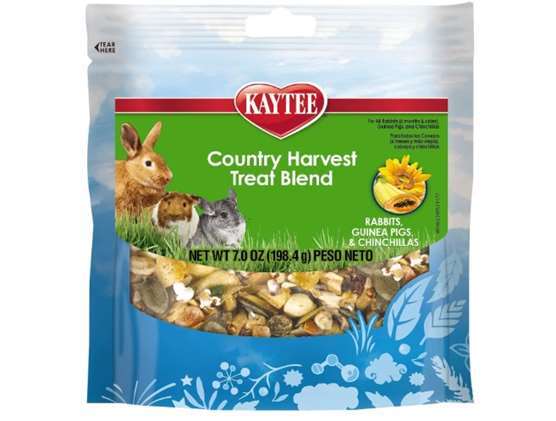 However, while it has alfalfa hay, dried bananas, and dried papaya, it is high in fats standing at not less than 21%. Additionally, it has a lot of whole seeds and nuts, including hulled sunflower seeds, peanuts hulled pumpkin seeds, popped milo, toasted wheat flakes, green split beans, among others.
Other brands with lots of nuts and seeds include the following:
Wild Harvest Wild Berry and Nut and Wild Harvest Natural Treat Mix For Small Animals
Vitakraft Rabbit Sticks and 4-Ounce Bag
Kaytee Forti-Diet Pro Health Rabbit Honey Treat Stick
M.Brown's Tropical Carnival Fruit & Nut Small Animal Treat with Real Fruits, Nuts, and Veggies
Good natural treats for bunnies
If you don't want to spend money on commercial bunny brands, you can go for some natural ones that include:
1. Non-leafy veggies
Give them carrots, bell pepper, squash, celery stems, pumpkins, zucchini, squash, among other healthy non-leafy vegetables.
2. Fruits
Fruits make some of the best treats to give your pets. Ensure the fruits are rabbit safe, remove pits, stems, and so on. Some of the best fruits include apples, cherries, peach, plums, bananas, berries, papaya, pineapples, nectarines, melons, mangos, kiwi, among others.
Additionally, include dried pineapple. Although it is high in sugar, it has an enzyme that breaks fur, making it useful during shedding. However, only give them a small amount.
3. Safe flowers and herbs
Give them safe flowers like hibiscus, English daisy, roses, calendula, marigold, pansies, nasturtium, dianthus, daylily, honeysuckle, among others. Note that some flowers are toxic.
Also, some herbs like mint, basil, cilantro, dill leaves, parsley, lavender, oregano, sage, peppermint, lemon balm, and so on can be a tasty option.
DIY Homemade rabbit treat
There are many recipes you can use. One simple one is the carrot cake recipe, where you need half a cup of raw oats, flour, and ground carrots.
Add some water and blend these three to form a dough. Bake it at 350 degrees for 15 minutes and serve once it is cold. Don't add oil, sugar, salt, or any other unhealthy ingredients.
If you need other recipes, try the following resources: