Bearded dragons are increasingly becoming some most popular reptiles among many pet owners. They are relaxed, hardy as well as easy-going pets, making them great pets to buy, including by first-timer owners or even kids.
All they need is proper care, diet, correct tank size, and other vital supplies, including UV light, heat sources, décor or furniture, and so on. What about clothes and costumes? Can these pets wear them?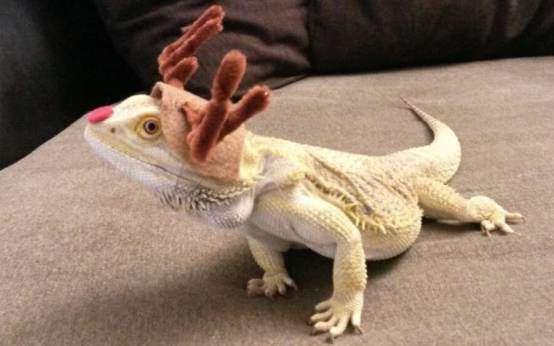 Is dressing a beardie necessary?
While not a basic need, pampering these reptiles with outfits and costumes will make them look adorable. Besides aesthetics, the various outfits help in making them look unique for easy identification, especially if you take them to shows.
Finally, unlike most of the other reptiles that tend to be skittish, their docile nature makes it easy to dress them, not just with clothes but also with a harness leash.
Common outfits and costumes
There are many outfits in the market with different themes, which include hats, neck and hair bow ties, mouse ears, sweaters, devil's or devil's costume, Christmas dresses, tuxedo, and silver spike collar.
Others are Spinosaurus, Yoda, toothless or bunny costume as well as bandana, tutu skirts, flower necklace, dragon wings, Scottish kilt, superhero capes, etcetera.
Since there are so many, your choice will depend on the occasion, personal preference, size, price, suitability, durability, and other factors.
Some of the common outfits to you can buy include:
1. Bearded dragon hats
There are many types of hats to purchase for your beardie that like a cowboy and cowgirl, pirate, witch, Santa, Festive, and Valentine's day tiny hat.
a). Cowboy and cowgirl hats
If a cowboy look is your style, your pet doesn't have to the left behind. There are many great looking cowboy hats.
If you need one, Carolina Designer Dragons have an awesome looking cowboy hat. Made of felt textured material, it features an elastic chin strap and a tasseled headband.
Don't worry about colors since it comes in various colors. i.e., orange, fuchsia, baby blue, red, white, dark red, brown, purple, and forest green colors to match your mood and terrarium décor.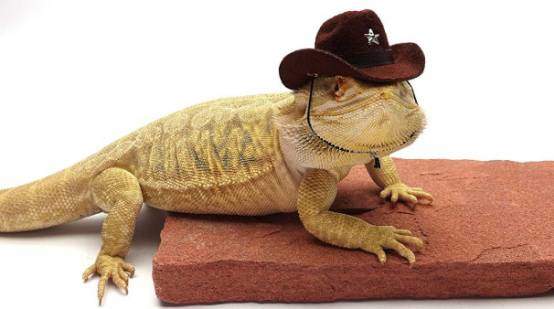 b). Santa and Christmas hats
During Christmas, as everyone dons on their Christmas attires, your beardie's Christmas can also be great if you buy them a Santa hat. It is a great way to share happiness and love during the Christmas celebration.
Our best pick is WATFOON Bearded Dragon Lizard Santa Hat with Scarf Christmas Costume Set. It is ideal for Christmas, photos, parties, Halloween, or parties. The scarf is about 12 inches, and hats sizes vary from 3 to 8 inches.
Besides these lizards, it is also ideal for geckos, amphibians, iguana, and other small pets like rabbits, ferret, chinchillas, guinea pigs, and so on.
What is more, its fleece cotton and short floss fabric make it a comfortable and classy attire while its elastic belt design means you can effortlessly put it on and off your pets.
However, only let your pet wear this adorable and cute attire for a short time and not for longer durations.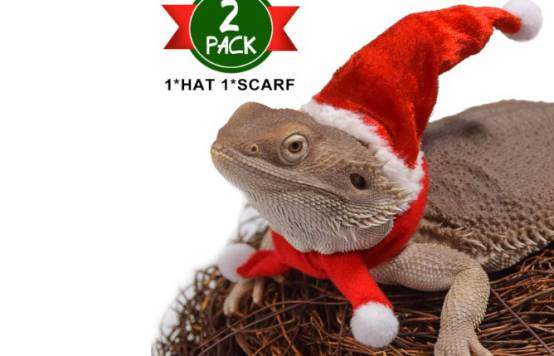 2. Shark costume
The bearded dragon shark costume is a wow looking handmade getup ideal for these pets and other reptiles. It is grey and comes in small, medium, and large sizes with an option of a bow tie for a boy, hair bow for girls, or no bow.
Secondly, it is easy to wear as it features velcro on the under-chin strap to make putting it on and off easy.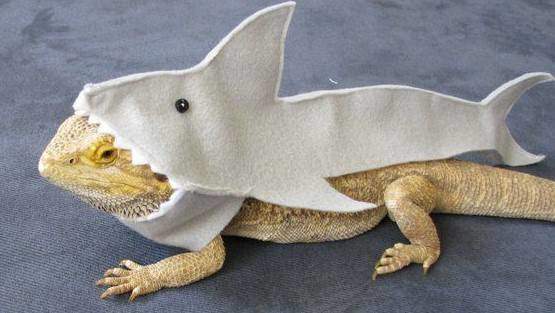 Finally, made from felt, this costume will serve your pet for a long time, and it is easy to clean.
3. Bearded dragon devil's costume
Made by Pampered Beardies, the devil costume is an excellent choice of attire for this lizard made of felt and a pipe cleaner.
It has wings and horns that have an adjustable ribbon tie while the tail has an elastic band to hold it to your pet. Whether it is during Halloween, photo session, shows, parties, or any other events, your beardie will look awesome.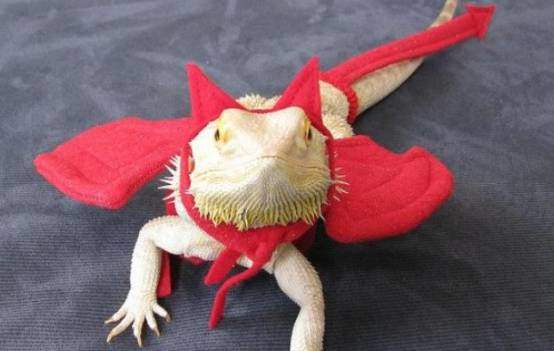 4. Witch or wizard costume
These handmade wizard costumes as a wizard hat and cape. Made from 100% recycled felt, there is a six-inch cape with a shoulder strap that measures 6, 7, or 9 inches, and the three-inch wizard hat that has a chin strap measuring 5.5, 6.5, or 8 inches.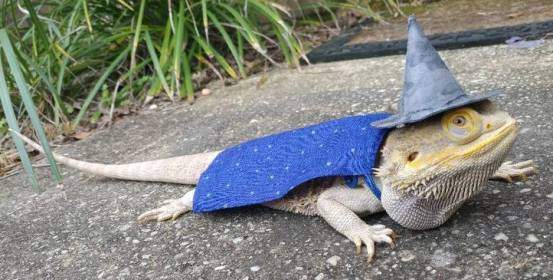 5. Halloween costumes for these lizards
During Halloween, you can buy yourself bearded dragon costumes for humans. Also, you can get something for your beardie.
Most of the ones we have seen, including shark, cowgirl, or cowboy hats, will look great. Besides, consider bandanas, witch hart, wizard regalia, and so on.
6. Toothless costume
The Night Dragon is all you need if you are looking for a toothless costume. You will find it in two sizes, i.e., the small for juvenile beardies and other small or young lizards, including your geckos.
This outfit has two removable straps. One is placed in the waist and the other one on the neck while the large one has a small tail strap.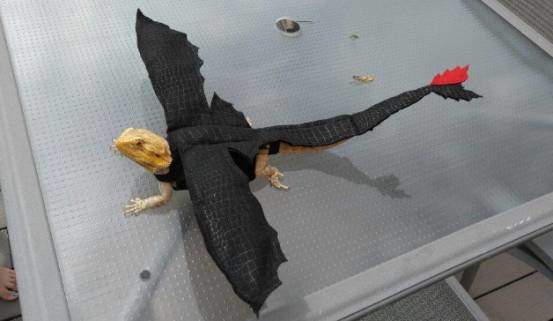 Where to get these costumes and outfits on sale?
Etsy has one of the hugest inventories of various outfits and costumes for baby, juvenile or adult beardies including hats as well as a bunny, Halloween, devil's costume.
Also, Etsy has Santa beard, bow ties, bandanas, Scottish Kilt, bat wings, pirate cap, witch hat, tuxedo, among others.
Besides Etsy, you can also get them at PetSmart, Pampered Beardies, Petco, Amazon.com, eBay, among other online stores.
A Bearded dragon T-shirt?
If you are a beardie enthusiast, don't go with regular clothes, why not get a beardie branded attire that says a lot about who you are such as a T-shirt?
You can wear it during fun activities with your bearded dragon such as during park walks, as you attend a show, give a talk and so on.