If you love to take your bearded dragon for walks including in the part, near the beach, on your patio, and so on, you need a harness and a leash.
Besides physically exercising them, walks outside their terrarium gives them a chance to experience a new environment that will mentally stimulate your pet. Additionally, it will reduce stress.
Also, they may get an opportunity to capture some sun's UV light, and it will improve a bond between the owner and the pet.
Finally, a harness and leash will make your pet look good, get identified easily, ensure it doesn't scamper away, and so on.
Bearded dragon collar vs. harness
A collar is a material you tie on a pet or animal's neck for control, identification, and other purposes such as a dog, horse or cat. It can be from leather, nylon, or other materials.
On the other hand, a harness is similar to a collar but has several straps looped and fastened around your pet's torso, especially a quadrupedal with a strap above their shoulder and the other one behind their front limps. Harnesses they come in may design, including the X-back, H-style, Y-back as well as vest or jacket types.
Both the collar and harness come with fastening clasps, velcro, or buckles. They may come with a leash or lead or not. Leashes and leads are clipped or tied to the collar or harness.
Do I buy a collar or a harness?
What to buy between these two is a common question. The answer is a harness as it allows better weight distribution and minimizes chances of injury, including damaging their backbone.
Furthermore, if not fastened well, collars may slip off their head, making makes them inappropriate. However, all these don't rule out the possible use of a collar.
Leash vs. lead
A leash, lead, or tether is the rope attached to the collar, halter, or harness to either lead or leash your pet. A leash is one where your pet leads you while a lead is where you lead your pet.
While some pets can use both a leash and lead, since beardies are relatively smaller pets, we recommend a leash so that your pet leads to as you have a walk with him or her. Don't pull or drag your it.
Can I leash train my bearded dragon?
As one of the most relaxed and easy-going reptiles, most bearded dragons can let you dress them up with various costumes and outfits as well as wear harness. You can leash train them.
However, like most other reptiles, it needs dedication and time. Furthermore, some may not accept it. Usually, your beardie's behavior and personality may influence the success you achieve.
Leash training a skittish and aggressive lizard may prove a difficult task as opposed to one that accepts handling and isn't nervous. Furthermore, how social this pet is, your mutual bond, and trust may play in determining your success.
Watch for any signs of aggression, such as their beard turning black as this may mean they are upset or stressed.
Finally, handle them in an unthreatening way as this will reduce the chances of them being skittish or aggressive. Never force them.
Leash training tips
Leash training a beardie may be easy to a complex task depending on your pet's temperament. Here are training tips that may increase your success chances:
Start when they are still young – Start handling your pet young and do it as you observe if it is comfortable or stressed. Understanding this pet's behavioral response is vital in knowing whether he is ok or not.
Keep optimum conditions – Ensure the room you are using has an optimum temperature, as this will make your beardie more active.
Start small and stay hopeful – Begin with fewer shorter sessions and ensure they do not stress or upset your reptiles. Stop any lesson if they don't seem to like it.
Reward them – Reward him or her with its favorite treat or food that may be live feeder insects such as crickets, roaches, mealworms, silkworms, and so on. However, don't overdo it as they may gain weight.
Choose a pleasant environment – avoid scary places. A private area will be ideal for a start unless you don't have such a location.
Besides these tips, ensure good general health and minimize any stress not just during training but in totality.
Best bearded dragon harness and leash
Before we look at some of the best harnesses and leashes for these agamid lizards, it is good to know what to look at in the specific brand you are buying.
Comfort – it should allow your pet to move her neck, head, and legs freely and be very soft or gentle.
Size – Always select a brand after considering the size of your beardie. What suits a baby beardie may not be suitable for adults. Measure their neck and girth behind their front legs.
Adjustability – While adjustability may not mention one size fits all, pick an adjustable brand as it will ensure you securely put in on this reptile.
Easy to clean – Since they are bound to get dirty, choose one that is easy to clean.
The material used – usually, the material used varies and may include nylon and leather. Decide which one suits you. The one you settle for will affect how easy it is to wash and durability.
Safety – Is the material safe for or toxic to these animals? Can they eat it or not? Go for a non-toxic brand that they cannot eat.
Cost – Can you afford it, or is it way beyond your budget?
Personal preference – So long as it is safe, looks, its color, style, and design will be more or less what you like.
Leash length – It should be long enough for anyone, including tall people.
Which are some of the best harness and leash for your bearded dragon to buy? Here is a review of the best and highly rated brands.
1. Watfoon Adjustable Bearded Dragon Lizard Comfort Leather Leash Harness with Cool Wings
The handmade highly rated Watfoon Adjustable Bearded Dragon Lizard Comfort Leather Leash Harness is a delightful and exquisite leash harness you should have.
It is ideal for reptiles, amphibians, and other small animals, meaning that it will be ok for not only your beardies but also chameleons, Chinese water dragons, iguanas, and gecko, as well as your guinea pigs, ferrets, chinchillas, hamsters, and so on.
Key features
It is colorful with a wide array of colors to choose from, i.e., you can go for black and white, blue, dark red, green, orange, or green red and green.
Its leather material is very comfortable with an easy to wear, remove or adjust fit leather vest that is very soft to avoid hurting your lizard.
It is light in weight and very durable, i.e., it has a lightweight, durable nylon robe, a swivel link made of stainless steel, and aluminum buckle and high quality and incredibly soft leather.
It comes with a long leash that is about 5 feet long to ensure it is convenient as you walk your pet around.
100% safe material for your pets.
Durability, comfort, appealing look, and value for money are some of the features you are going to love surely.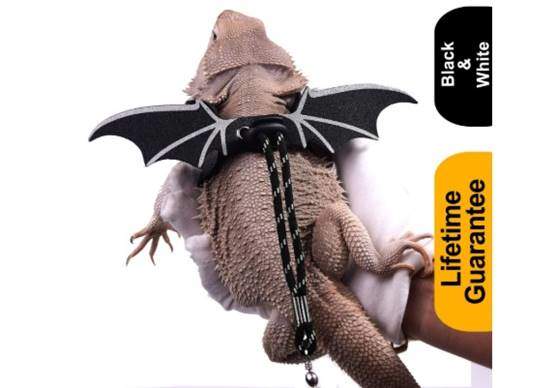 KHLZ US, Kudes,  and SSRIVER have a similar or identical looking leash harness. We didn't see the need to review them again.
2. My Reptile Rocks Adjustable Reptile Leash™ Harness 100% Adjustable
This adjustable reptile least harness is an equally loved and highly rated brand that will work perfectly well for your reptiles or any other small animals like ferrets and guinea pigs.
It comes in several bright colors, i.e., they have blue, orange, pink, or green colors.
It is easy to get on, remove or adjust, making it suitable for reptiles of different sizes. You don't have to worry about having to push your small pet's feet through tiny holes.
It comes with a 3 feet leash for walking your pet or a 6 ft one if you want to give it a chance to explore around.
You can request for step-by-step pictures to guide you on how to use it.
Most buyers highly recommend this brand since it is easy to use, quite safe, and durable. Furthermore, it is worth every penny you spent on it.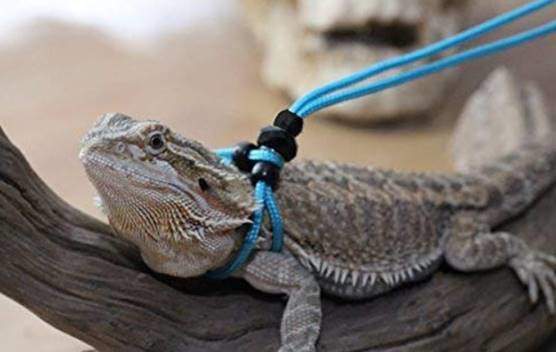 3. SLSON's Reptile Harness Adjustable Bearded Dragon Harness Leash
Sold by SLSON's, this colorful handmade reptile harness that features a unique design that will make your pets look alluring with a leather chest piece and a nylon rope. Other small animals such as the ferret, hamsters, rats, and guinea pigs can also use it.
Key features
Its super-soft leather material and a nylon rope ensure it is comfortable and lightweight.
It comes in various sizes, i.e., a large one ideal large full-grown adult beardies and geckos with chest girth measuring about 5 to 7 inches, a medium for pets with chest circumference of 4 to 6 inches and a small one best fitted for baby and juvenile bearded dragons, baby iguanas, chameleons, and so on with a chest circumference measuring about 3 to 4.5 inches.
It is easy to put it on and off or adjust it via its clip to ensure it fits well onto your pet.
The large one has a long nylon rope measuring about 6.5 ft. while the smaller one's line is 5.9 ft making them ideal for walking and letting your pet explore around.
We laud this harness leash for its durability, value for money, and how securely and comfortably it will hold your pet in place. They will not slip away.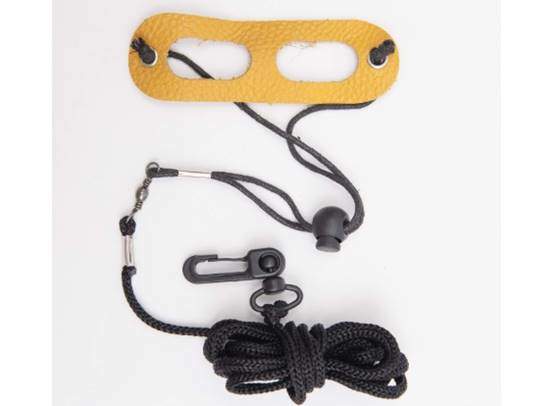 4. RYPET Bearded Dragon Harness and Leash Adjustable(S, M, L) – Soft Leather
The RYPET leather harness with a leash is an excellent choice if you are looking for a three-pack that has a small, medium, and large harness and leash.
Depending on the size and the size of your pet, you can use it on your baby, juvenile or adult beardies, and iguanas as well as geckos, including crested geckos and other small animals.
Key features
It comes in small, medium, and large size with chest girths of 3.1-3.8, 3.9-4.7, and 4.3-5.9 inches suited for a baby or juvenile, medium, and large size beardies or other pets with a similar chest girth.
It Has a 4.92 ft. long nylon leash
This soft leather handmade harness to protect your pet's skin as you secure it on the leash.
It is non-toxic and tasteless.
These impressive, affordable, and durable pieces are a great addition if you want all the three sizes and not one as it comes as a single pack.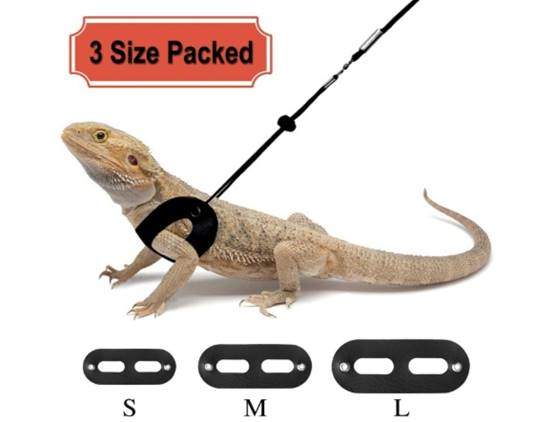 5. FunPetLife Bearded Dragon Harness and Leash with Angel Wings
If aesthetics, functionality, comfort, and durability are your essential considerations while you are looking for harness and leash for your pets, you need to add this adorable H-shaped piece.
Your bearded dragon, gecko, baby ferret, chinchilla, mouse, gerbil, degu, rat, squirrel, or chipmunk will undeniably look stylish and stunning in this angle winged harness and leash.
Key features
The material used is breathable, lightweight material with a 48-inch nylon strap, a PVC clasp and buckle, and a metallic D-ring for secure locking and attachment.
It comes in multiple colors, including blue, green, pink, red, purple, and yellow, with matching leash colors.
It is machine washable, making it very easy to clean.
It is soft and comfortable. Don't worry about it, stressing your pet's fragile skin.
Going by the size of breast and neck girth that ranges from 6-9 inches, use it for adult bearded dragons and other similar sized reptiles.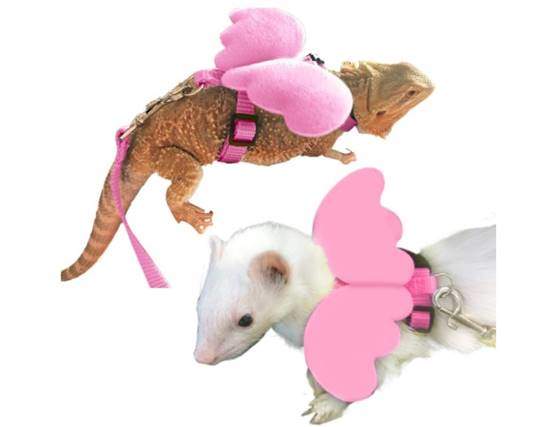 6. Fluker's Repta Leash for Reptile
This leash comfortable, secure, safe, and specially designed for use on various lizards, including your bearded dragon.
Key features
It comes in extra X-small, extra small, small, medium, large, and extra-large sizes. Ensure you pick its size correctly.
The harness is soft, durable and comfortable, while its 6 feet adjustable lead doesn't get fuzzy or peel, thanks to its tight braiding.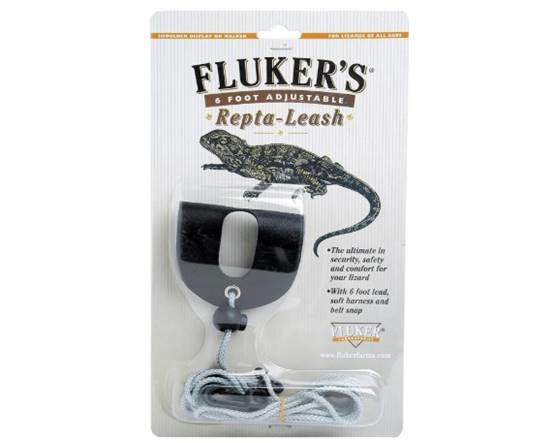 7. T-Rex Lizard Accessory Comfort Leash
A stylish, comfortable, and correctly sized leashes are what describes best what this T-Rex Lizard Accessory will offer your pets.
Key features
The harness is made of the finest leather, while the 36-inch long lead is from nylon.
It also has adjustable cinch to enable you to secure your pet well and a pivoting clasp you can attach to your buttonhole, belt loop, or tie it to something like a branch.
The harness comes in various sizes, i.e., XX-small, X-small, small, medium large, X-large sizes, and XX-large making them ideal for beardies, iguanas, anoles, swifts, geckos, tegus, as well as other reptiles, amphibians, and small animals.
It comes in various colors to suit personal preference while making your pets look wow.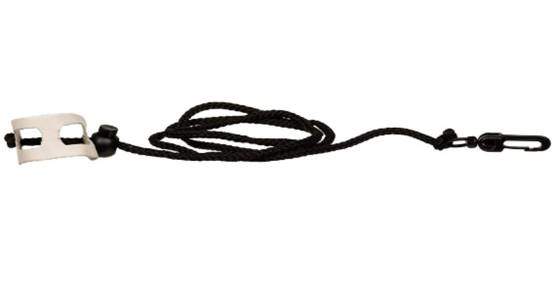 8. Ogle Lizard Leash, Limited Edition
Made by OgleRPets, this leash is ideal for geckos, bearded dragons, as well as small monitors, iguanas, and tegus.
Pick on size by either measuring your beardie's chest girth (behind the front legs) or their length. You can go for the small, medium, large, or extra-large.
Try it today. This well made, excellent looking, and correctly sized harness and leash will give you the real value for your money.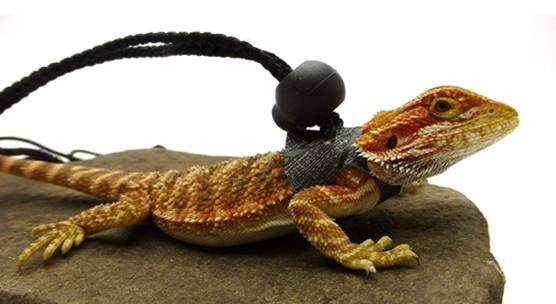 9. Tzou Adjustable Reptile Lizard Harness Leash
If you have reptiles, amphibians, or small animals with a chest circumference of less than 23 cm (9 inches), this type X-type of 40cm (15.75inch) adjustable reptile lizard harness with a and has a 120cm ( 47.2-inch) leash will serve you well.
Made from polyester webbing, this brand is durable, comfortable, comes in multiple colors, and it can withstand various climatic conditions all year round.
Serdokntbig, Day Cube, and RZRZOO have the same adjustable reptile lizard harness leash on Amazon.com.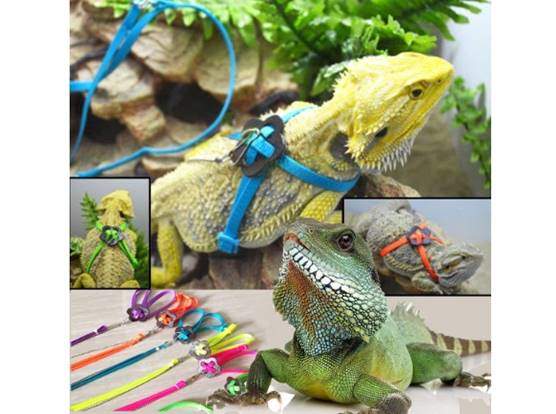 Try Etsy.com, Petco and other places
If you are looking for more designs, including customized ones, Etsy.com is one place you will get some of the most innovative designs. You cannot miss finding something that will look best on your lizard.
Furthermore, and you can get sellers willing to customized one for you, including a Paracord harness.
Finally, try Petco, eBay, Etsy.com, among other places, including your local pet stores to see if they have any.
DIY baby, juvenile or adult bearded dragon harness and leash
Getting the right size of harness for a baby and juvenile beardie may prove somewhat tricky task since most will tend to be bigger or smaller. Most vendors will try to assist you on how to choose the right sizes.
Instead of having to buy something only to realize it is too small or large, why not try making one at home for your baby, juvenile, or adult beardie? It is not a dreadful task. However, you have to ensure it is safe and comfortable.
The most important dimensions to take is your bearded dragon's chest and neck dimensions. Furthermore, you can customize it as much as you want.
There are many video tutorials and guides to help you with steps to follow, depending on the type you are trying to make. Some of the resources we found important include:
1. Video
2. Guides
Besides using the YouTube videos, some of the easy to follow excellent DIY guide for bearded dragon harness and leash include: