It is a fact that cats eat grass, some only nibble a few blades amount and occasional while others may munch a little a lot and more often. However, if your cat keeps on eating a lot of grass every day or regularly, you need to see your vet.
Why do cats eat grass or plant, what is cat grass, which best cat grass brands can I buy, how do I choose a great brand, and how do I grow and care for them? These are some of the concerns we intend to answer.
Why do cats eat grass
While the exact reason for cats eating plants, including grass is unclear, veterinarians, animal behaviorists, and researchers have given some explanations that include the following:
To make them vomit – Some cats eat grass and vomit afterward, leading to the conclusion that they are trying to make themselves vomit to get rid of something terrible or inedible they have eaten. Whether it is the eating or the consequence of eating grass that makes them vomit is unclear. However, they don't eat to make themselves sick just because they vomit.
Help in digestion – Grass has fiber that may help keep things flowing in their stomach, break hairballs, settle stomach upsets, minimize effects of some GI disease, etcetera.
Purge parasites – Some associate the behavior as a means to remove intestinal parasites, something their ancestors may have done.
Nutritional deficiency – Perhaps some felines have unmet dietary needs like folic acid, chlorophyll, fiber, other vitamins, and minerals, and they are trying to get them in eating plants.
Anxiety and stress – This behavior eating may be part of pica in cats, where they eat non-food material.
Cats like grass – There may be a possibility that contrary to what we assume, kitties may love the taste and texture of greeneries.
These reasons are just but a summary, if you need in-depth coverage, see why cats eat grass and other plants and do cats like them.
What is cat grass
Cat grass refers to a blend of wheatgrass (Triticum aestivum), rye (Secale cereale), oats (Avena sativa), and barley (Hordeum vulgare, including the variegated Hordeum vulgare variegate) and sometimes flax (Linum usitatissimum) grass intended for cat grazing or eating.
However, at times, it may contain one a few or all these plants. Furthermore, some may have other plants, such as alfalfa or cat safe herbs.
Benefits of cat grass
As you can see, most of them are cereal grasses. They are safe, nutritious, may satisfy the plant-eating urge, and a good source of fiber, which may help reduce hairball, and support digestion,
Also, it will help minimize the chances of your feline eating toxic house plants, those garden plants that may have herbicides or pesticides, or grown with harmful artificial fertilizers. Some of these plants can even kill your kitties.
Finally, if you buy cat grass, you will minimize the chances of your feline ingesting intestinal parasites like roundworms, hookworms while grazing in your lawn.
Best grass for cats to buy
It's an undeniable fact that cats eat grass for whatever reason they do. While some people may want to stop their cats doing so, what is it is their very nature. Why not buy them one of these top cat grass brands?
1. The Cat Ladies Organic Pet Grass Growing kit with Planter
The Cat Ladies Organic Pet Grass Growing kit with planter has everything you need to grow grass for your indoor, i.e., organic soil, seeds, and a growing container.
Key benefits
100% safe and all-natural, thanks to the 100% non-GMO and organic blend of wheat, rye, oats, flax, and barley seeds that are grown and harvested in the USA. Your kitties or other pets like dogs, guinea pigs, turtle, or iguanas will enjoy this nutrient-rich blend without any pesticides.
Uses natural organic coconut coir, which is renewable and a superior substitute for soil. It retains water well, doesn't harbor pests, disease, or weeds.
It has a stunning reusable planter making it an excellent gift idea to anyone who has cats.
It comes in a BPA free packaging since The Cat Ladies love nature.
The seeds have a high germination rate and grow super fast. Within six days, the grass will be ready for feeding.
Cons
Molds easily if you overwater it since it doesn't have drainage holes.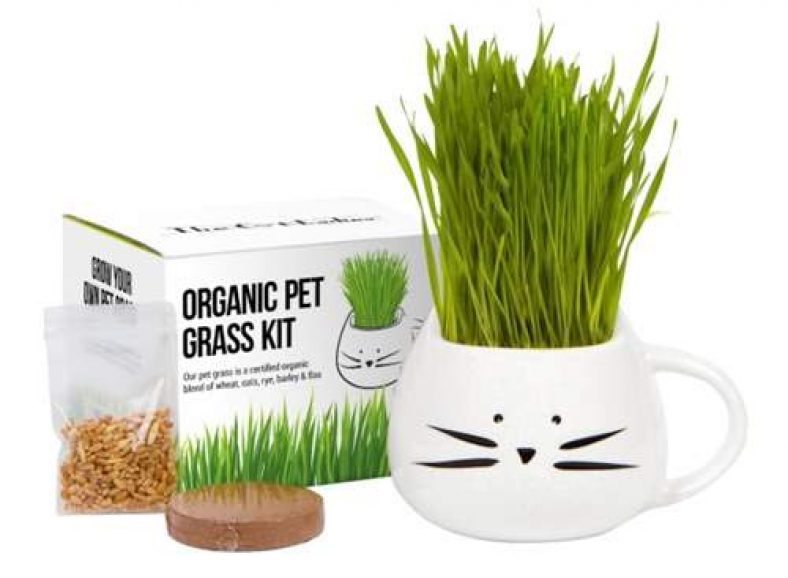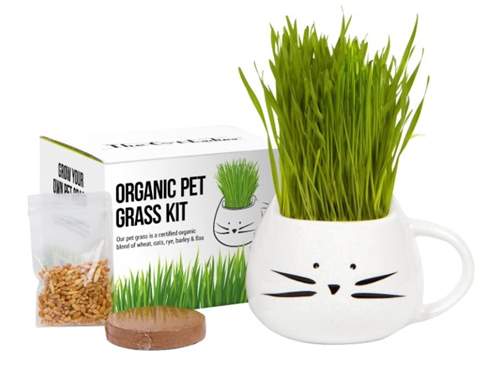 Besides this white planter, The Cat Ladies have a Black Colored Planter. Also, you can buy CAT PET Grass Refill KIT – 3 Pack: Refill kit, which has three packs of the same organic soil and organic seeds.
Furthermore, the Compostable Cat Grass Grow Bag Kit is ideal for small breeds will be an excellent choice as it also comes environment friendly grow containers and is packaged in compostable packaging since The Cat Ladies care for the environment.
Finally, for your kittens or baby pet, the best choice will be The Cat Ladies Cat Grass Growing Kit – 3 Pack Organic Seed, Soil, and BPA Free containers (Non-GMO) with organically grown barley, wheat and rye seeds, and a BPA free smaller container or planter.
2. Catit Senses 2.0 Grass Planter + Seed Kit
Catit Senses 2.0 Grass Planter + Seed Kit features an intuitively designed planter kit with an option of buying the planter or seeds separately. Wet bet you will like every aspect of the new design that comes with a lot of improvements.
Key benefits
This new and improved planter is bigger and deeper to support better growth and has drainage whole to prevent waterlogging if you add much water that may cause root rot. Also, it is low for enhanced stability and has a unique cover grid to stop digging or planter knock-over.
Uses vermiculite, which is tidier than soil, and you will receive three sets of vermiculite and seeds in case you need a refill and.
It is easy to clean and assemble
It will activate your feline's sense, especially if you combine it with the other top-rated Catit Senses products like Catit Design Senses Play Circuit, Original and Catit Senses 2.0 Circuit, Interactive Cat Toys.
Cons
As the grass grows, it may push the lid upwards, leaving it hanging and easy to fall off. Therefore, it may not prevent digging.
Catit Senses 2.0 Grass Planter + Seed Kit is a beautiful way of offering your felines with a safe alternative to houseplants, most of which are toxic.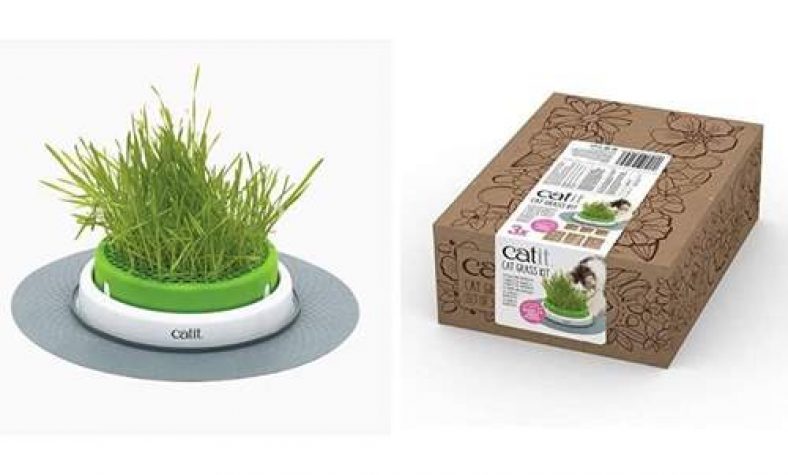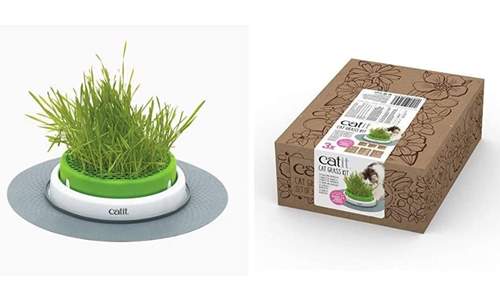 3. SmartyKat Sweet Greens Cat Grass Kit- 1 Oz
SmartyKat Sweet Greens Cat Grass comes with a potting container, organic soil, and oat seeds. All you need is water, and within no time, your cat will be having a nutrient-rich and tasty snack rich in minerals, chlorophyll, vitamins and will promote fresh breath. They will no longer crave for other harmful house or garden plants.
Key benefits
It is an all in one kit with a potting container, enough soil, and oats. Just get a sprinkle bottle and water to get started.
Safe for your cats. Don't worry about harmful chemicals like pesticides or herbicides since the oat seeds are organically certified, and the soil is approved for organic gardening.
SmartyKat offers a refund if you are not happy with the kit or replacement.
It is the most affordable kit in the market, going for less than $3.
Made in the USA
Cons
Some people aren't happy with the packaging
SmartyKat Sweet Greens will make your felines go crazy and have tons of fun nibbling oat grass without having to spend so much cash, a real value for money.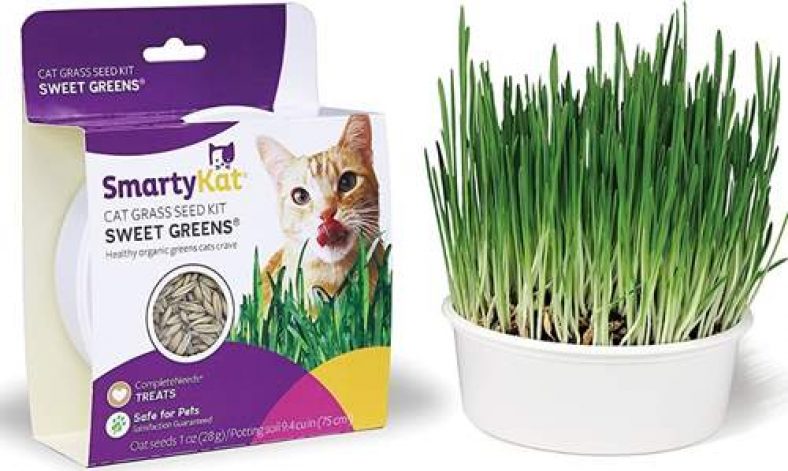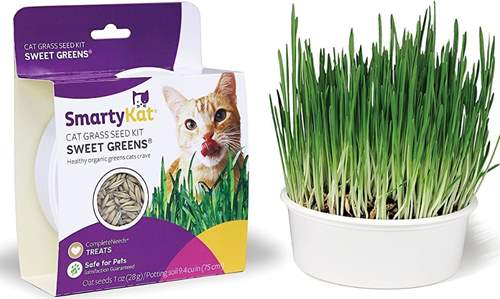 4. Todd's Seeds Hard Red Wheat Cat Grass Seeds 1 Pound
Whether you want to grow wheatgrass for your pets like cats, dogs, rabbits, guinea pigs, for your use like juicing or sale or you simply wish to wheat seeds for milling or resale, the fresh Todd's Hard Red Wheat seeds is an excellent choice.
Key benefits
Laboratory tested to ensure they are high-germinating with the testing date, i.e., expect almost 100% germination. You don't want seeds that hardly germinate.
Don't have any chemicals. You can even mill and use them for baking.
Non-GMO (all natural)
Very affordable considering their superior quality at 9.95% per pound.
Super cleaned to ensure they don't have any impurities.
Cons
They don't come as a complete kit with planter and growing medium or soil
Most buyers are happy about their packaging, germination, value for money, and superior quality.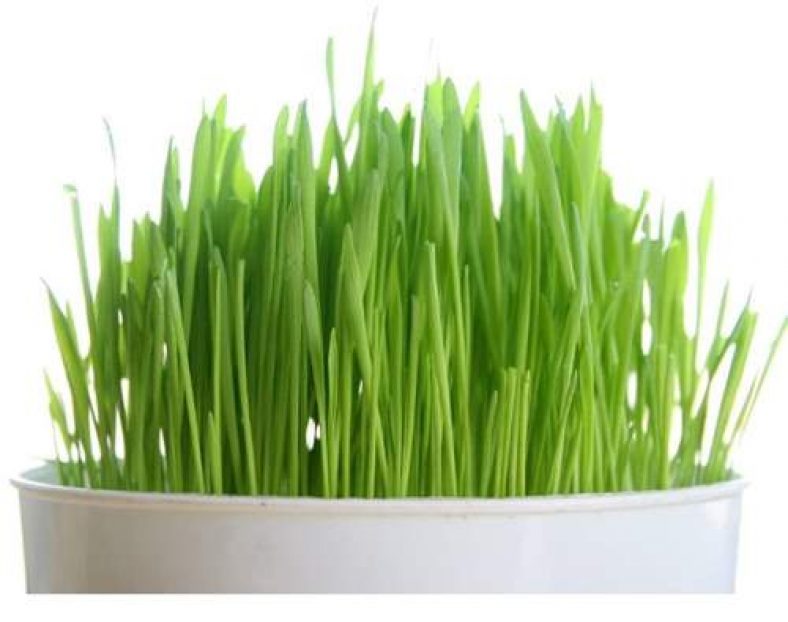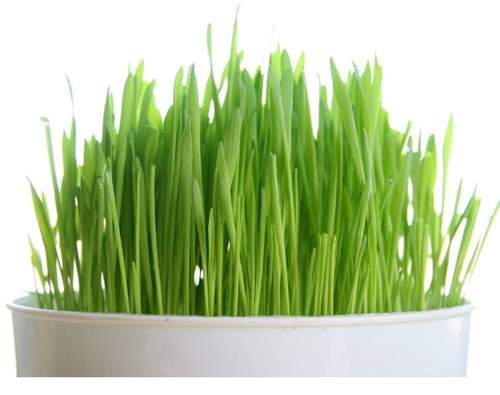 5. Window Garden Pop Up Cat Grass Kit – 3 Pack
Window Garden Pop up Cat Grass Kit with organic wheatgrass seeds, straw-like fiber soil, and pop-up bags suitable for indoor gardening for yourself or your cats. Additionally, Window Gardens also have asst. microgreens, broccoli, corn, and kale.
Key benefits
Features perfectly sized leak-proof pop-up bags for one or two cats. They will not take much space or leave behind any mess
100% all-natural organic and Non-GMO seeds
Value for money, i.e., the three packages go for less than $12.
It uses renewable and superior quality coconut coir instead of regular soil.
Cons
You have to discard the grow bags after the second use.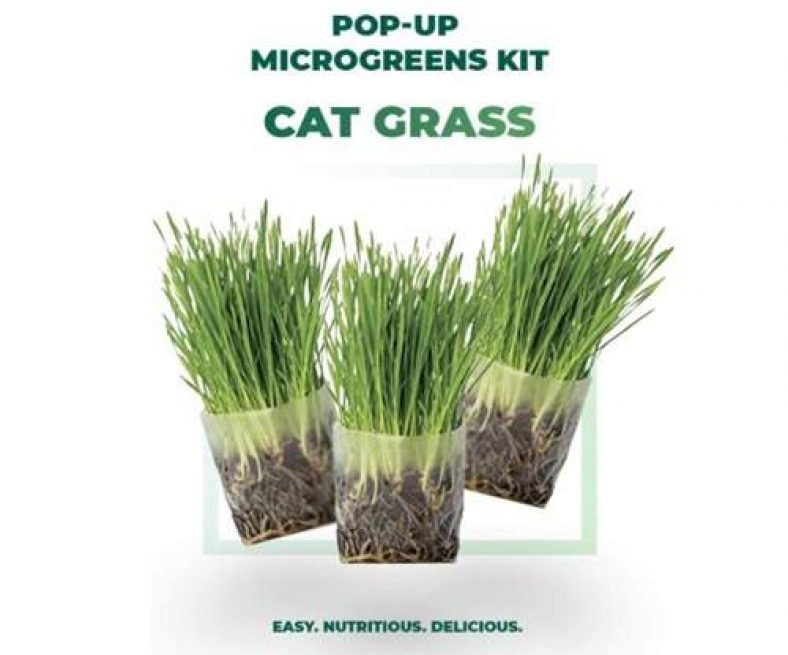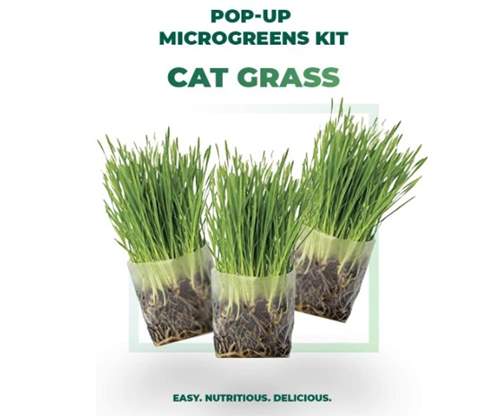 If you want something more durable, the Window Garden – Cat Grass Growing Kit with Kitty Pot Planter is what you need. The pots are made with glazed ceramic and hand-painted, making them a good Christmas, Mother Day's Day, or any other event to a cat lover. They come in six different stunning styles you will love.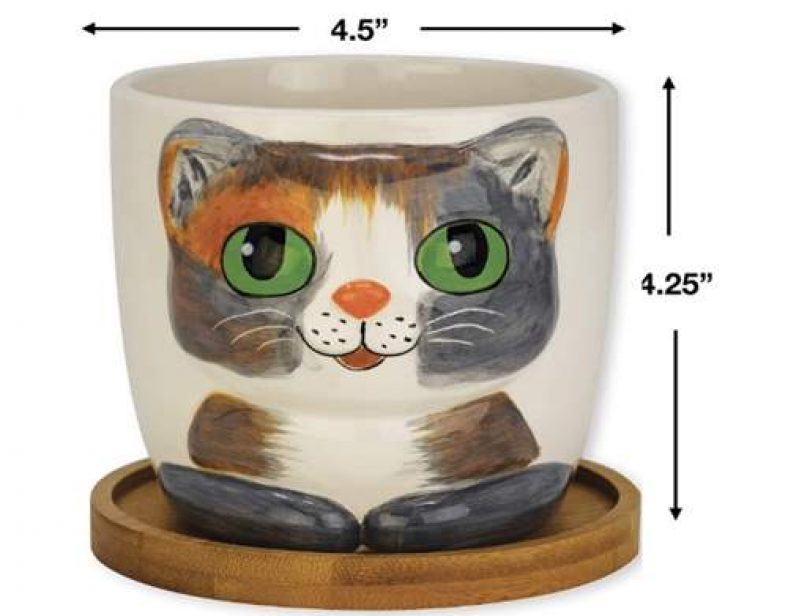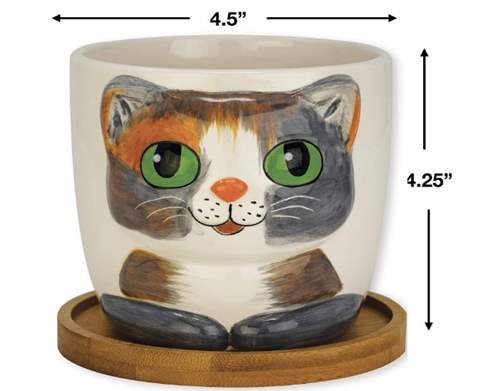 6. Miracle Care Cat-A'bout Cat Grass Plus Tub (formerly Gimborn)
If watering plants is a challenge, this kit by Miracle Care should be your ultimate choice since you need to water only once, and you are good to go. You will get a planter, wheat or oat seeds, vermiculite, and Plantagel.
Key benefits
Easy to use, thanks to the premeasured amount of soil and seeds.
Miracle Care's wheatgrass or oat seeds have a 98% germination rate, are Non-GMO and Certified Organic by OTCO to ensure they are safe and healthy to your pets.
Vermiculite is less messy, and it has added Plantagel, a safe water absorbing agent that will prevent overwatering that often causes molding. You will only need to water once.
Good quality planter kit at a very affordable price of less than $4
Cons
Some users have raised an issue with the presence of bugs.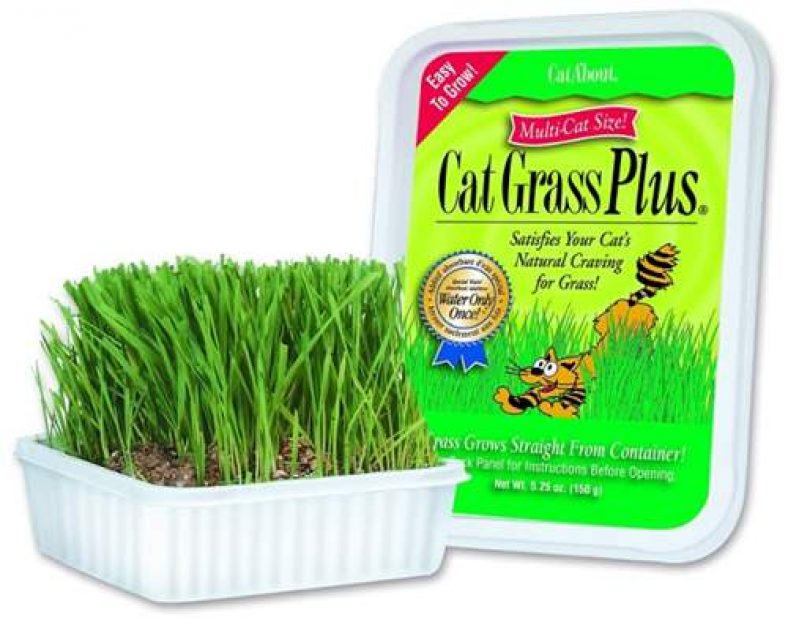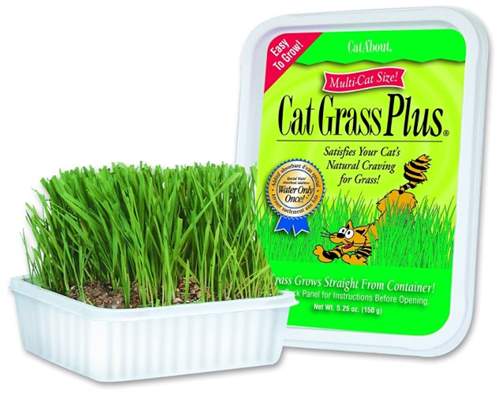 7. Reclaimed Barnwood Style Planter Wheatgrass Kit
If you need an alluring cat grass kit that will match well with your interior décor while giving your kitty something safe to nibble, look no further than the Reclaimed Barnwood Style Planter made with aged brown cedar. It is lovely. You can also settle for the Brown one.
Key benefits
It is an alluring, charming, and functional kit, i.e., besides your kitties, it can serve as a decorative planter large enough to provide enough wheatgrass for your juicing or serve as the centerpiece for your table during special occasions.
The planter is handmade in the USA using durable rustic Western Red Cedar wood and has a Clark's Food Safe cutting board wax finish with an orange fragrance with plastic drip trays.
You will receive enough seeds and soil for three plantings, i.e., three 100mm Minute Soil Pucks (compressed coco coir fiber) that expand upon hydration and 8 oz. certified OTCO Organic wheatgrass seeds.
Cons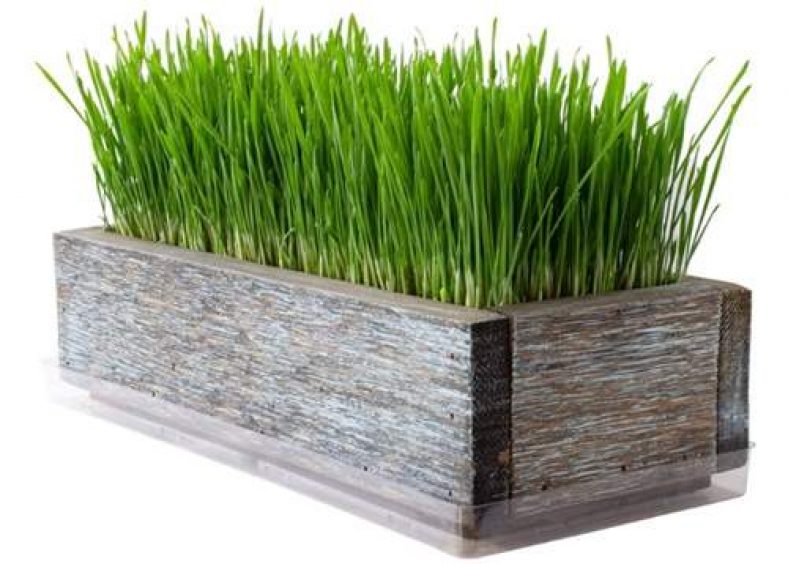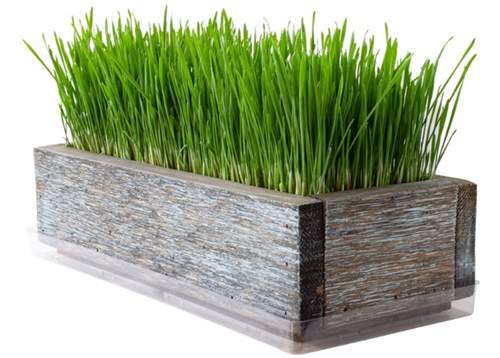 If you want something affordable, go for the Handy Pantry Organic Cat Grass Kit that comes in a set of three trays, soil pucks, and non-GMO wheatgrass seeds.
8. SmartCat Kitty's Garden
The SmartCat Kitty's Garden comes with oats, rye, barley, and wheat, a decorated wooden box, and soil pellets.
Key benefits
It has a sturdy, charming, and a very stable wooden box that will not topple easily.
100% organic oats, rye, barley, and wheat seeds, i.e., it no chemicals used in the cultivation of these seeds.
Cons
According to some verified buyers, it may grow molds even you followed instructions provided to the latter.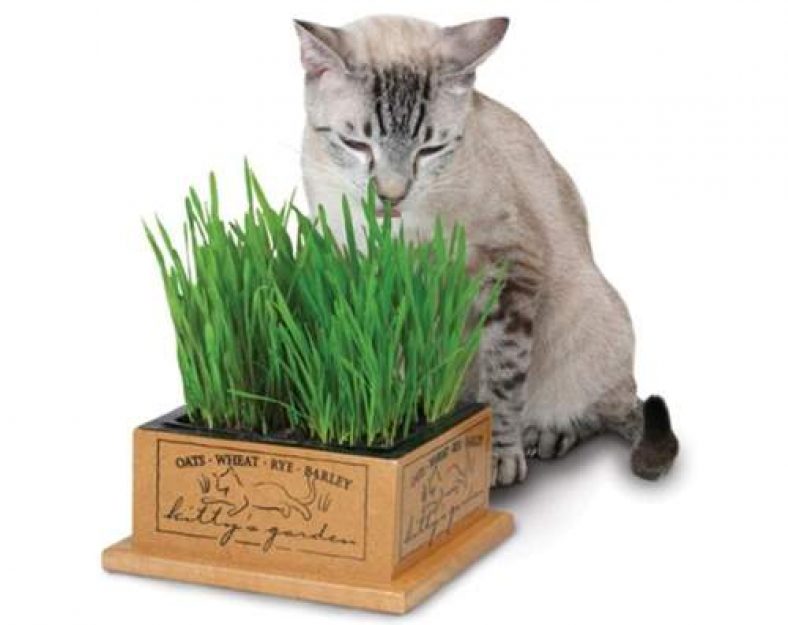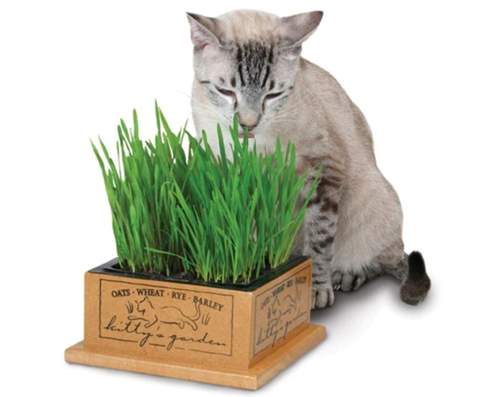 9. Pet Greens Self-Grow Pet Grass Kit
Your cats, dogs, birds, reptiles, and other small animals can enjoy the nutrient-rich and healthy with the Pet Greens Self Grow Garden Kit. You can choose between Medley, Garden or Garden Tub.
Key benefits
Easy to grow, you just need to add water, and once they begin sprouting, ensure they are aired and have some sunlight.
It has all-natural grass that is 100% certified organic and non-GMO wheatgrass free of amberjack.
The tub is large, making it an excellent choice for people with more than one cat.
Made in the USA
Cons
There are complaints that Medley has very few seeds or poor germination.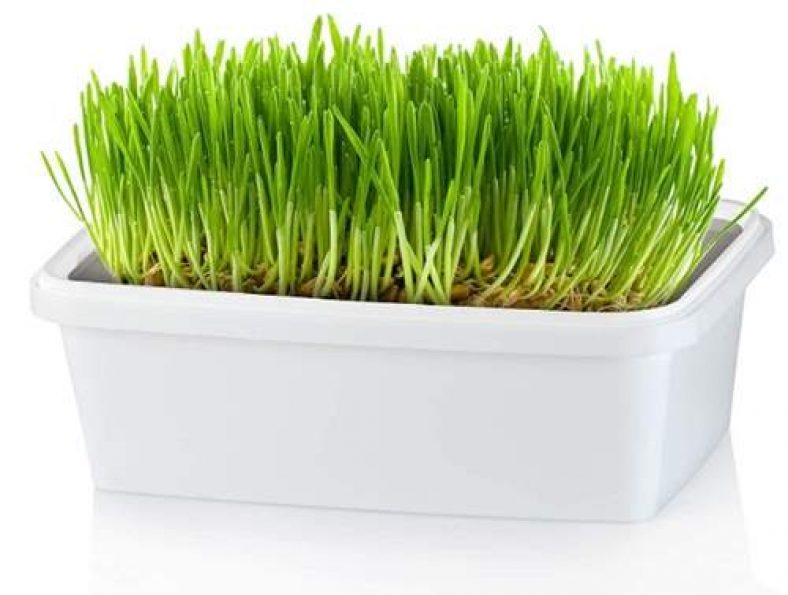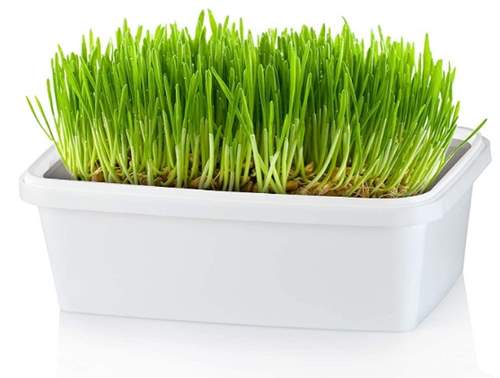 10. Van Ness Cat Oat Garden Kit
Buying the Van Ness Garden kit is a sure way of providing your kitties with a one month supply of the sweet-tasting fresh and organic oat grass. You will receive a pot, seeds and peat moss.
Key benefits
It has 4 oz. of organic oat seeds, i.e., grown without the use of any chemicals.
Easy to grow. You need to add the seeds to the natural peat moss and water them.
Made in the USA.
Cons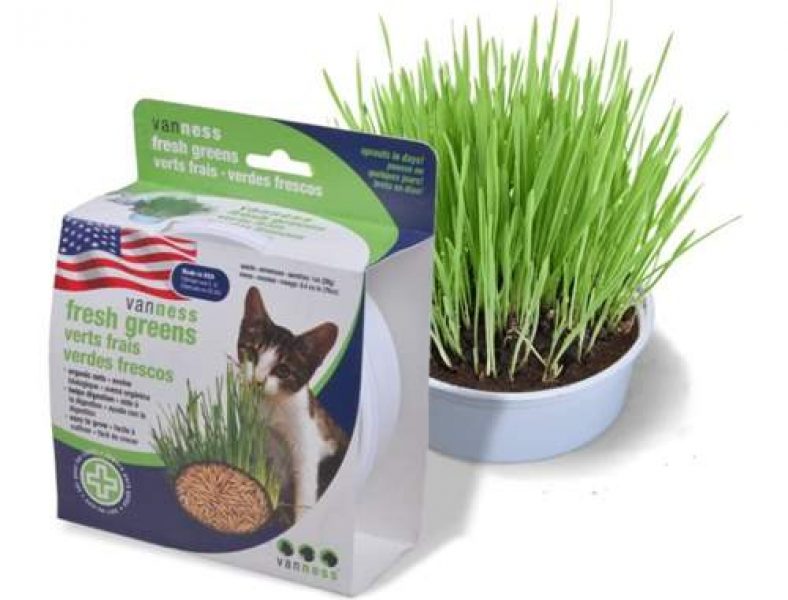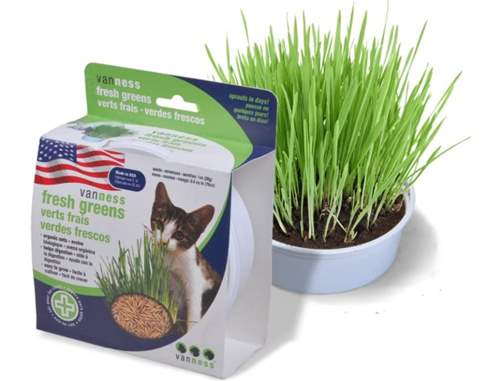 11. Vitakraft Cat Grass Kit
This kit comes with a growing tray, mineral soil, and a mixture of highly germinable seeds that will provide your kitty with grass to nibble throughout the year.
Key benefits
It comes as a complete kit with mineral soil, seed mixture, and tray.
Suitable for all feline breeds and sizes
100% all-natural without any chemical additives.
Cons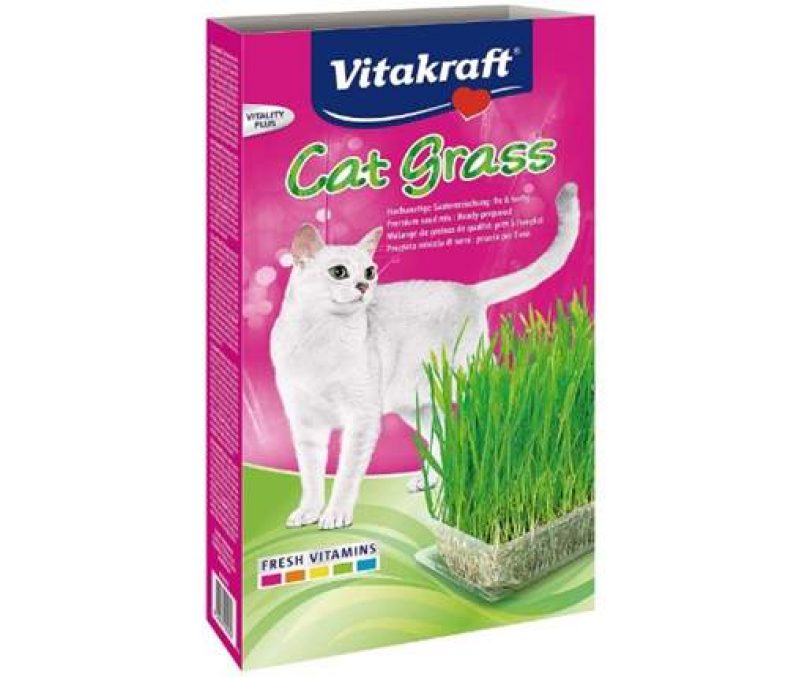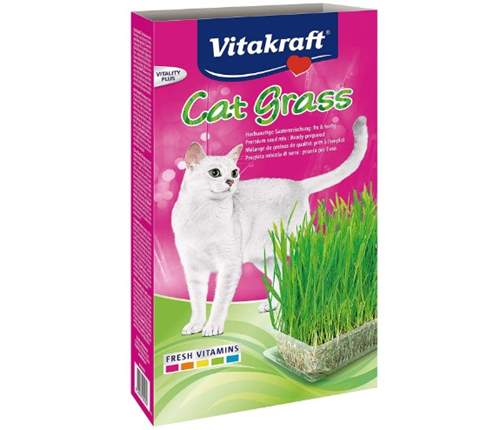 Others good brands
Besides the above other good brands are Microgreen Pros (Kit), Rose, and Branch (Wheatgrass seeds). Chia Planter Snoozy Kit, Fresh Patch Pet Grass Pad, and Trixie Cat Grass Including Tray
Where to buy
If you are looking for cat grass, try pet store near you or buy at online stores like Amazon.com, Chewy, Petco, Home Depot, Pets at Home (UK), Homebase (UK), DIY at B&Q, Lowes, Petbarn (Australia), Mr. Fothergill (Australia), Pet Valu, Burpee, and so on.
Choosing best grass kits for cats
A complete feline grass kit should have seeds, a growing container, and soil. We have given you the best brands in the market. If you still want to choose your kit, here is what to consider.
Know which cat grass type you need
As seen, there are various cat and kitten grasses, decide if you need a blend or just one of these types. Here is a brief description of each:
Wheatgrass – rich in chlorophyll, minerals, and vitamin. It is the most popular type and most commonly available for sale.
Ryegrass – has smaller blades but more durable, making it the right choice if you don't want to replace your kitty grasses often.
Barely – Grows longer, and nutrient-dense. Good for voracious eaters.
Oats (Avena Sativa) – Sweet-tasting, rich in nutrients including proteins, iron, manganese, zinc, and B vitamins, and it may help aid digestion or calm digestive tract.
Flax – Flax isn't part of most kitty grasses blend. Its grass-like stalks have shorter leaves when thicken and grow more leave as they mature. Ensure they don't grow over five inches, as it will be hard for these pets to eat them.
Alfalfa – Unlike others, this legume is protein-rich and may help prevent kidney diseases, notes PetMD.
Look at the planter
There are many planter types such as decorative ceramic pots or wooden boxes, plastic tray, growing bags, and so on in various designs. Some are for single-use while others are reusable or refillable, and their prices vary too.
Ensure you choose one that is 100% safe, i.e., without PBA or any other harmful chemicals, including paints and finishing.
Finally, decide on whether you want one with drainage holes or not. They do help in preventing overwatering that may cause molds and root rot.
Choose organic soil growing substrate
Besides going for soil certified for organic farming, you have a choice of buying hydroponic growing media that doesn't have soil such as coconut coir, vermiculite, perlite, and so on. Each has its advantages and disadvantages.
Finally, for those who want to grow cat grass without dirt, they will should buy grow stones, use filtered water and coffee filters. However, your feline may uproot your plants as it tries to eat them
Buy Organic and Non-GMO seeds
When buying seeds, choose 100% all-natural, i.e., non-GMO and certified USDA organic seeds as they will be the safest choice farmed without artificial fertilizers, herbicides, or pesticides and have not genetically modified. However, some non-certified are safe.
Number an age for your cats and kittens
Planters or growing containers come in various sizes, choose a bigger one if you have more than one cat. However, grow kitten grasses in smaller planters to make them more accessible.
How to grown cat grass indoors and outdoors
Once you have selected on the best brand, you will receive some straightforward growing and cat grass care tips. If you are using a growing container, here are typical growing steps:
Fill soil ¾ way up the container or leave about an inch to two from the top and spritz or sprinkle with a spray bottle to dampen the soil. Don't excessively soak or wet it as it will encourage molding if your planter doesn't have drainage holes.
Scatter your seeds, add about a ¼ an inch of soil on the seeds and dampen it again.
Loosely cover the container with an unbleached paper towel, plant saucer, or plastic sauce to prevent drying and keep the planter in the dark place at ideal temperatures of 70ºF.
Continue sprinkling water to ensure the topsoil doesn't dry without soaking the soil, and after 3-7 days when they being to sprout, reduce the amount of water you use.
Once they are an inch, remove the cover and take them to a place with light. They will require sunlight at least for a day in a week.
Allow them to grow for another 10-14 weeks before allowing your kitties to graze directly from the container. A better way is to consider their height. Wait until they are about 10 centimeters (4 inches). Don't cut the grass; just place it in their favorite corner or balcony.
If you are growing your cat grass outdoors, do so after spring when the worst weather is over. You will need to prepare the soil by removing any weeds and plants. The rest of the steps are more or less the same.
Finally, some people choose a smaller growing container and repot their grass once it has sprouted, which isn't a bad idea if you know how to do it properly.
Cat grass care
There isn't much care needed. You just need to keep the plants alive, just as you do to any other houseplants.
Too keep your grass alive, continue watering them using a spray bottle and giving them some time on sunlight and trip them to encourage growth. Don't put too much water to avoid molding.
Secondly, once you notice wilting or change in color, it is time to plant new grass for your kitties.
Finally, if you want to use fertilizers, always go for organic ones only. Don't use the normal ones used for regular farming.
Frequently asked questions
Does everyone need cat grass?
Yes. While it is vital for people with indoor cats that don't have access to gardens or lawns to have cat grass, buy it even if your felines have access to barn, backyard, yard or garden.

If you don't want to have them indoors, order seeds and plant them outdoor and designate the area for your cat's grazing. We have already mentioned the benefits.
How much grass should my cat eat?
Give them a small amount, not more than 10% of their food intake, just as a treat. Ordinarily, feline munch green plants occasionally and they eat a small amount only as a treat. However, if your feline seems to have more appetite, it shouldn't be more than 10% of their diet.

See your vet if your cat keeps eating a lot of grass every day, all the time, or often as may be due to underlying disease, and it can cause gastrointestinal blockages, nutritional deficiencies, among other issues.

Finally, to ensure your kitties always have something to eat, buy several planters, and keep rotating.
How long will cat grass last?
Typically, it will last 2-3 weeks, depending on the specific type. Some may be long-lasting than others. You will know it is time once they start having tough, rough leaves that are hard to chew with, some of them turning yellowish. Rotate your planter and plant new seeds.

Due to the short life-span, don't buy already grown or sprouted grass. Instead, just buy the kit and grow them yourself.