Chlorhexidine or chlorhexidine gluconate (C22H30Cl2N10) is an antiseptic and disinfectant which has shown activity against bacteria and yeast.
In stronger concentration, it is used to treat environmental surfaces while in lower concentrations and in various formulations with other active ingredients, its uses in cats and dogs include but not limited to:-
For preoperative skin disinfection (scrubbing), sterilization of surgical equipment and disinfecting hands of the surgeon. It provides better asepsis when compared to Betadine, and it can be used on the prepuce and it has a better residual activity as it binds with keratin.
In mouthwashes, cleansing flushes and rinses to prevent plaque and calculus formation as well as treat any oral yeast infection.
In topical as creams, ointments or sprays where it may be combined with other ingredients such as ketoconazole to help treat skin infections including fungal infections. Also, it helps in sores and wound cleaning and it accelerates healing of small cuts, insects bites, abrasions, and other skin conditions.
Together with other ingredients, it makes chlorhexidine shampoos for cats which have antiseptic properties.
It is combined with other ingredients such as ketoconazole to make chlorhexidine wipes for cats and dogs to help heal infections including bacterial and fungal. The wipes can also be used for in-between baths cleaning of folds such as those on the face, fingers, groin area, and so on.
These are some of the key uses of chlorhexidine gluconate. Before we look at some of the products that contain it, here are a few side effects or risk factors.
Side effects
Research has associated its clinical use as a perioperative disinfectant for the cochlear with hearing loss since it caused hair cells that are present in the organ of Corti to degenerate.
Therefore, avoid using it in ears as it is ototoxic and when using it for skin scrubbing, avoid alcohol as it activates it and it might bind with keratin. Instead, wash it off with water and soap.
Secondly, it has been linked to "severe oral ulcers, laryngitis, pharyngitis and tracheitis" in cats, in case a cat licks one used topically, especially after skin scrubbing notes Veterinary Practice News. To prevent ingestion, use Elizabethan collar.
Always avoid its use on eyes including as a skin scrubbing agent during eye surgery since it can cause corneal ulceration.
Chlorhexidine products
Its products are often used topically and orally. Some of the products that have chlorhexidine include the following:-
a). For oral use
Orally, it will ensure no plague accumulation and mineralization. It will also help wade off infections and soothe gums. Some of its oral products include:-
1. Vetoquinol Dentahex Oral Hygiene Rinse
It has chlorhexidine and zinc gluconate. This oral rinse will eliminate bad breath and protect your pets against periodontal diseases, bacteria, plaque, tartar or calculus (plague mineralization) and it will work more effectively than the use of cat toothpaste and brush.
After using it, your cat or dog will have a refreshing breath. Also, the zinc gluconate gives it a good taste and supports healthy gums and teeth.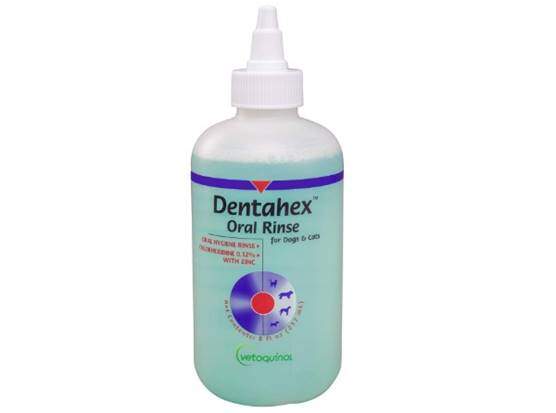 2. Vet One ChloraZinc Rinse
This rinse has chlorhexidine and zinc, which will work in ensuring your cat or dog has a fresh breath as well as reduce plaque formation, thanks to its anti-calculus and antiplaque properties. Furthermore, it will help in preventing gum and tooth diseases.
Finally, its squirt nozzle makes it easy to use.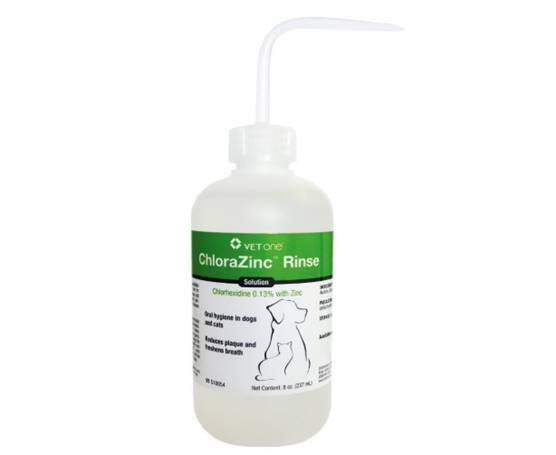 3. Clenz-a-dent Chlorhexidine Rinse
The Clenz-a-dent Chlorhexidine Rinse will minimize plaque formation as well as ensure your pets have a fresh breath without affecting their gums. You no longer need to struggle with dental tartar, plaque, bad breath, periodontal disease, and bacteria.
Furthermore, it is easier to use when compared to dog or feline toothpaste, mouthwashes, dental chews, or any other breath fresheners.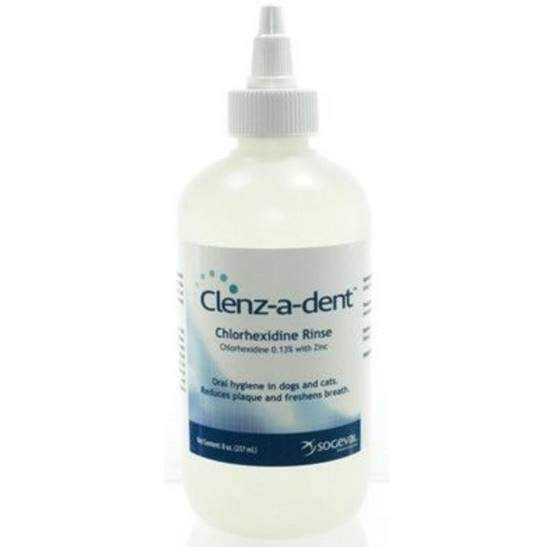 4. ZPAW Dental Wipes for Dogs and Cats
The ZPAW dental wipes have sodium hexametaphosphate and chlorhexidine. These oral wipes will effectively deal with tartar and plaque. You don't have to struggle to brush your dog or cat's teeth, wipe them.
It will fight against harmful oral bacterial, ensure healthy gums, reduce bad breath, and minimize tooth decay while sodium hexametaphosphate will coat their teeth to reduce the chances of more tartar formation.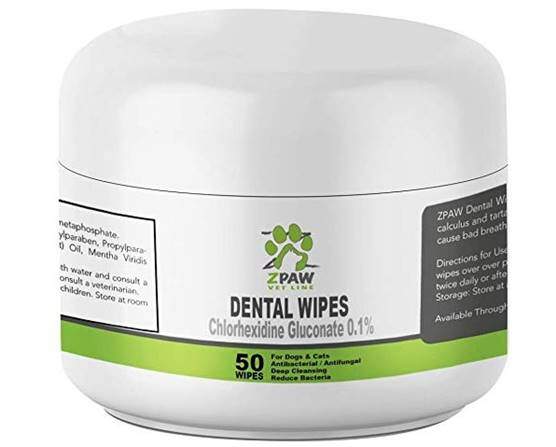 5. HEXARINSE® oral rinse for dogs, cats, and horses
This oral rinse is effective in preventing gingivitis, plaque accumulation, periodontal disease, and ensuring a fresh breath. It is free of alcohol and will soothe minor gum irritation and promote your pet's oral health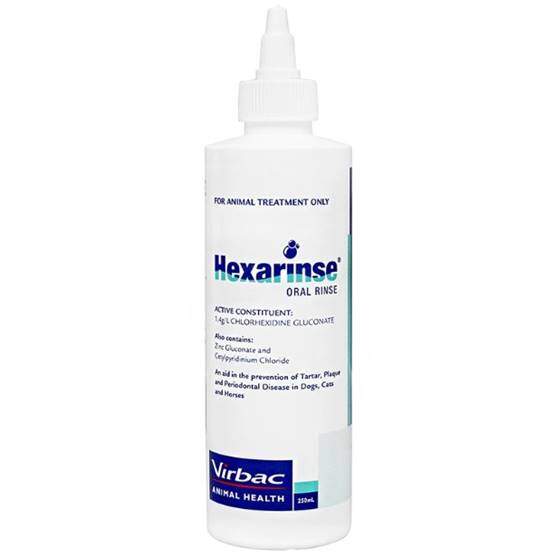 Also, you can try the C.E.T. 0.12% Chlorhexidine Rinse as some people have noted that it is equally good.
b). Chlorhexidine Sprays, creams, and ointments
Some of the great creams, sprays, and ointments that contain chlorhexidine gluconate include the following:
1. Davis Dog and Cat Chlorhexidine Spray, 4 Percent
It does not sting, is safe for cats, kittens, puppies, and dogs. This Davis spray will be vital if used in-between baths. Finally, it will relieve insect bites, inflamed skin, and hotspots.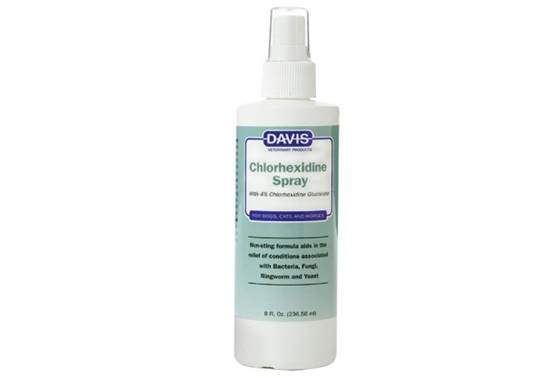 2. Vet One Chlorhexidine 2% Ointment
This topical ointment is designed to heal wounds, sores and other skin conditions without stinging or irritating the skin. Instead, it will soothe the skin and it can be used daily.
However, in cases of deep wounds, cuts or burns, discuss with the vet on its use.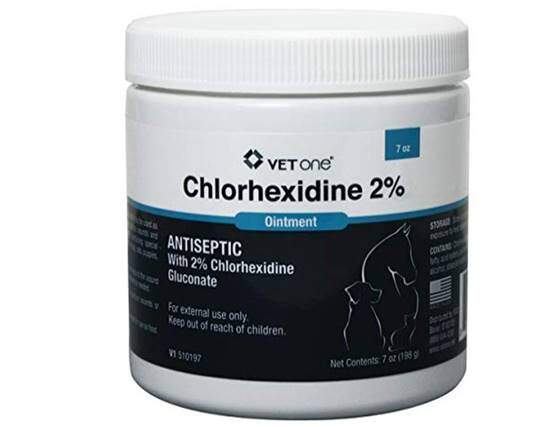 3. Vetasan Ointment for Dogs and Cats
Vetasan is another effective ointment for not only dogs and cats but also horses that will soothe and accelerate wound healing since it has chlorhexidine gluconate 4% with antimicrobial and antiseptic properties.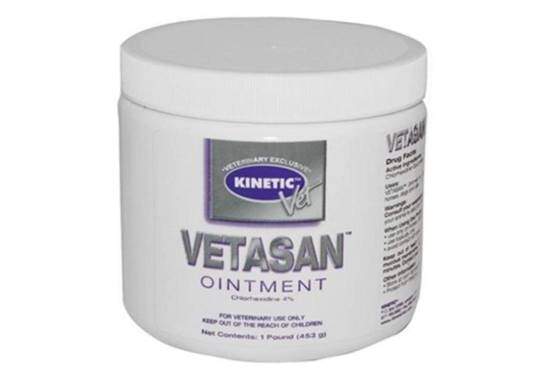 c). Chlorhexidine wipes for cats
Using wipes that contain chlorhexidine is a great way to prevent various skin infections especially if they have other ingredients such as antifungal ones.
Some brands you should give a try include the following:
1. Pet MD Chlorhexidine wipes with ketoconazole and aloe for cats and dogs
These non-stinging premoistened wipes will help in relieving bacterial and fungal infections including ringworms, hot spots, and cat acne.
Its antiseptic properties will help in healing superficial abrasion, cuts, insect bites as well as heal various skin infections.
Finally, it is ideal for in-between baths especially for wiping groin and underarms as well as arms and face folds when compared to liquids and shampoos.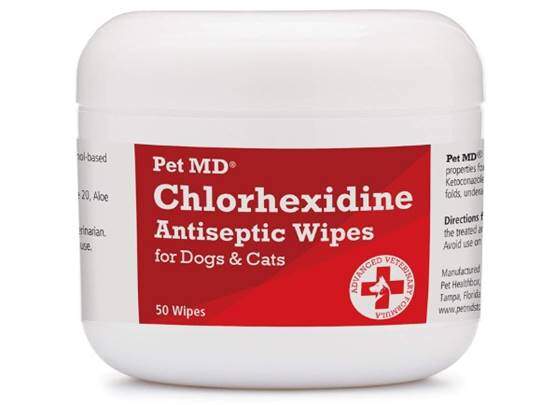 2. Curaseb Chlorhexidine Wipes Antiseptic Pads W/ Aloe
The Curaseb Chlorhexidine Wipes Antiseptic Pads W/ Aloe have antifungal (contain ketoconazole) and antibacterial properties that will effectively fight against acne, hot spots, rashes, allergies, scrapes, pyoderma as well as heal superficial cuts.
These pads are non-stinging, nice-smelling and moisty. They will help you clean various hard to reach places including ears, face folds, groin, around toes, and so on.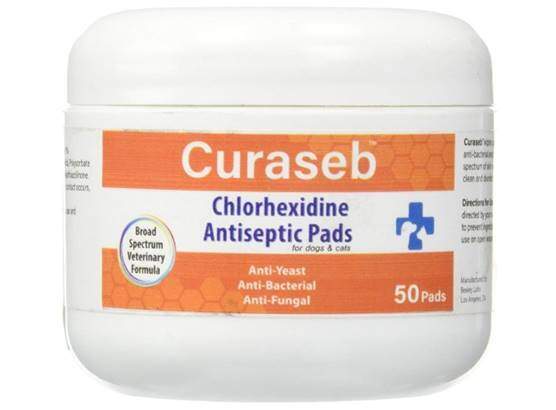 3. Strawfield Pets chlorhexidine wipes for dogs + cats, ketoconazole + aloe
These wipes from Strawfield Pets are equally effective for mange, ringworms, dermatitis, cat and dog UTIs, insect bites, flea bites, hot spots, allergy itch, yeast infections, itch, and acne.
They are also good deodorizers and are alcohol-free as well as have vitamin E and aloe to relieve itch.
Finally, you can also use them to wipe tear stains, the face, paws, among other areas.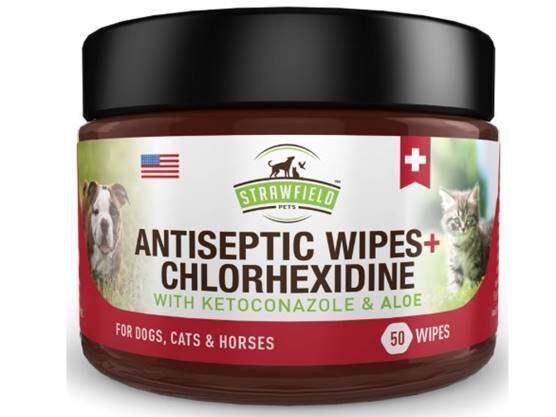 d). Chlorhexidine shampoo for cats
Some of the great shampoos that have chlorhexidine are:
1. Curaseb Antifungal & Antibacterial Chlorhexidine Shampoo for Dog & Cats
Curaseb is one of the most reputed brands that will work against yeast, pyoderma, rings, fungus, and many other skin related issues, thanks to its chlorhexidine and ketoconazole combination.
Furthermore, it will get rid of the musty odor and deodorize your cat or dog leaving behind a very delightful cucumber melon scent.
Finally, while it is as effective as other leading brands, it will give you value for your money. Why pay more for the same product?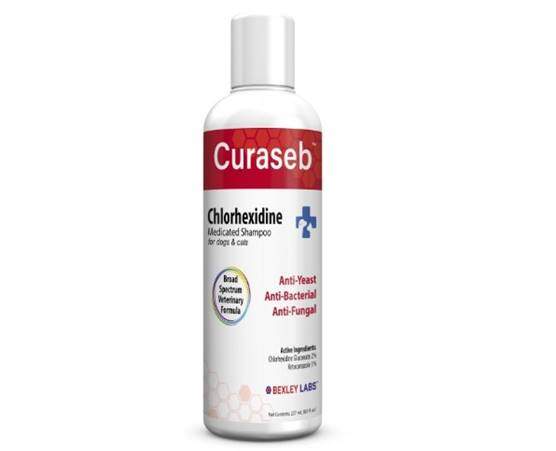 2. Douxo Sogeval Chlorhexidine PS Shampoo with Climbazole
It contains 0.05% chlorhexidine and phytosphingosine salicyloyl, 2.5% lipacide c8g and 3% chlorhexidine making it not only foam well but also has antiseptic and antiseborrheic properties.
It will also provide protection against any skin irritations while locking moisture on your pet.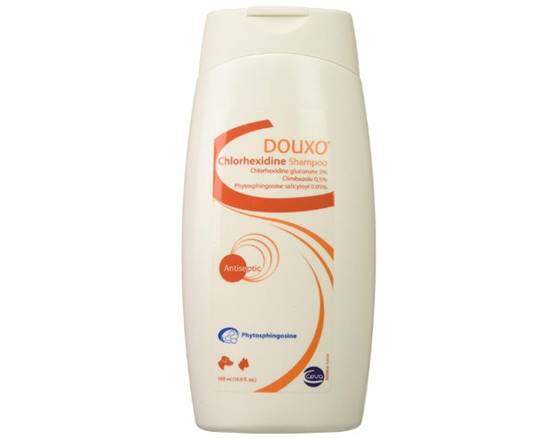 3. Pet MD Antiseptic and Antifungal Medicated Shampoo for Dogs, Cats, and Horse
This is a highly rated brand with over 320 reviews with an average rating of 4.6 out of 5.0 stars. It contains ketoconazole and will work well in cleansing underarm, groin, face and skin folds.
Furthermore, it is paraben and soap-free and will work as an antibacterial and antifungal in managing various skin conditions including ringworms, hot spots, and acne.
Finally, this shampoo will also help in treating minor cuts, wounds, insect bites and abrasions.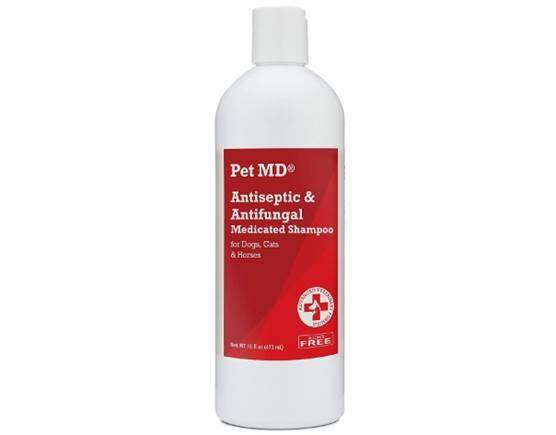 4. Dr. Muller pet solutions chlorhexidine 4 percent shampoo for dogs, cats, horses
It has antiseptic and antimicrobial properties. Additionally, its deodorizing formulation and various ingredients including phytosphingosine and phytosphingosine-salicyloyl that will leave your pet smelling fresh and less irritated.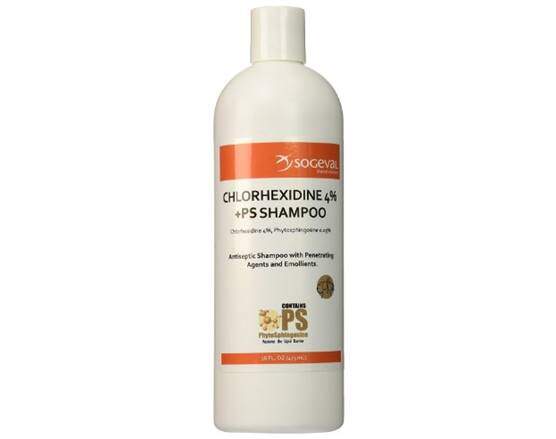 5. Max chlorhexidine shampoo for dogs and cats
This medicated and antimicrobial deep cleansing shampoo will reduce yeast, fungi, bacterial skin infections as well as other skin conditions.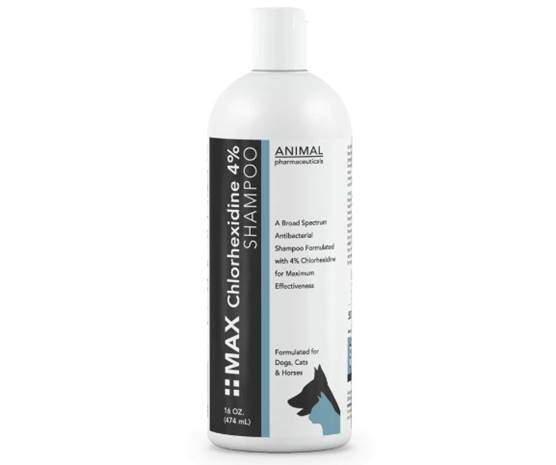 Also, it is deodorized and will leave your pet's coat moist and less inflamed. Its pharmasome technology ensures it can be easily absorbed by the skin.
Other good shampoos to consider include one from Davis Maximum, Septiderm-V Antiseptic Skin Care Bath Grooming Dog Shampoo, Cats & Horses and one from Pure Love.