Benzalkonium chloride (alkyldimethylbenzylammonium chloride, ADBAC, BZK, BKC, BAC) is cationic surfactant and biocide (antimicrobial agent) used in various household products including household antibacterial cleansers, mold removers, household disinfectants, and patio cleaners.
Which are common brands with BAC?
Some of the brands with BAC include Lysol® IC from Reckitt and Benckiser, Inc., products especially the disinfectant sprays and mist, disinfecting wipes, multipurpose cleaners, bathroom cleaners, and laundry products.
Also, Clorox Company (S.O.S.), SC Johnson, Inc, Avon Products, Inc, Amway Corporation, Church & Dwight Co., Inc., Colgate Palmolive Co., Johnson & Johnson (Aveeno), Prestige Brands, Unilever, GoJo Industries, Inc., Farnam Companies, Inc., among others have various products that contain BAC. See list full product list.
You will also get various BAC containing topical products including Herpetrol for herpes simplex, Tenac for cold sores, herpes simplex, aphthous ulcers, HandClens 2 in 1, Neosporin Wound Cleanser, Neosporin + Pain Relief Neo To Go! among others.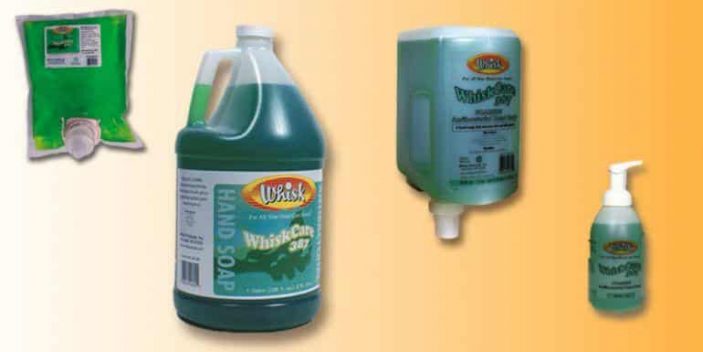 Typically, benzalkonium chloride concentration is between 0.2 to 5%. However, a lower concentration is used as a preservative in various nasal and eye drops preparations.
Why is it toxic?
It is a fact that benzalkonium chloride is toxic to cats. The "primary adverse effects from benzalkonium chloride exposure are due to its irritancy which results in local tissue damage," notes International Cat Care.
It can further interact with membranes lipids and proteins as well as trigger an immunoinflammatory response when used in eyedrops.
Whereas concentrations above 10% may affect humans, cats can be affected by lower concentration.
How does the toxification occur
The intoxication can happen through ingestion, skin, buccal or all these routes when cats are exposed to this cationic surfactant.
For instance, the exposure to benzalkonium chloride often occurs not by drinking any of the products that have it but from being exposed after you use such products.
Your cat may lick or touch what you cleaned or disinfected using BAC containing products and afterward clean its paws.
Also, it is possible for automatic hand cleanser dispensers to spill some on your cat if it passes near its proximity since such dispensers have proximity sensors.
Symptoms to expect
Tissue damage, oral cavity, and gastrointestinal irritation denote toxication often noted after six hours. However, the exact symptoms will depend on how your feline friend was exposed to BAC.
Some of the commonly noted after symptoms include the following
Lethargy
Drooling or hypersalivation
Red, inflamed tongue or painful tongue and oral ulceration that may form ulcerated blisters as the toxification advances.
Elevated body temperature or hyperthermia
Reduced appetite or your cat not willing to eat
Skin irritation and redness
Breathing difficulties that may be accompanied by coughing
Vomiting
Exposure to a stronger concentration such as those used for industrial purposes including facility cleaning has shown the above symptoms in addition to depression, stomatitis that has mucosal ulceration, ocular and nasal discharges, dermal ulceration, and so on.
Treatment
If you suspect that your feline friend has been exposed to any product that has BAC, talk to your veterinarian immediately. How soon treatment begins influences the expected prognosis.
While waiting for your vet, bath your cat if the contact was via the skin to get rid of any dermal contaminants including washing off your cat or performing
Also, consider oral cavity irrigation to avoid further toxification as well as reduce the possibility of ingestion.
However, avoid emesis as it may not help much or it may cause aspiration hazards that are associated with this product.
Once you are at your vet, he or she may:
Administer IV fluids for rehydration in case your cat is not drinking as well as forced feeding (nasogastric or syringe feeding) if he or she does not eat.
Recommend atropine to help reduce pain and drooling in case of the oral mucosa or tongue inflammation.
Give antibiotics to reduce the chances of secondary infections
Consider steroids and gastroprotectants whose efficacy in dealing with benzalkonium chloride poisoning in the cat has not been well studied.
Oxygen therapy in case of breathing difficulties.
Recovery is after several days during which supportive treatment is provided and death is possible especially in case of severe swelling of laryngeal or the tongue blocking your feline friend's airways.
Prevention
Various preventive strategies should be considered to reduce the chances of exposure to BAC. Some of the approaches include the following.
Handle benzalkonium chloride-containing products carefully. Clean any spillage and store them away from pets and children's reach
Read and follow the manufacturer's use direction including diluting them if it is advised.
Restrict cats from recently cleaned or disinfected surfaces especially when they are still wet. Also, limit access if affected surfaces become wet especially if outside and it rains.
Immediately wash your cat off if you accidentally spray or spill BAC containing product on them or they walk on surfaces where you have used these products.
Use alternative disinfection methods such as the use of steam, anionic and non-anionic detergents since they are less irritating. Also, you can use diluted bleach.