Chamomile or camomile is an annual herb found in the family Asteraceae which has other plants such as chicory, stevia, daisy, artichoke, pyrethrum, sunflower, lettuce, endive, among others. There are several species including:
The Roman, English or Garden, True, low chamomile or ground apple, whig plant, Barnyard Daisy, Corn Feverfew, Turkey-weed mother's daisy species botanically known as Chamaemelum nobile or Anthemis nobilis.
German, Hungarian or wild chamomile, Italian chamomilla or scented mayweed, botanically known as Matricaria chamomilla or Matricaria recutita.
However, the M. chamomilla is the most often used with its flowers used to make herbal tea used as "herbal medicine for a sore stomach, irritable bowel syndrome, and as a gentle sleep aid. It is also used as a mild laxative and is anti-inflammatory and bactericidal" notes Wikipedia.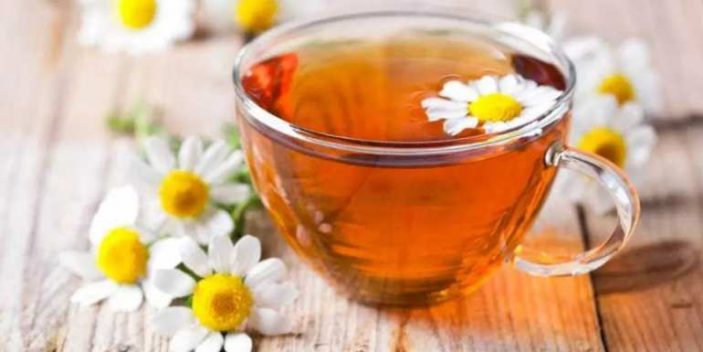 Chemically, M. chamomilla has essential oils including flavonoids apigenin, quercetin, coumarin, luteolin, chamazulene, terpenes bisabolol, patuletin, and quercetin.
The apigenin gives it its anti-inflammatory properties. Other uses of chamomile include in cosmetics, perfumery, and aromatherapy.
Finally, some of the benefits this herb and its tea has to humans include improving digestion, sleep, protection against some cancer types, help in blood sugar regulation, and improving heart health.
Is chamomile safe for cats?
The safety of chamomile to cats is debatable. While ASPCA notes that Anthemis nobilis also known by the various names we have listed is toxic to cats, dogs, and horses, several sources list many benefits of this herb to cats.
It is toxic because it has various essential volatile oils it has, i.e., it has bisabolol, anthemic acid, tannic acid, and chamazulene. Looking at M. chamomilla, it also has bisabolol and chamazulene.
On the other hand, PetMD notes that "chamomile contains substances that act on the same parts of the brain and nervous system as anti-anxiety drugs do. The effect promotes relaxation and reduces stress."
Additionally, VCA Hospitals this herbal tea can "soothe and heal irritated intestines in inflammatory bowel disease"
This might sound confusing. On theory notes that it is only the Anthemis nobilis that is toxic considering the M. chamomilla as non-poisonous or safe to kitties while the other considers its tea as safe.
Is chamomile tea safe for cats? Yes., the Nest says that "brewed into a tea, dried chamomile can be safe for cats in small amounts. The tea can be given by mouth for an upset stomach or to calm your kitty's nerves. Give about 1/2 tsp. to an average-size cat."
Otherwise, it is noted that if these pets chew the plant or its flowers, the volatile oils are in high concentration and thus poisonous.
Symptoms of toxicity include diarrhea, reduced appetite, vomiting, irritation to mouth and skin around it (contact dermatitis) and prolonged use may make your cat susceptible to bleeding.
Chamomile tea for cat skin
Besides giving them to drink, a second way to use this herbal tea is in soothing irritated skin of your cat or kitten. It reduces inflammation, itchiness, and swelling since it has Apigenin.
If you want to use it, ensure it first cools and apply it on the affected area. It can also promote healing of minor cuts, abrasions, and scratches.
Furthermore, you can also mix it with a small amount of white vinegar before using it for cleaning any gunk.
Finally, chamomile hydrosol can be used on these pet skin. This is the condensed steam during the manufacturing of chamomile oil. Therefore, it is dilute, not concentrated. Also, it is good for aromatherapy for these pets.
For calming purposes, there is a wide array of products with this herb including SENTRY Calming Collar for Cats and Hemp Oil, Chamomile & Valerian for Cats & Dogs.
On the other hand, for skin purposes, you will get many shampoos such as Particular Paws Oatmeal Shampoo for Dogs and Cats and Hypoallergenic Dog and Cat Shampoo with Aloe Vera from Particular Paws.
Use for eyes
Additionally, since it has antimicrobial and anti-inflammatory properties, chamomile tea can be used as an eyewash for watery discharge in cats caused by unknown reasons, scratching, minor irritation, inflammation, conjunctivitis, redness, excessive squinting, eye rubbing, sneezing, congestion, and so on including on the skin around eyes.
Additionally, once you have brewed your tea, use the tea bag to apply a compress on these pets eyes once it has cooled.
The TrueBlue Cucumber & Chamomile Safe and Sure Dog Eye Wipes and NHV Ey EAS – Natural Eye Drops confirms it's safe if used well.
Conclusion
We hope that the issue of chamomile and cats has been well answered. The tea being dilute is safe in small amounts. Also, the tea can be used for your feline pal's skin.