A member of the family Asteraceae, chamomile is an annual herb with several benefits to both humans and to pets (when used in small quantities). Otherwise excessive amounts of this herb especially its pure extract is toxic to dogs and cats.
In humans, its apple-scented tea is a healthy drink that works as a mild sedative as well as an antispasmodic to relieve period cramps. It has apigenin and chamazulene which inhibits inflammation chemical mediators just like aspirin does.
There are two main species the Anthemis nobilis and Matricaria chamomilla with the latter often used in making an herbal tea that is beneficial to humans as well as your pets.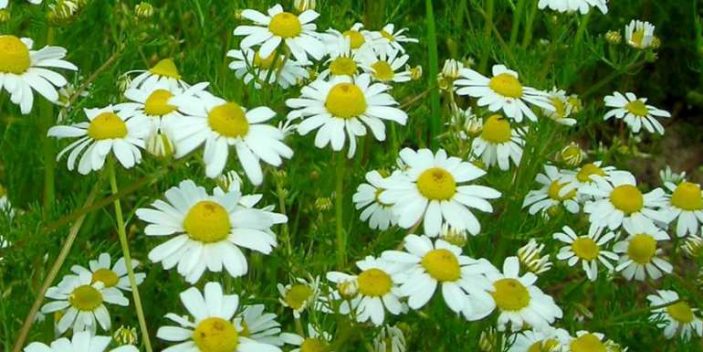 Some of the properties that chamomile has to include being an anti-inflammatory, carminative, analgesic, tonic, anthelmintic, and antimicrobial.
It is also sedative and digestive aid and since it has antioxidants, it will help minimize cell damage by free radicals.
Finally, you have the option of using this herb as a chamomile teabag, capsule, fresh or dried and grounded form.
Is chamomile safe for dogs?
The safety of chamomile depends on the dosage consumed. In small dosages, it is not harmful to dogs or even cats. However, in large dosages, it is toxic.
ASPCA lists Anthemis nobilis also known by various names including Manzanilla, Barnyard Daisy, Ground-apple, Corn Feverfew, Turkey-weed or Roman, English or True chamomile as toxic to cats, dogs, and horses.
However, the most commonly used variety, the Matricaria chamomilla or Matricaria recutita otherwise known as Italian chamomilla, scented mayweed, Hungarian, Wild or German chamomile is not listed.
However, they both have similar essential oils, including tannic acid, chamazulene, anthemic acid, bisabolol, apigenin, coumarin, luteolin, and so on. Bisabolol, tannic acid, chamazulene, and anthemic acid are considered the source of toxicity.
Some of the symptoms of toxicity include reduced appetite, diarrhea, lethargy, drooling, contact dermatitis, and vomiting.
Finally, if ingested in large amounts, any part of the plant i.e., leaves, stem, petals, roots, and flowers are toxic to these pets. Discuss with your vet if you suspect your dog has eaten a lot of chamomile for diagnosis and proper treatment.
Uses
Chamomile tea is safe for dogs when given in small amounts. Unlike the case where these pets eat the M. chamomilla or A. nobilis plant directly or ingest its liquid extracts that have higher strength, its herbal tea has mild strength of the toxic substances. In fact, it quite beneficial to humans and these pets.
Some of its common uses include the following:
1. Intestinal use and calming your dog
Since it will work as a sedative and has antispasmodic properties, it will help in relieving symptoms that result from anxiety in small animals including GI disorders, pain, gas, constipation, and bloating,
Furthermore, according to the Whole Dog Journal, it will "easy nervous spasm, help expel gas, and aid in the production of bile (thus improving digestion)".
It may be used both orally to manage inflammation including inflammatory bowel disease. However, first, establish the cause of these GI disorders.
Furthermore, this herb will help in smooth muscle relaxation, blood pressure, and can be used alone or combined with other herbs especially valerian or lavender.
As a calming agent, there are many great products to give your furry critters that include Richard's Organics Pet Calm, Dog Calming Aid – Treats, Petaxin Calming Treats for Dogs, Solid Gold Calming Aid Chews, Valerio Organic Dog Hemp Chews, among many others. They all have chamomile.
2. For skin
Since it has both antimicrobial and anti-inflammatory properties, it can be used topically on the skin, i.e., on the skin, it will relieve minor skin inflammations and speed up healing of mild scratches and cuts.
It can be used alone or with mint, wild yam, licorice, ginger, and other herbs. Rinse the affected area with this herbal tea once it has cooled, apply on inflamed areas, or apply compresses using the teabags used in brewing the tea.
Alternatively, VCA Hospitals allow you to bloat topically on to "the skin as a concentrated tea to relieve inflammation."
However, before using it on the skin, try establishing the cause of inflammation since it can be due to insect bites or stings, mites, allergies or fungus infections.
Shampoos like the Healthy Breeds Chamomile Oatmeal & Aloe Soothing Shampoo & Conditioner, Natural Chemistry Natural Shampoo, that have this herb extract confirm its efficacy.
3. Chamomile tea for dogs eyes
If your dog has irritated eyes including on the skin around eyes, this herb will be of help. As Chewy.com notes "chamomile will take down swelling and inflammation of the skin around the eye, as well as treat infection in the eye."
Here, you need to brew a cup of chamomile using one teabag and once it cools, compress your dog's eyes using the teabag. Do this three times a day.
Its use on eyes is not in doubt, hence included in products like Burt's Bees for Dogs Natural Tear Stain Remover with Chamomile and TrueBlue Cucumber & Chamomile Safe and Sure Dog Eye Wipes
4. Other uses
Other uses including soothing gums of a puppy during teething, deworming (anthelmintic), getting rid of parasites such as ticks, cleaning dog's ears and healing mild ear infections, and so on.
How to use it and when not to use
What is the right chamomile tea for dogs dosage? We will not give you an exact amount. While this tea is safe, keep the dosages low. Do not go beyond a teaspoon for an average-sized dog.
Dosages and concentration of chamomile will depend on the intended purpose, your dog's general health, size, and whether you are using it orally or topically.
For oral use, you have an option of the tea or adding ground/fresh chamomile to your dog's food.
Begin with small amounts as you check for any allergy symptoms including facial swelling, diarrhea, vomiting, breathing difficulties, and so on.
Unless your dog is allergic to this herb or any in the Aster family, a small amount of chamomile herbal tea is safe for dogs when taken orally. Additionally, is external use is safe and effective.
While naysayers or worrywarts may discredit is effectiveness, this has been proven both in laboratory studies, clinical experience and in herbal traditions.
However, avoid long-term use as it can result in some undesirable effects including allergies that may result in hives, rashes, or itchiness.
Consult your vet
Our recommendation is to involve your vet before you begin using this herbal product that has various benefits to your canine friend.