Research published in the Journal of Feline Medicine and Surgery and led by Professor Ellen Kienzle and Dr. Britta Dobenecker the Chair of Animal Nutrition at Ludwig-Maximillian University in Munich German has shown that high phosphorus cat foods are linked to kidney damage in healthy cats and may worsen chronic kidney disease (CKD).
In the research, albuminuria and glucosuria were noted when these animals were fed with foods that had high quantities of phosphate, indicating renal damage.
This is so because kidneys are involved in excretion of excess phosphate as noted while looking at 'why low phosphorus cat food for kidney disease' an excessive amount of this mineral may overload it.
There are various ways to reducing the amount of phosphorus that cats eat including, going for low phosphorus cat foods, the use of calcimimetic medicines or phosphorus binders. Let us focus on these phosphorous binders.
How do feline phosphate binders work?
The main objective of these binders is to ensure only a little of the phosphorous in diets is absorbed intestinally while most of it is passed out with the stool.
This way, incidents of hyperphosphataemia, kidney damage due to high amounts of this mineral being excreted by this organ or worsening of CKD are avoided.
Cat phosphate binders play their role by either working as a sponge where the phosphate in diets will be soaked into or it gets bound to these binders including any phosphorous in saliva, bile, and intestinal secretions.
However, you should not start using any binders if your cat is on therapeutic kidney diets. However, you can start using them if he or she eats these diets, but her serum phosphate level remains high (over 6 mg/dl or 1.9 mmol/L).
Types binders available
Before we look at a few best brands in the market, let us have a general overview of the various types of phosphate binders in the market.
Aluminum-based
Those based on aluminum include brands such as Phos-Bind, AluCaps, and AlternaGel. You can go for sucrose aluminum hydroxide (sucralfate), aluminum hydroxide (tasteless, effective and odorless) or aluminum-magnesium hydroxide.
However, aluminum-magnesium hydroxide is not recommended for felines with CKD as it can increase magnesium blood level leading to urinary stones in some cats.
Finally, one concern of the aluminum-based binders is the possibility of being toxic to the already ailing kidney.
Lanthanum Carbonate based
They include brands such as Nefrokrill found in Italy and some parts of Europe as well as Fosrenol intended for human use. Nefrokrill has lanthanum carbonate, essential fatty acids (from krill oil) and potassium citrate.
Calcium-based
There are several calcium-based phosphate binders including calcium carbonate-based ones such as Pronefra, Easypill Kidney Support, Renakitin, Renate, Tums, Ipakitine or Epakitin, Renaltan, Renal/Aventi KP or those based on calcium acetate.
Calcium acetate is 2-3 times more effective compared to carbonate-based binders but has a higher probability of causing hypercalcemia in cats.
Finally, they are not as effective as calcium hydroxide and lanthanum carbonate-based brands.
Sevelamer-based
Brands available include sevelamer hydrochloride (Renagel) and sevelamer carbonate (Renvela) which are quite expensive and have little studies on their use in cats or dogs.
However, in humans, "many human clinical studies have demonstrated the ability of sevelamer hydrochloride to lower serum phosphorus, and parathyroid hormone levels and control Ca x P product in dialysis patients compared with calcium-containing phosphate binders" notes Tanya's Comprehensive Guide to Feline Chronic Kidney Disease.
Finally, this binder has been associated with gastrointestinal disturbances including constipation and being acidic, there is a theoretical possibility of acidosis.
Iron-based binders (Sucroferric)
One of the iron-based binders is Renalzin for cats. Unfortunately, it was discontinued and it is not easy to get it.
Others include Lenziaren derived from iron oxide available in Taiwan and Japan whose use in cats with CKD has shown a decrease in phosphorus.
However, an earlier study on healthy cats showed a rise in phosphorous with Lenziaren supplementation.
The second type of iron binder is Velphoro or sucroferric oxyhydroxide only tested for human use and works better than the sevelamer-based binders.
Vitamin B3 or niacinamide
Human research indicates that vitamin B3 or niacinamide can control phosphorous levels in human beings. No studies have been conducted for cats or dogs with only a few reports of their use.
Best phosphorus binder for cats
Having known the different types available in the market, it is time to look at some brands you could buy at your local pet stores or on online stores including amazon.com, chewy.com, and so on.
Vetoquinol Epakitin for cats and dogs
Vetoquinol Epakitin is one of the natural phosphorus binders for cats. According to Vetoquinol, it is made up of "lactose, calcium carbonate, chitosan, hydrolyzed soy protein."
This chitosan (natural polysaccharide obtained from shells of shrimps and crabs) based binder supports a healthy kidney by reducing intestinal phosphorus absorption as well as a reduction of creatine and urea noted too.
According to World Small Animal Veterinary Association World Congress Proceedings, 2007, "one study in chronic renal failure cats has shown an effect of this product to lower serum phosphorus in those eating a normal diet after 35 days."
If you are looking for phosphorus binders for cats in the UK, VioVet has Ipakitine which is the same thing as Epakitin.
Recommended amounts of Epakitin is 1g for cats weighing 5kg given in the morning and evening orally. Those receiving calcitriol should not be given Epakitin as it raises the chances of hypercalcemia.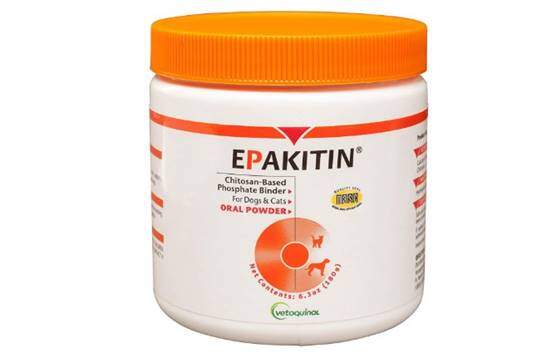 Finally, before trying it, first discuss with your vet and there should be continuous blood phosphate serum measurements to avoid hypophosphatemia.
Phos-Bind for cats
Phos-Bind is made up of aluminum hydroxide powder (with other brands such as Alternagel® and Amphojel® available) and it can be used for both cats and dogs.
This hypoallergenic binder should be added to meals at a rate of 100 milligrams/kilograms after your vet has evaluated your pet.
Afterward, there should continuous follow-up phosphate serum level evaluation after two weeks to a month until normal values are attained before it can be discontinued.
Finally, this antacid can also be used for "inflamed esophagus or stomach, to prevent stomach ulceration."[12]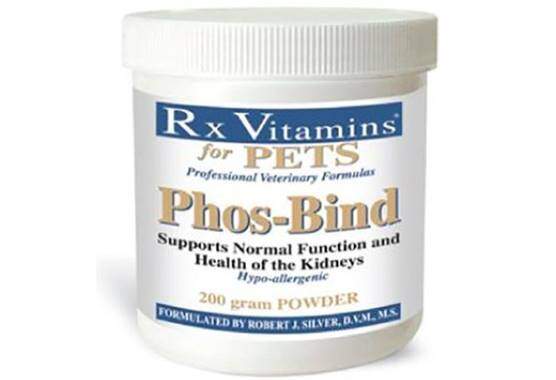 Virbac Pronefra for cats
This is a calcium-based liquid suspension that is highly palatable and suited for cats and dogs that works both as a phosphate binder and as a natural fish protein hydrosylate essential in ensuring blood pressure is at its correct parameters.
Finally, it also has polysaccharides of astragalus which is essential in supporting the normal kidney function.
Some of its ingredients include chitosan (uraemic toxins), fatty acid triglycerides, sorbitan monooleate, colloidal silica and butylate hydroxytoluene.
Before using it, consult your vet to ascertain that serum phosphate level is high. Normal dosages are 1 mL solution per 8.8 lbs (4kg).