Pork rind refers to a culinary name for pig's skin, which has several uses. For instance, it can be rendered, pickled, or fried in fats. Also, you may roast it to make pork scratchings or cracklings served as snacks. Usually, the rendering produces to produce pork fat or lard.
Dogs shouldn't eat raw pork rind, fried, or pickled since it tends to have lots of fats and is high sodium. However, you can buy them pork chomps dog treats, which are nothing other than baked skin of a specially made for your dogs.
Benefits of pork hide
They have a natural flavor that your dogs will find very appealing.
Are made with your dog in mind and not a byproduct of the leather industry as rawhides are.
Protein-rich and more digestible when compared to rawhides.
They are less unlikely to cause painful and harmful intestinal obstruction when compared to beef rawhide. Therefore, these hides are a safer, healthier choice.
Best pig skin treats for dogs
When looking for the best brand, there are a few considerations you need to put in mind which include the following:
Pick the right size depending on the size of your dog. You will find those for a toy, small, medium, large, or a giant dog. If they are too small, your pet will swallow them while too large ones may be harder to chew. It's a good idea to choose those slightly large than your pet's mouth.
Check the list of all the ingredients present. Go for those with only natural ingredients, i.e., artificial flavors, colors, or preservatives.
Like any other treat, ensure they are not highly calorific as they shouldn't account for more than 5% of calorie intake.
If you need pork hide dog treats, some of the best brands to buy include the following:
1. Scott Premium Pork Chomps Dog Treats
Premium pork chomp should first come into mind if you are looking for the best pig skin treats for a puppy, adult to senior dogs. They are a proprietary brand of Scott Pet, Inc., which is a family-owned quality pet product manufacturer and distributor whose mission is to provide quality products that will boost your pet's health while ensuring they are happy.
Key benefits
Highly digestible and safe – As the Manufacturer notes, they offer the "best nonrawhide bones with 99.9% digestibility, providing safe, healthy alternatives to rawhide bones all dog owners can feel great about giving to their pets." High digestibility is supported by research done at the University of Illinois that showed they dissolve as twice as faster when compared to beef rawhides
Various sizes – They come in varying sizes ideal for different dog sizes and breeds. Whether it is a puppy, toy dog, small, medium, large or giant dogs, you won't miss finding one that will suit your dog.
Are delicious and come in variety packs – You have a wide variety to buy ranging from baked or roasted, with pepperoni or bacon or assorted flavors, with chicken, sweet potatoes, peanut butter, and so on. Additionally, you can buy the pork skin twists, skin rolls, pork ribs, pork chop bones, knots, strips, chips, earz, and so on.
Protein-rich and 100% rawhide-free
Vet recommended
Stain-free
However, like any other dog chews, you need to supervise them during the chewing, and for aggressive chewers or puppies, consider shapes that are hard to swallow or slightly large ones.
Our favorite is the Premium Pork Chomps Roasted Twistz Pork, Large. Others we like are Roasted Pork Ribz Dog Treats, and Assorted Munchy Sticks Treat.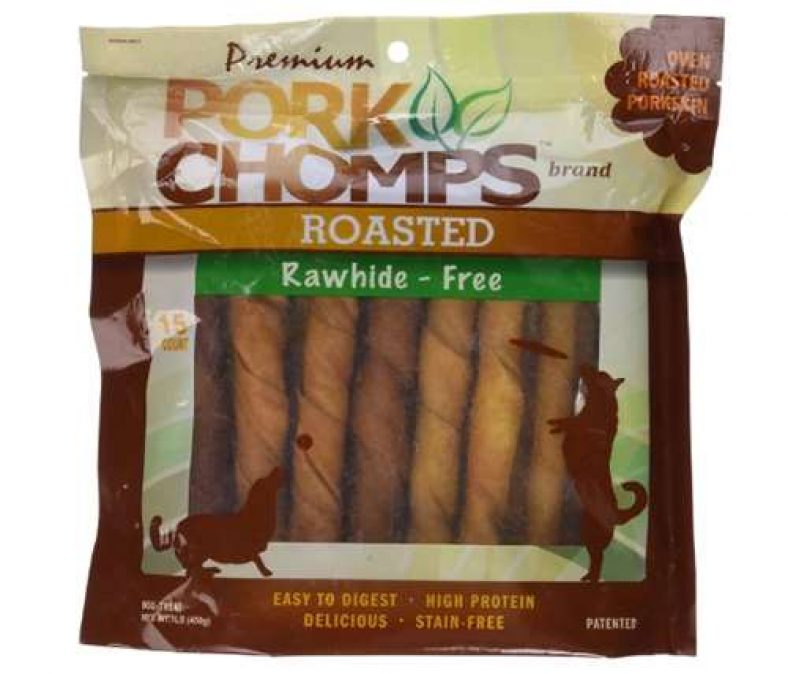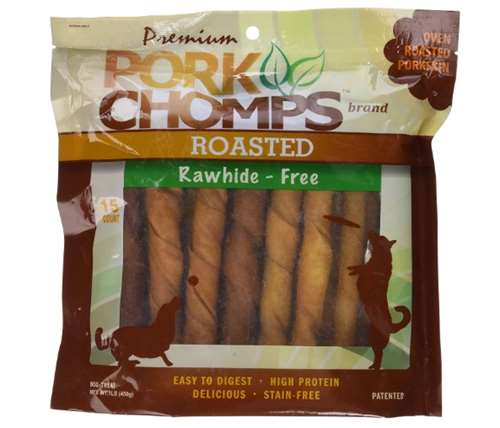 Finally, you can brown through the various varieties to find what size, flavor, or type best suits your canines.
2. Hartz Oinkies Rawhide Free Pig Skin Dog Treat Chews
Nothing will drive your dog crazy as the original smoked Oinkies pig skin twists. They baked naturally smoked and baked again for a flavorful, delicious, and very tempting taste.
Key benefits
Contain 100%, highly digestible pig skin without any rawhides and stuffed with sausage flavor to make them tasty and yummy.
Since they are long-lasting, they will satisfy your dog's urge to chew and keep him entertained for a longer time.
Their twisted texture aids in minimizing tartar and plaque buildup during the chewing or gnawing action
Are soy-free
They are well packaged, i.e., they come in a resealable bag that either contains 4, 10, and 20 chews.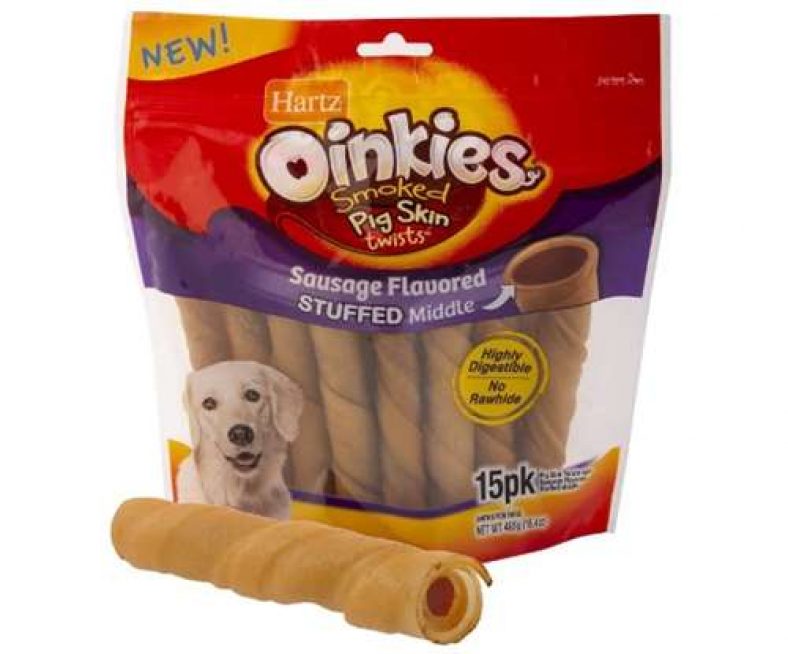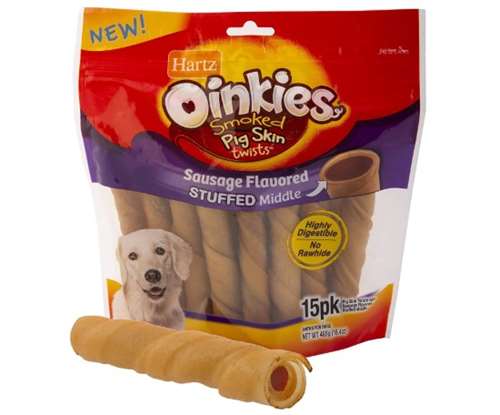 To add more variety, you can also buy the Oinkies Pig Skin Twists with bacon or beef flavored wrap, wrapped with real chicken, sausage flavor stuffed in the middle, or peanut butter flavored crunchy center, all available at best price at Chewy.
3. Cadet Pork Hide Twists Sticks
IMS Pet has a Cadet Premium chews and treats for dogs, which makes not just pork hide twist sticks but also other treats rolls, triple chew as well as rawhide curls, sticks, chips, retrievers or donuts, bully sticks, duck jerky, beef strips, among many others.
Key benefits
Protein-rich (75%, minimum), low fat, easy to digest, and very delicious.
Uses only one single ingredient, i.e., 100% real skin of a pig
They last long, meaning they will keep your dog busy and happy for a long time.
Will promote a dog's dental health (gums and teeth).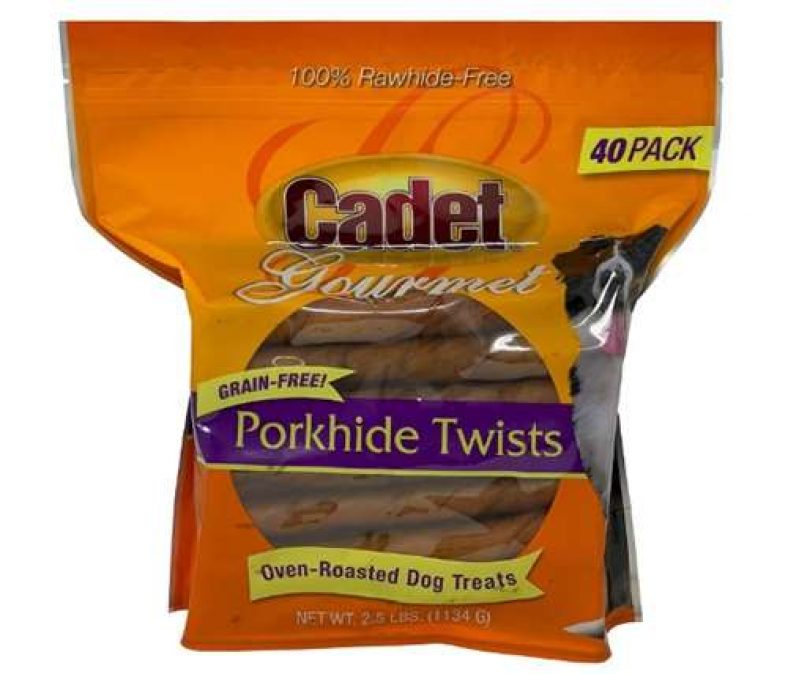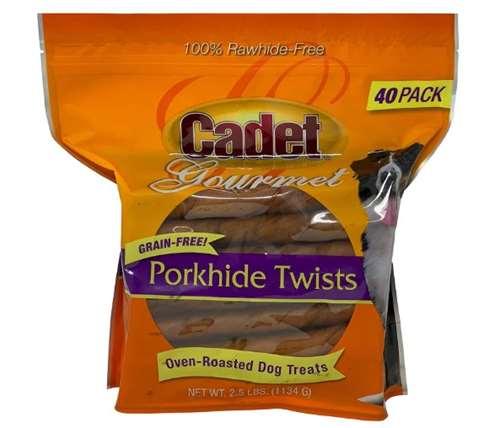 Still from Cadet, you can buy the Cadet Pork hide roll, Triple Chew, Sweet Potato & Chicken or Triple Chew, Sweet Potato & Duck.
4. Smokehouse USA Pork Skin Retriever Rolls Dog Treats
These are slow-roasted, flavorful, and colorful pork roll treats are an excellent choice to buy your dogs.
Key benefits
100% digestible and 100% natural treats made with only real pork rind.
Slow roasted for up to 53 hours to ensure for an alluring taste and appealing color.
They will satisfy your dog's natural urge to chew by providing hours of chew fun.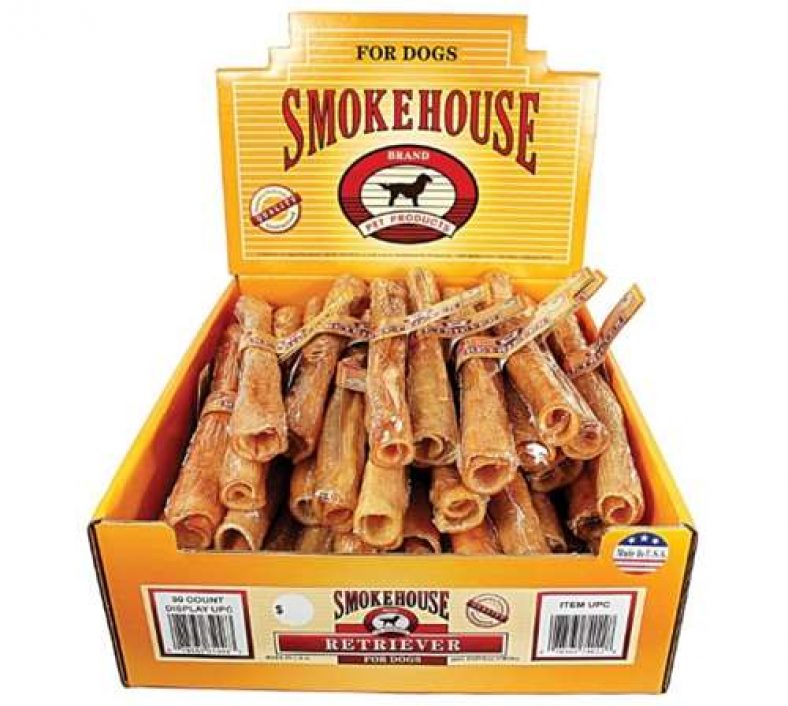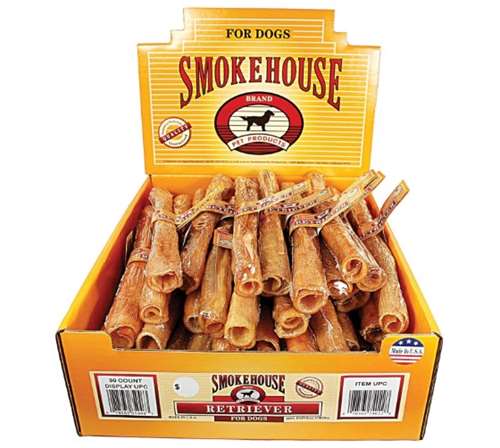 Smokehouse also has another Smokehouse USA Bacon Skin Twists Dog Treats, which your pet will equally love.
5. Good 'n' Fun Pork Skin Rolls Dog Chews
These textured, tasty, 100% pig skin treats will satisfy your Fido's natural urge to chew while helping them keep proper dental hygiene.
Key benefits
Being long-lasting, they will keep your dog entertained for a long time, minimizing boredom.
Their texture will help reduce tartar and plaque accumulation on your pet's mouth.
Easy to digest.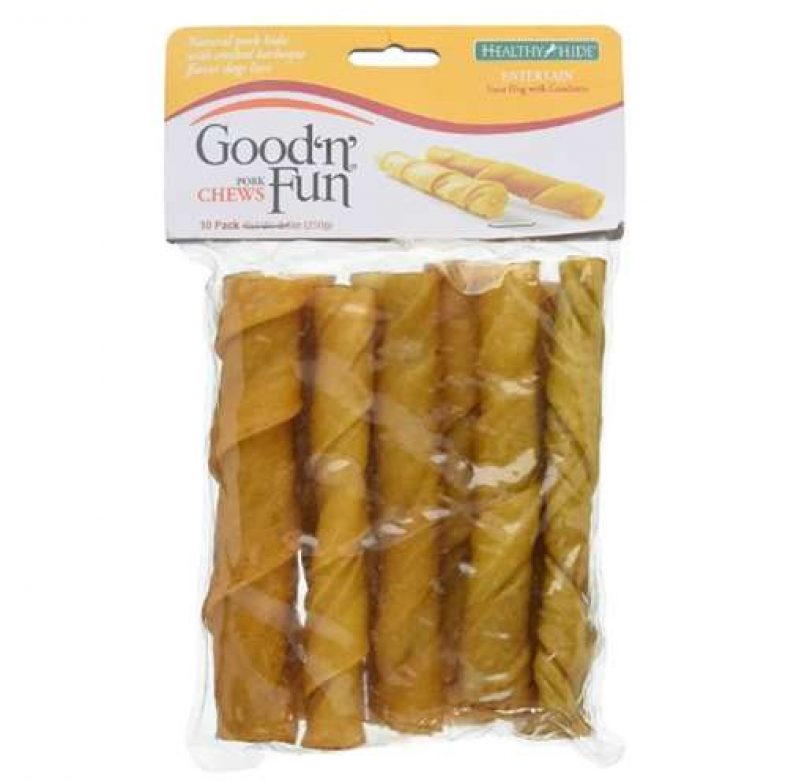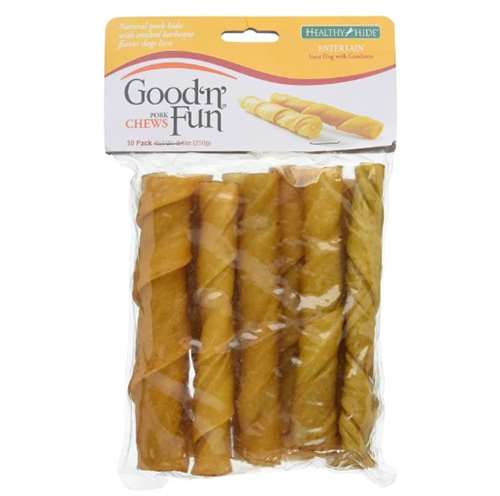 6. Dentley's Pork Skin Strips Dog Chews
The Dentley's Dog Chews for Lite Chewers All Natural Pig Skin Strips are flavorful pork skin chews ideal for medium size light chewers.
Key benefits
They will offer long-lasting chewing fun.
Their abrasive chewing effect may help keep your pet's teeth clean.