Learn whether dogs can eat raw or cooked pork, including chops, loins, rind (crackling or scratching), ears, as well as bacon, sausage, ham not. We also have a review of the best dog foods with pork and some FAQs.
Pork is a culinary term used to refer to domestic pig meat (Sus scrofa domesticus) with a history of its husbandry dating back 5000 B.C. It is the most consumed red meat with various dishes popular Western nations, Central Europe, Southern Asia, and non-Muslim parts of Eastern India. However, Judaism, Islam, and some Christian sects don't eat it, and it is illegal in Islamic states.
Pork is eaten as freshly cooked (boiled, roasted, grilled, baked, stewed, etc.)or after preservation to (elongates shelf-life). Some of the famous pork cuts or meat include chops, tenderloin, loin roast, ribs, spareribs, leg (ham), shoulder, and belly (side). You can also go for ground or pork steak, head, fatback, harm lock, trotters (pig feet), chitterlings (offal and intestines), or tail.
Finally, preserved or processed products include ham, bacon, gammon, smoked pork, sausages. Others include salami, Cumberland sausages, fuet, chorizo, and many American hotdogs. Did you know charcuterie, a branch of cooking that deals with prepared meat products, mainly from pork?
Nutrition and calories
Below is a summary of pork chop, broiled or baked, lean and fat eaten nutrition, courtesy of USDA.
| | | |
| --- | --- | --- |
| Name | Amount | Unit |
| Energy | 211 | kcal |
| Protein | 27.69 | g |
| Total lipid (fat) | 10.5 | g |
| Fatty acids, total saturated | 3.274 | g |
| Fatty acids, total monounsaturated | 5.068 | g |
| Fatty acids, total polyunsaturated | 1.578 | g |
| Calcium, Ca | 8 | mg |
| Iron, Fe | 0.51 | mg |
| Magnesium, Mg | 31 | mg |
| Phosphorus, P | 276 | mg |
| Potassium, K | 459 | mg |
| Sodium, Na | 514 | mg |
| Zinc, Zn | 1.92 | mg |
| Copper, Cu | 0.068 | mg |
| Selenium, Se | 47.7 | µg |
| Thiamin | 0.565 | mg |
| Riboflavin | 0.249 | mg |
| Niacin | 8.2 | mg |
| Vitamin B-6 | 0.558 | mg |
| Choline, total | 74.6 | mg |
| Vitamin B-12 | 0.64 | µg |
| Vitamin A, RAE | 1 | µg |
| Retinol | 1 | µg |
| Vitamin E (alpha-tocopherols) | 0.2 | mg |
| Vitamin D (D2 + D3) | 0.5 | µg |
| Cholesterol | 84 | mg |
| Water | 59.12 | g |
Can dogs and puppies eat pork?
The answer isn't a simple yes or no. Whether dogs can eat pork or not depends on if it is raw or cooked, the specific cuts, preparation or processing, and the added ingredients.
When is pork good for dogs
Fresh, well-cooked lean pork without any seasonings, additive or bones is good for all dogs, including your pit bulls, pugs, Chihuahuas, Shi Tzu, bulldog, Pomeranians, and German shepherd as well as a small, big or weaned puppies.
However, while it is very healthy, it should be fed occasionally and in moderation, i.e., it should be only as a small part. Some benefits it has to include the following:
Delicious, nutritious, highly palatable, and these pets will find it hard to resist the great aroma it has.
Protein-rich and has all nine essential amino acids, i.e., phenylalanine, valine, threonine, tryptophan, methionine, leucine, isoleucine, lysine, and histidine.
A good source of thiamine, selenium, zinc, vitamin B12, vitamin B6, niacin, and phosphorus.
While its iron is slightly lower than beef or lamb, its meat iron absorption is efficient, hence a good source of iron.
It has some beneficial bioactive compounds such as creatine, taurine, glutathione, and cholesterol.
It may be a good novel protein source alternative if your dog suffers from food and skin sensitivities or allergies, especially if these pets have never eaten it before.
When introducing your dog to pork, start with a small piece, and gradually increase the amount to give their tummy a chance to adjust to the new food. Don't forget to check for any signs of gastric distress, including stomach upsets, diarrhea, or vomiting. Discontinue if your pet has these symptoms.
When is pork bad for dogs?
While it has many benefits, dogs shouldn't eat dog or dog products if:
Has added seasonings, flavorings or spices including garlic, onions, chives, nutmeg, mustard, or BBQ source or a lot of salt among other spices that are harmful to these pets. Avoid any processed or ground pork with these spices. For instance, garlic or onion may cause vomiting, diarrhea, nausea, pale gums, lethargy, etc.
It comes from cuts that are high in fats as they cause digestion and other issues. For instance, belly or side cuts, pork butt, ham lock, picnic shoulder cuts are fattier than tenderloins, loin chops, and loin roasts. Avoid them.
High in salt or sodium
Raw or undercooked
If it causes allergies
It has meat on the bone, such as spareribs.
We will expand on the effect of high fats, raw dog foods, bones, allergies, and salt while covering looking at the pork and dogs FAQs.
Best pork dog foods and treats
Does your dog love pork? Don't struggle with homemade diets. Instead, buy one of the following dry or wet (canned) foods.
While beneficial, AAFCO doesn't recognize omega-3 and omega-6 fatty acids, chondroitin sulfate, glucosamine, and microorganisms as essential nutrients that we will list on guaranteed analysis.
1. ACANA Singles Pork and Squash
This dry food for dogs of all life stages and breeds has over 60% high-quality pork meat, organs, and cartilage in the ideal whole prey ratio together with an entire squash. It will provide perfect nourishment canines to ensure they remain strong, healthy, and happy.
Key benefits
Made with protein-rich, whole prey food that has meat, organs, and cartilage.
Features a limited ingredient formulation for choosey or eaters that have sensitive stomachs.
Ir doesn't have potatoes, wheat, tapioca, rice, or other fillers.
Additional information
First ingredients: Deboned pork, pork meal, whole lentils, pork live and fat, whole peas, lentil fiber, pea starch, butternut squash, pollock oil.
Calorie content: 3405 kcal/kg or an equivalent of 409 kcal per 8 oz. cup with proteins, carbohydrates, and fats contributing 32%, 25%, and 42% of calories, respectively.
Guaranteed analysis: Crude protein (min): 31%, crude fat (min): 17%, crude fiber (max): 6%, moisture (max): 12%, dietary starch (max): 22.5%, sugars (max): 2%, EPA (eicosapentaenoic acid) (min): 0.2%, DHA (docosahexaenoic acid) (min): 0.2%, calcium (min):1.5%, phosphorus (min): 1.1%, omega-6 fatty acids (min): 2.7%, omega-3 fatty acids (min): 0.8%, glucosamine (min): 300mg/kg, total microorganisms (min): 100 million CFU/lb.
Microorganisms are Lactobacillus acidophilus, Lactobacillus casei, and Bifidobacterium animalis.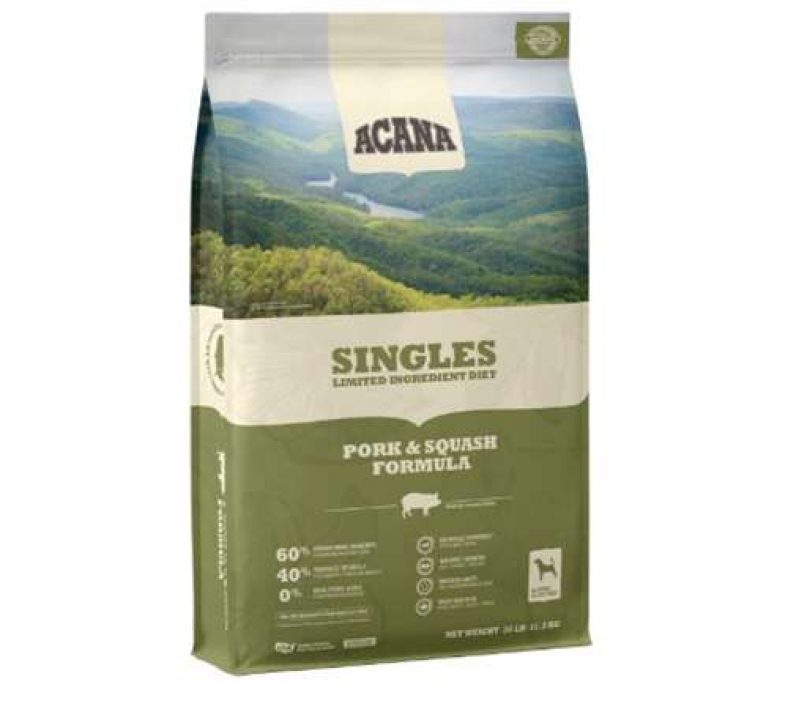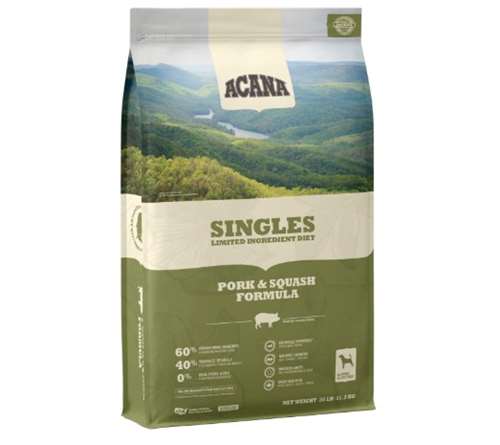 2. Zignature Pork Limited Ingredient Formula Grain-Free Dry Dog Food
It is great tasting, limited ingredient, and protein-rich dry canine food ideal for meant for dogs of all life stages. It will support the growth of all dogs, including those weighing 70 pounds or more once they are adults.
Key benefits
Suitable for canines with food sensitivities since it has limited ingredients and doesn't have any grains.
Has high-quality protein to support lean muscle building.
Uses low glycemic carbohydrates to ensure to support your dog's vitality and health.
Additional information
First ingredients: pork, pork meal, peas, pea flour, chickpeas, pork fat, natural flavors, flaxseed, choline chloride, salt, and vitamins.
Calorie content: 3,970 kcal per kg or about 430 kcal per cup
Guaranteed analysis: Crude protein (min): 31.0%, crude fat (min): 18.0%, crude fiber: (max) 4.0%, moisture (max): 10.0%, calcium (min): 1.5%, omega-3 fatty acids (min): 0.45%, taurine (min): 0.2%.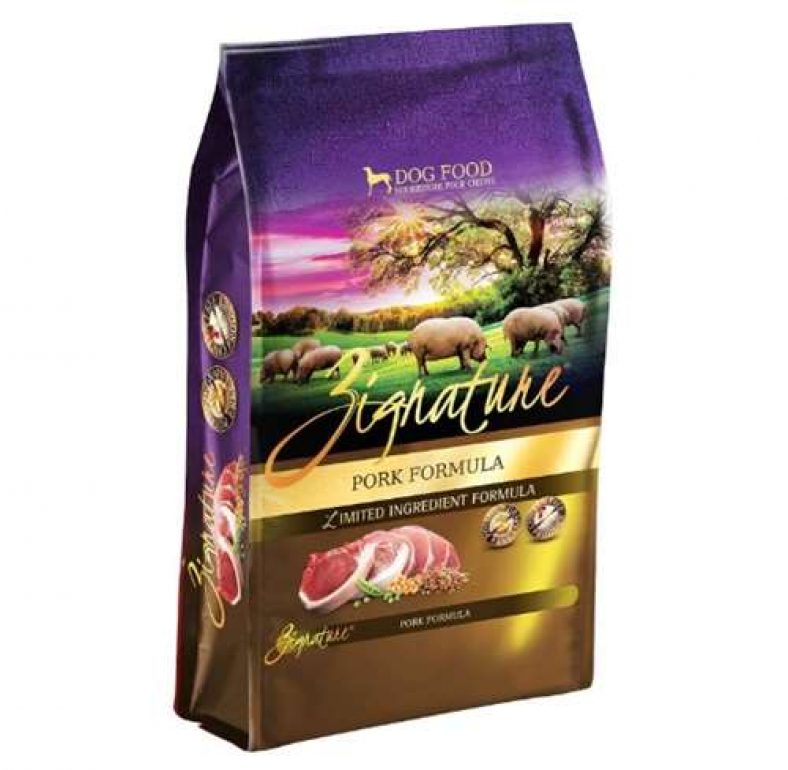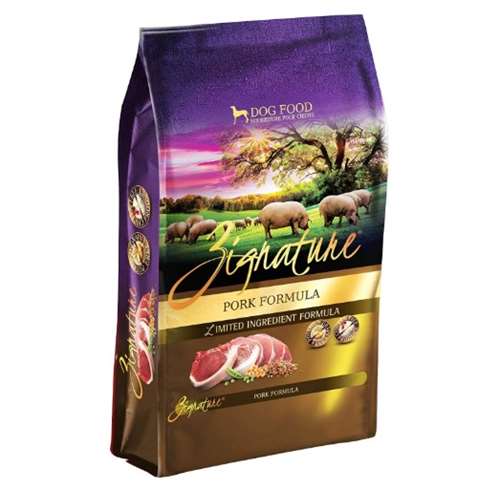 If you don't prefer dry foods, you have a choice of going for the equally beneficial canned Zignature Pork canine diet.
3. Fromm Four-Star Nutritionals Pork and Applesauce Formula Dry Dog Food
This Fromm formula is a delicious entrée that also has sweet potatoes and a collection of vegetables and fruits. It will provide nourishment to dogs of all life stages, including large dogs, i.e., it will support the growth of large dog breeds such as those 70+ pounds as an adult.
Key benefits
It has various fruits and vegetables, including carrots, broccoli, apples, cranberries, blueberries, and so on, which will provide extra nutrients to your pet.
Enriched with a blend of probiotics, which will support digestion and promote gut health, i.e., has dried Pediococcus acidilactici, Lactobacillus plantarum, Bifidobacterium longum, and Lactobacillus acidophilus fermentation products.
All foods are made at 5th generation family-owned and operated pet food company where all food batches are tested for pathogenic bacteria.
Additional information
First ingredients: pork, pork meat meal, oat groats, pearled barley, pork liver, brown rice, white rice, dried tomato pomace, pork fat, dried egg product, peas, and potatoes.
Calorie content: 3613 kcal/kg or 379 kcal per cup
Guaranteed analysis: Crude protein (min): 24.0%, crude fat (min): 14%, crude fiber: (max) 5.5%, moisture (max): 10.0%.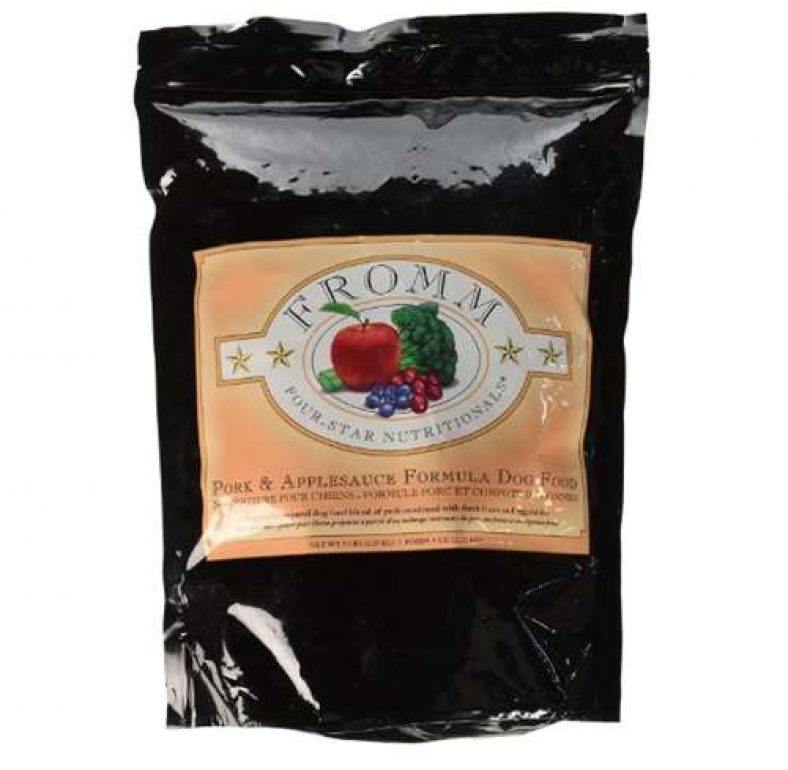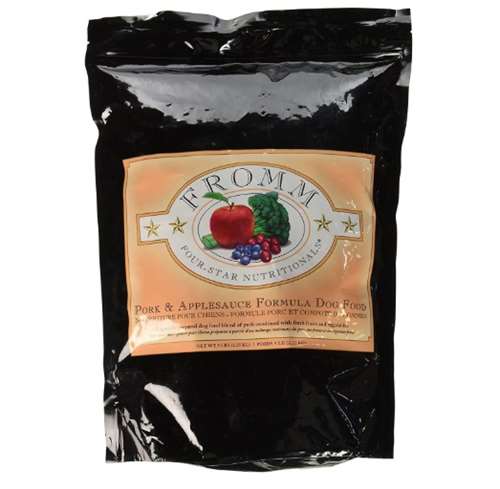 4. Burns Sensitive Pork and Potato Dog Food
This low-fat adult dog (over nine months) food that uses pork, a novel protein source, and potato is suitable for all canines breeds, especially those a sensitive skin and digestion issues emanating from their diet.
Key benefits
As a hypoallergenic formulation, it will minimize food allergies caused by commonly used protein sources, including beef, lamb, or chicken, since it doesn't have them. Also, it doesn't have soy, wheat, dairy, artificial colors, or flavors.
Will support a healthy skin coat and promote digestion as well as help manage gassiness, bad breath, excessive shedding, and itchy skin.
Potato, which is the primary source of carbohydrate, is highly digestible and less known to cause food sensitivities.
Additional information
First ingredients: Potato, maize, fresh pork, pork meal, pea starch, peas, pork fat, and seaweed.
Analytical constituents: Crude protein: 18.5%, crude fat: 8%, crude fiber: 2.5%, crude ash 7.5%, copper: 18mg/kg, sodium 0.2%, calcium 1.9%, phosphorus: 1.2%, magnesium 0.1%; potassium: 0.8%, omega-6 fatty acids: 1.5%, omega-3 fatty acids: 0.14%.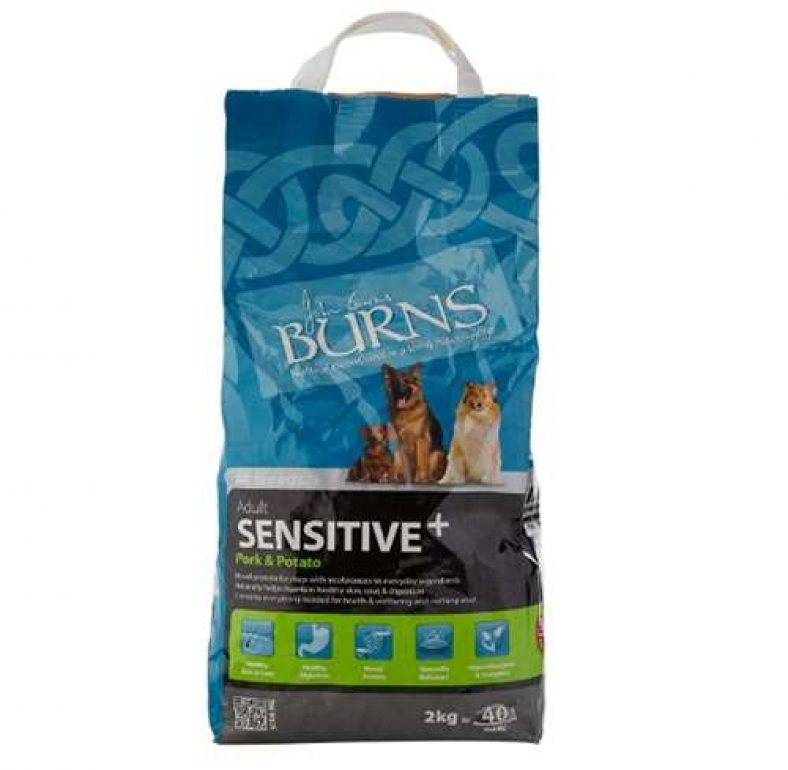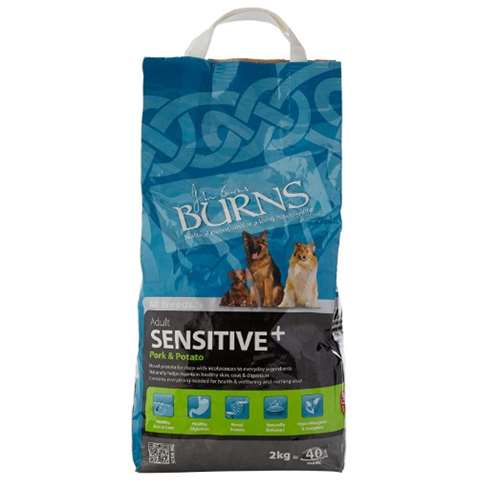 5. Fromm Four-Star Dog Food Pork and Peas Recipe
Your dog will enjoy every bite of this Polynesian inspired dry entrée complete and balanced dry dog food for all dog stages, including the growth of larger dog breeds weighing 70 pounds or above when adults.
Benefits
Protein-rich and uses only one animal protein source.
It has a blend of healthy Polynesianfruits and vegetables, including carrots, apples, melons, pineapple, cranberries, blueberries, and mangos.
It doesn't have grains that often cause food allergies.
The food is made small batches help maintain quality.
Has coconut oil to promote digestion and an ideal omega-3 and -6 fatty acids for healthy skin and coat.
Additional information
First ingredients: pork, peas, pork broth, chickpeas, pork meat meal, pea flour, pork fat, dried egg product, and sweet potatoes.
Calorie Content: 3,695kcal/kg or 392 kcal/cup
Guaranteed Analysis: Crude Protein: 29%, crude fat: 17%, crude fiber: 6.5%, moisture (max): 10%.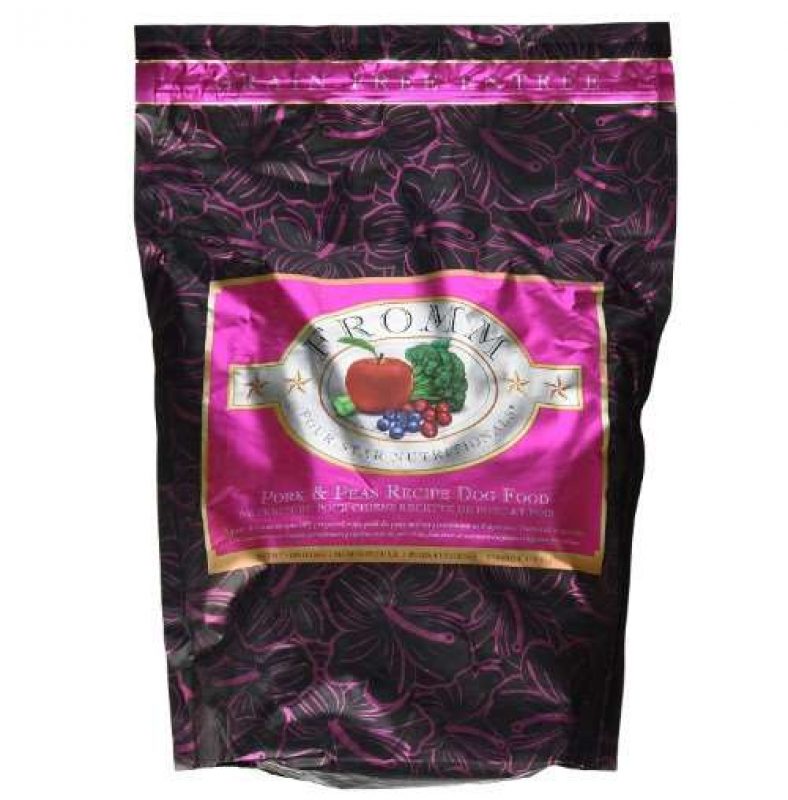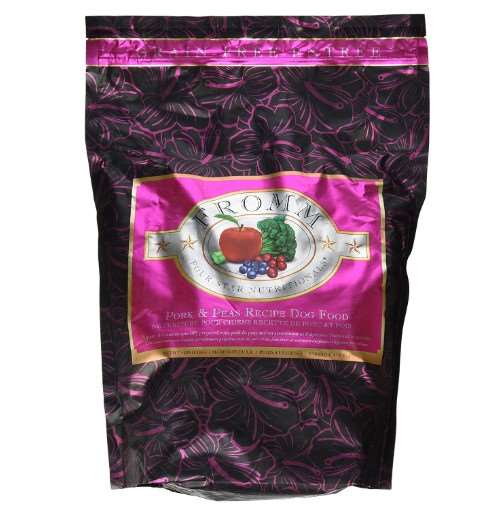 6. Dave's Grain Free Pork & Sweet Potato Entrée Canned Dog Food
Dogs of all life stages, including those growing with an adult weight of 70 pounds and above, stand a chance to benefit from this tasty canine wet food, especially those prone to food sensitivities and allergies.
Key benefits
The formulation uses a single protein source and sweet potatoes as its carbohydrate source. These two ingredients are not known to cause many hypersensitivities.
It has no grains, artificial flavors, or colors.
It has added essential vitamins and minerals required for growth and optimum health.
Brewer's yeast and cranberries will boost digestion and absorption of the various nutrients.
Additional information
First ingredients: Pork, liver, vegetable broth, sweet potatoes, and brewers dried yeast, cranberries.
Calorie content: 1190 kcal per kg or 439 kcal per 13 oz. can
Analytical constituents: Crude protein: 9.0%, crude fat: 7.08%, crude fiber: 1.5%, moisture (max): 78.0%.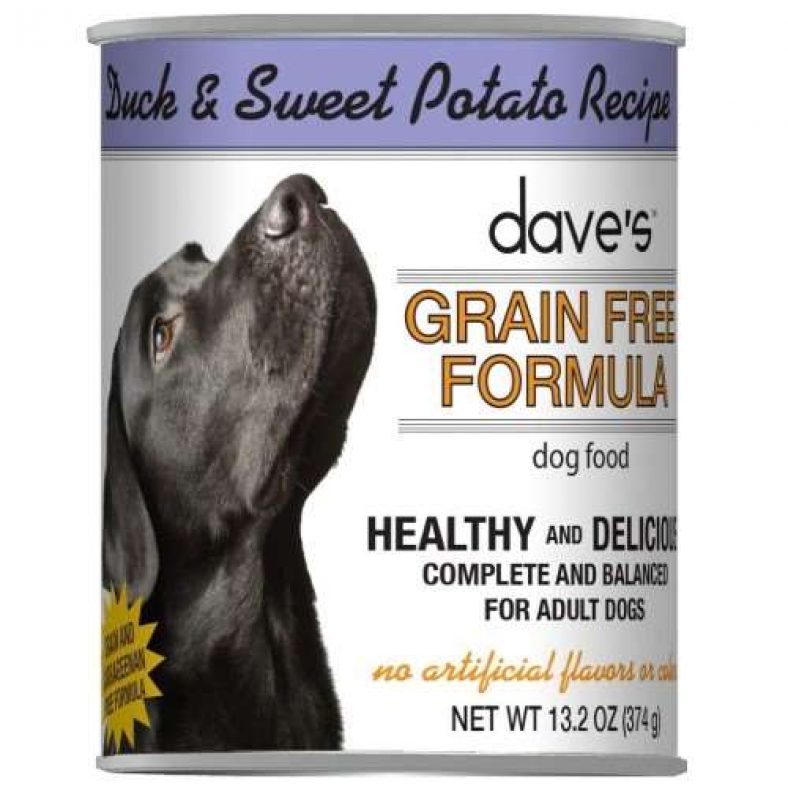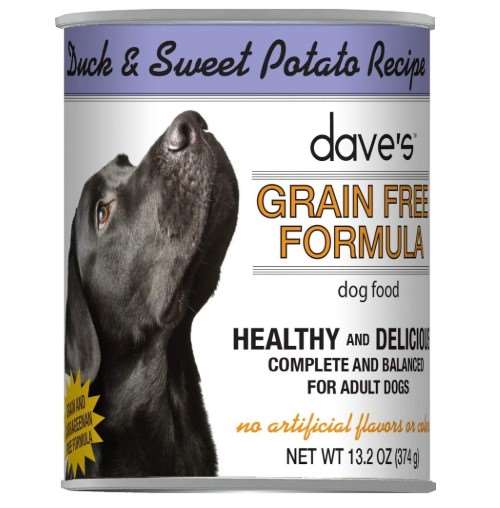 7. Acana Yorkshire Pork (340G, 2kg, 6Kg, and 11.4 kg
Still from Acana, this premium quality canine food with about 50% blend of high-quality pork meat, organ, and cartilages in ratios that mimic whole preys and squash. It is formulated to provide nourishment to dogs of all sizes and breeds all nutrients and fiber they need for longevity, vitality, and optimal health.
Key benefits
It high in protein with meat, organs, and cartilage, just like a whole prey.
Excellent for picky eaters as well as those with sensitive stomach since it uses only a single protein source and has limited ingredients.
Butternut will ensure healthy digestion.
Additional information
First ingredients: fresh Yorkshire pork (16%), pork meat meal (16%), whole green peas, whole red lentils, fresh pork liver (6%), pork fat (6%), fresh pork kidney (4%), fresh whole butternut squash (4%), whole garbanzo beans, whole green lentils, whole yellow peas, dried pork cartilage (2%), lentil fiber, marine algae (1.2%).
Calorie content: 3393 kcal/kg or 407 kcal per 120g/250ml cup) with 32%, 38%, 30% from protein, fats, as well as vegetables and fruits respectively
Guaranteed analysis: Crude protein (min): 31%, crude fat (min): 15%, crude fiber (max): 5%, moisture (max): 12%, Crude ash (max): 7.5%, calcium (min):1.2%, phosphorus (min): 0.9%, omega-6 fatty acids (min): 2.6%, omega-3 fatty acids (min): 0.9%, glucosamine (min): 300mg/kg, DHA (min): 0.15%, EPA (min): 0.1%, Glucosamine (min): 600mg/kg and Chondroitin sulfate (min): 800mg/kg.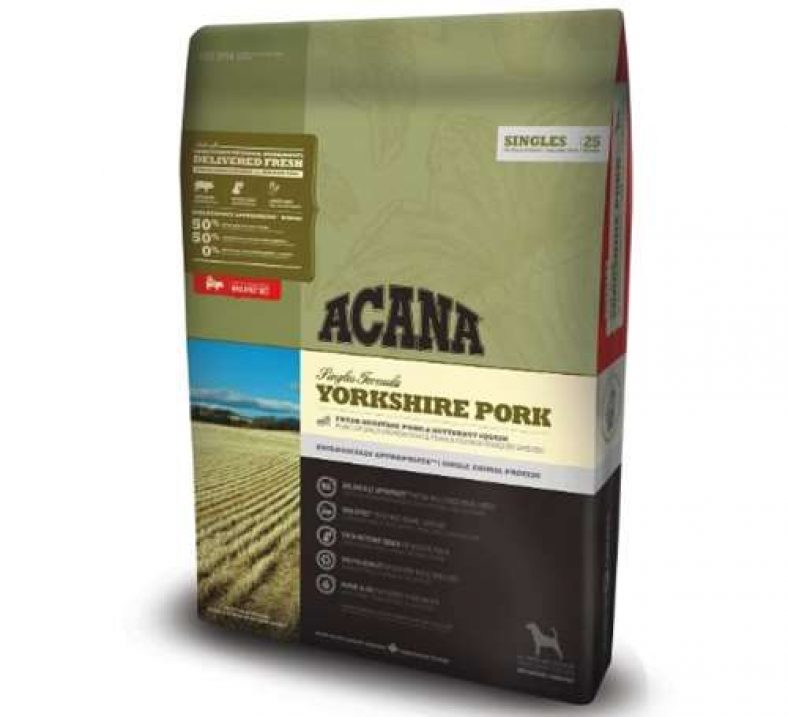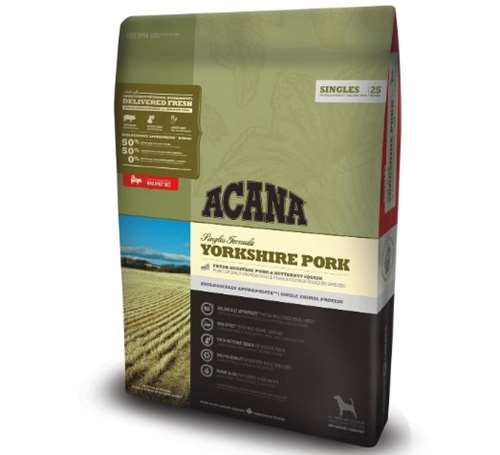 Other good brands include:
Grandma Lucy's Artisan Grain-Free Pork Freeze-Dried Dog Food
Whole Earth Farms Grain-Free, Natural Dry Dog Food Pork Beef and Lamb
Nature's Logic Canine Pork Meal Feast All Life Stages Dry Dog
Blue Seal EnTrust Adult Pork & Barley Dog Food
Rawbble Pork Recipe Dry Dog Food
American Natural Premium Grain-Free Duck Meal & Pork Meal Recipe Dry Dog Food
Vet's Kitchen Dog Food Grain Free Adult Sensitive Pork and Potato
Taiga Grain Free Pork Dog Food
Arden Grange Adult Dog Pork & Rice
Earthborn Holistic Venture Smoked Wild Boar & Butternut Squash Limited Ingredient Diet Grain-Free Dry Dog Food
Best pork treats for dogs
Pig ears, skin, or biscuits make lovely treats for our dog. These pets will enjoy ripping and chewing them. Some of the best brands to buy include the following:
Blue Buffalo Sizzlers with Real Pork Bacon-Style Dog Treats
Hartz Oinkies Rawhide Free Pig Skin Dog Treat
Premium Pork Chomps Roasted Twistz
Cadet Porkhide twists
Homemade dog food pork – the cooking process
As FDA requires handling and cooking of pork meat as well as other meats and poultry, ensure you cook it, including pork chops, roasts or steaks, as well as smoked or fresh uncooked ham, at least 145oF for not less than three minutes.
If ground, cook at 160oF while uncooked ham, including smoked or fresh one, should be while you should reheat fully cooked ham at a minimum temperature of 140oF.
Handing it when raw
Ensure you thoroughly wash your hand with soap and a lot of water before and after handling raw pork. Also, clean any chopping board, utensils, or dishes with soap and water.
Don't forget to clean countertops with soap and hot water before sanitizing them with dilute liquid chlorine bleach (a teaspoon per quart of water).
Furthermore, separate raw pork and other ready to eat foods in your shopping cart, in your fridge, and handle them separately. They shouldn't come in contact. Use separate handling places, including chopping boards, and ensure no raw juices drip to other foods.
Finally, if possible, to keep it in sealed containers, don't reuse marinades or takes any meant for raw foods.
Storing
Keep it at refrigerated at not less than 40° F (4° C) or in a freezer at not lower than 0° F (-18° C).
Pork and Dogs FAQs
We understand you have tons of questions. While it may be challenging to exhaust all of them, we have created these FAQs to help you get quick answers to some basic questions that may be bothering you.
Can dogs eat raw pork?
No. Dogs should not eat raw pork and, by extension, any other raw meat or poultry because it presents the following health risks.

a). Trichinosis (trichinellosis or trichiniasis): The first risk is trichinosis, a foodborne parasitic disease or infection. It is caused by eating undercooked or raw meat, especially pork and its products infested with trichinella spiralis worm larvae.  Common symptoms include abdominal pain, fever, chills, diarrhea, muscle soreness, eye swelling, and headache, among others.

b). Carries parasitic worms (helminths): It does carry worms such as pinworms, roundworms, hookworms, and pork tapeworms with Taenia solium, a common one in people that eat undercooked or raw pig meat.

c). Harbors pathogens:  Raw or undercooked meats including poultry present the risk of harboring Salmonella, E. coli, or Staphylococcus aureus 

d). Hepatitis E (HEV) reservoir: There are links between sporadic cases of locally acquired acute hepatitis E (HEV) and pigs, especially in areas that have mild climates as it can transmit between humans and swine.

e). Yersiniosis risk: Yersiniosis is a zoonotic disease caused by Yersinia enterocolitica, a gram-negative bacterium with a bacillus shape. Its symptoms include acute diarrhea, fever, and abdominal pain.  While it may be present in various foods and may grow during refrigeration, undercooked pork is a common culprit.
Is pork high in fats?
No. While assumed to be high in fats, the fat content varies. For instance, those with trimmed fats are leaner than meat from other domesticated animals. Unfortunately, it is higher in saturated fats and cholesterol.

Additionally, as Food fur Life notes, "on a dry matter basis, pork trimmed to one-quarter inch fat is about 79% protein and 18% fat…that farmed rabbit, which is 74% protein, 20% fat; lamb, with 76% protein and 20% fat; and duck, at 70% protein and 23% fat. Chicken with skin is about 55% protein, 44% fat, which is similar to beef, with 50% protein and 45% fat."
Can dogs eat pork fats or lard?
No dogs shouldn't eat pork fat or lard, which is nothing other than rendered or unrendered pig fats, used as a spread, in cooking or as shortening. When compared to olives such as olive and sunflower, it is high in unsaturated fats. Pig's fat has 56-62% unsaturated fats and 38–43% saturated fats.

Dogs require essential fats and oils with polyunsaturated essential fatty acids, i.e., linoleic acid, alpha-linolenic acid, arachidonic acid, EPA, and DHA.

Since pig fat has a high unsaturated fat content and doesn't have polyunsaturated fats, there isn't need to let your pet have it. However, since fats increase palatability, taste, some manufacturers add it to pet foods.  
Will pork cause heart disease and pancreatitis?
No. Fats account for 10-20% of most dog foods (more homemade) and account for 20-60% of calorie intake. As we have seen, some cuts are not necessarily high in fats, it won't.

Diets higher in saturated fats increase risks of heart disease, i.e., clogs arteries and causes heart attacks in humans. However, this isn't the same case with healthy dogs fed on high amounts of saturated fats, notes the Cummings veterinary center at the University of Tuft.

However, dogs with pancreatitis history, diabetes, gastrointestinal issues, and high fat in their blood require diets lower in fats. Also, some may have diarrhea since they can't tolerate high fats in their diets.

Finally, being energy-dense, overweight dogs may not need high-fat foods since it will increase calorie intake. However, skinny dogs stand to benefit, including having a healthy and shiny coat. 

Can dogs eat ham?
No. Dogs should not eat ham. While it is just a pork's leg cut, the salt added during curing makes it high in salt (sodium). 

Salt (sodium chloride) is essential in a dog's diet. It is the critical source of sodium that plays various vital roles that include maintaining body fluid balance, some organs and nervous systems need it, and it improves taste, an excess may be harmful. Some effects of diets high in salt include:

a). Elevated blood pressure

b). Will worsen kidney disease, liver, and heart disease. Dogs with these conditions need foods lower in sodium.

c). May cause sodium poisoning characterized by vomiting, diarrhea, increased urination, seizures, and bloating. Bloating occurs when a dog's stomach filled with fluids and gas and begins to expand something that may put pressure on organs, especially with increase thirst that triggers more water intake, something that is life-threatening. 
Can dogs eat bacon?
No. Dogs shouldn't eat bacon. Like ham, it is high in salt as well as fats, which predispose some dogs to some problems we have already seen.

Furthermore, the World Health Organization 2015 study noted that processed meats, including bacon, were associated with certain human cancers. While there were no studies, in dogs, there is concern that these foods may have similar effects.
Can dogs eat sausage?
No. Dogs shouldn't eat sausages as contain seasonings, may have sulfite preservatives (may cause thiamine deficiency), are high in fats, and very salty. While a small bite may not cause much harm, opt for other healthier treats.
Can pork cause dog allergies?
Yes. While beef, dairy products, chicken, wheat, and lamb" (1) are the most often ingredients in dog foods associated with food/skin sensitivities, pork, eggs, fish, corn, soy, among others, do cause food hypersensitivities.

Check for signs such as skin itchiness, scratching, licking, chronic ear and skin infections, poor coat, and skin quality as well as vomiting, diarrhea, among others. Discontinue and talk to your vet to recommend good hypoallergenic canine diets.
Can dogs eat pork bones?
No. Don't give your dog pork bones, including those from spare ribs, BBQ ribs, chop, shank, neck, shoulder, and so on. However, this isn't a good idea.

Dogs shouldn't eat cooked or raw bones, including round or small ones. Cooking makes them more fragile and easy to flake, something that presents a choking risk. Also, shattered bones may tear or injure their mouth, intestines, cause intestinal blockages, damage their teeth (thin enamel layer), and so on. See your vet in case of constipation after your dog eating bones.

On the other hand, while they are softer and less likely to splinter, raw bones present all the risks of any raw meats we have already seen. They can also cause intestinal blockages.

Instead, buy edible dental bones, which will help reduce boredom, help maintain dental hygiene and health. However, bone broth with all bones remove is ok.
Can dogs eat pork rind, skin, scratching, or crackling?
No. Unless specially made for dogs. The rind is nothing other than a pig's skin. Usually, it may be fried in fats, roasted, or rendered. Rendering occurs to yield lard with the remaining rind, cracklings, or scratching a by-product consumed as a snack.

Dogs shouldn't eat rendered pork rind, skin, cracklings, or scratching since their processing leaves it high in salt, seasonings, and spices that make it potentially unsafe.

Similarly, they shouldn't eat raw pig skin (rawhides) as it presents all the risks of uncooked meat. On the other hand, while cooked or rind broth will be high in fats, making it unhealthy. However, a small amount as an occasional treat may not cause much harm.

Finally, if you want to make dehydrated pigskin for dogs, Nikki Tate at Medium.com, dailypuppy.com, among others, has steps to follow. Alternatively, you can buy some dog skin treats whose formulation bears in mind a dog's health.
Can dogs eat pork mince (ground)?
Yes. However, it should be well cooked and shouldn't if any seasonings or additives. However, only give them a small amount as it tends to be fatty.

It is nothing other than ground pork butt (Boston butt), and may include trimmed loin ends that may be pre-ground and packaged.
What happens if a dog eats raw pork?
Nothing. If your dog happens to steal some of your raw pork, don't worry since most reputed farms ensure their pigs don't have any parasites. However, watching vomiting, digestive upsets, or other symptoms, diarrhea, vomiting, pain, stiffness, and contact your vet if they happen.
Are pork tongues ok for dogs?
Yes, but if well cooked and don't have any seasonings or additives. Your pet is going to love their taste.
Are pig ears good for dogs
Yes. Dog ears are popular dog treats. However, on July 31, 2019, FDA advised dog owners to desist feeding their dogs pig ears as they were associated with "Human cases of salmonellosis related to several Salmonella serotypes linked to exposure to pig ear pet treats from Argentina, Brazil, and Colombia."

Later on, on October 30, 2019, when the outbreak was over, FDA advised pig ear suppliers and retailers to ensure their pig ear treats are not contaminated with Salmonella. Pet Supplies Plus, Lennox, and Dog Goods USA Hollywood Pet recalled salmonella positive dog treats.

Finally, if you need them, there are many pig ears treats to buy. We will have a review of the various brands and treats in a separate post.