Dried mealworms are dead Tenebrio molitor grubs that may be the naturally dried, freeze-dried, canned (cooked in their cans) or fresh ones (dead but still fresh).
The fresh and canned mealworms require refrigeration once you open them if your pets or animals don't consume the entire amounts. However, this is not the same case for dried ones.
Benefits
Have a longer shelf-life – Dried mealworms can stay for as long as 18 months if kept in a saleable packaging and stored in a dry place. You do not have to refrigerate them.
Easier to handle – Once your pets have learned to eat them, they are easier to feed since they will not crawl from their feeding bowls or dishes.
Good in hot or cold weather – They are a good option during cold winter or hot summer months when shipping of live feeder insects is costly.
They are inexpensive – They are cheaper to buy, yet nutritionally dense. Furthermore, you won't incur further costs or effort, such as that needed to keep live mealworms alive.
Notionally balanced – If you prefer dead or dried ones, most vendors have dusted them. You do not have to do them again with multivitamins.
Downside
Not appealing – Most insect-eating animals prefer live feeder insects. Therefore, some pets may find them unappealing, not notice them, or be willing to eat them since they do not move. You need to be patient and slowly train them to recognize and eat them.
Have no moisture – The drying gets rid of most of their water content, making them cumbersome to eat. Furthermore, these pets need moisture. However, by steeping or soaking dried mealworms in water, their moisture content will increase, and they will be softer and more comfortable to eat.
How to introduce them
If they have never eaten dried mealworms before, you slowly give them only a small amount over some time. Be patient as some pets may take a while to learn to eat these worms on their own.
Best dried mealworms including bulk
Here are the best freeze-dried, naturally dried, or canned mealworms in the market. We will not focus on those for human consumption.
1. Fluker's Gourmet Canned Food – Mealworms
If you find feeding or keeping feeder insects alive a challenge, the Fluker's gourmet-style canned mealworms is a good option of food you should buy. This moist canned food is nutritionally balanced suitable for reptiles, amphibians, birds, tropical fish, and other small animals that eat insects.
This food can be refrigerated to prolong its shelf-life, has a stay-fresh lid, and has balanced vitamins and minerals.
Guaranteed Analysis: crude protein (min) 17.9%, moisture (max) 68.0%, crude fats (min) 5.9%, crude fiber (max) 3.5%, and ash (max) 3.0%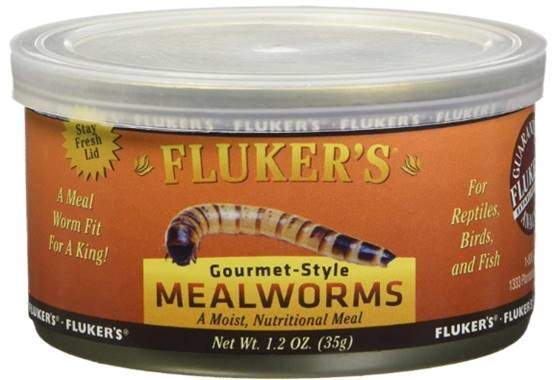 2. Fluker's Freeze-Dried Mealworms
Fluker's Freeze-Dried mealworms are nutritious and a mess-free food for your tropical fish, reptiles, birds, hedgehogs, and semi-aquatic amphibians. It is a good source of protein and fats and has all the vitamins and minerals that these pets require.
If you do not want to struggle with live feeder worms, this is an ideal option that will give you value for your money. Furthermore, it is well packaged in a glass jar and has a great flavor that your pets will like.
Guaranteed Analysis: Crude proteins (min) 46.64%, crude fat (min) 25.28%, crude fiber (max) 6.74% and moisture (max) 9.56%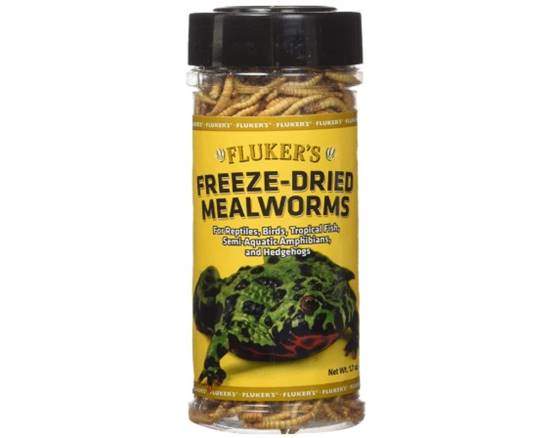 3. Sequoia Reptile Food Dried Mealworms Pet
Handling and caring for live mealworms is a challenge to many pet owners. If you are one of them, consider the all-natural dried dead mealworms from Sequoia. Their drying techniques ensures that all nutrients stay intact without including any additives or preservatives.
They are a natural source of nutrients for your bearded dragons, water dragon, frogs, sugar gliders, lizards, geckos, chameleons, monitor, tortoise, turtle, blue tongue skinks, fish, hedgehogs, birds, and other pets.
Furthermore, they have a longer shelf-life, are affordable, and soaking them for about 20 minutes will moisturize them, or fed directly.
Compositional analysis: Proteins: 53.8%, fat 24.9%, fiber 6.2%, moisture (max) 5%.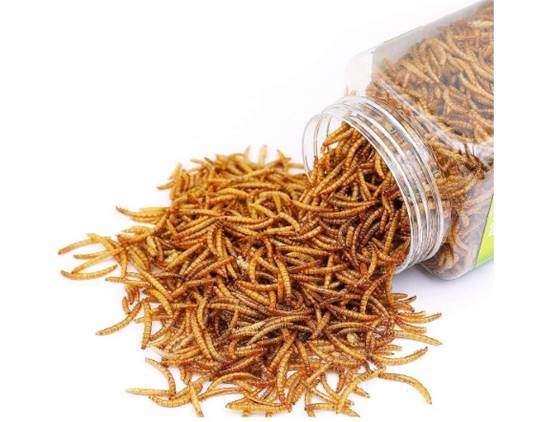 4. Premium Dried Mealworms by Tasty Bug Treats
There are premium quality natural dried mealworms for poultry, wild birds, small mammals including hedgehogs, rats, sugar gliders, hamsters as well as reptiles like geckos, lizards, bearded dragons, turtles and tropical fish such as koi, cichlids, and Oscars.
Like any other dried food, they are easy to handle, have a long shelf-life of up to 18 months, you do not need to refrigerate them, and they come in a re-sealable bag.
You will get them in either a 1lb or 2lb bag. By looking at their price, you will agree with us that they are indeed excellent value for your money.
Guaranteed Analysis: Crude Protein: 55%, Crude fats (min): 24%, crude fiber (max): 4.4%, ash (max): 3.3%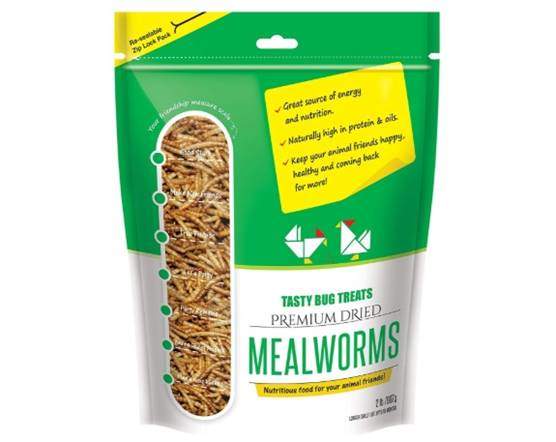 5. Zilla Munchies Mealworms
The dehydrated Zilla Munchies Mealworms is a protein-rich nutritious treat or food for your reptiles such as bearded dragons and leopard geckos, chameleons, birds, and large tropical fish. Depending on which animal you are feeding to, these munchies can be feed alone as a treat or with other foods.
These munchies are high in protein, comes in resealable packaging, have a long shelf-life, do not require refrigeration, and it is 100% natural, i.e., there are no preservatives or additives.
Guaranteed Analysis: Crude protein (min) 50.0% crude fat (min) 25.0% crude fiber (max) 6.5% moisture (max) 6.0% max.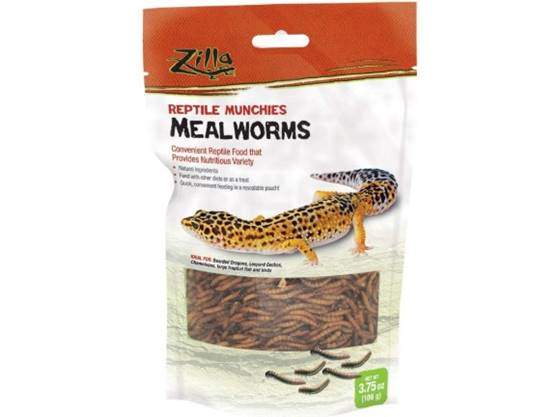 6. Hatortempt 5 lbs Non-GMO Dried Mealworms
The Hatortempt non-GMO dried mealworms are good for reptiles, sugar sliders, hedgehogs, chickens, birds, and other insectivorous animals. Besides the 5 lbs, there is the 1 lb, 2 lbs, 5lbs, 10 lbs, 11 lbs, 22 lbs, 44 lbs, and 66 lbs all approved by FDA.
Besides being Non-GMO, they are affordable, have a great flavor, well packaged, and your pets or farm animals will like them.
Nutritional composition: Protein 53%, Fat 28%, Fiber 6%, Moisture 5%.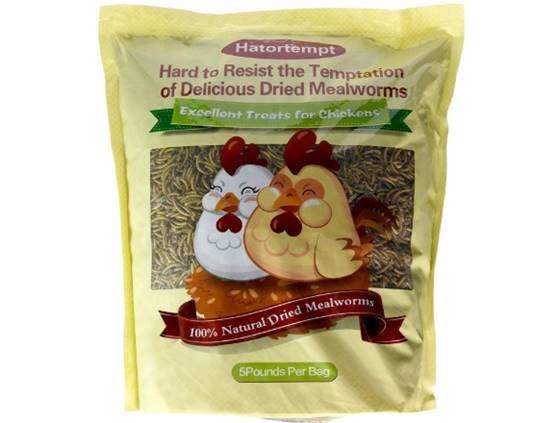 7. TradeKing 11 lb Dried Mealworms for birds and chicken
These dried grubs are high protein, easy to store and use and are veterinary certified to ensure they are of the highest quality to meet nutritional needs of your wild birds, reptiles, fish, chicken, and other insect-eating animals.
They come in 1, 2, 5, 11, and 22-pound resealable packaging, are affordable, have a long shelf-life, and you do not have to refrigerate them, something that will ensure all their nutrients remain intact.
Nutrition analysis: Crude protein: 55.3% (min),crude fat: 24.4% (min), crude fiber: 6.6% (min), moisture: 4.2% (max),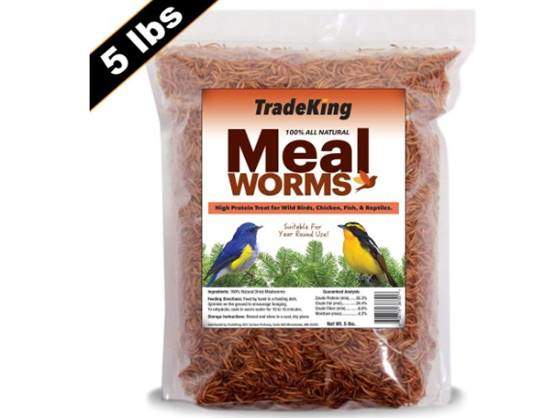 8. Exo Terra Reptiles Canned Food, Mealworms
These are dead Tenebrio molitor grubs that have been cooked in their can to ensure they retain all their nutrients, aroma, and flavor. Unlike the dried ones, these worms are softer, easier to digest, and will promote maximum nutrient absorption.
For instance, cooking breaks their collagen bond, and hence it is easier to absorb. Collagen will help in building structures for skin, claw, cartilage, and bones.
Nutritional analysis: Protein 17%, fat content 5%, crude fiber 1%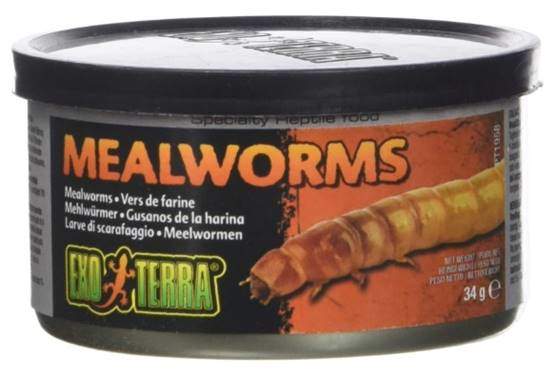 9. Freeze Dried Giant Mealworms by Aquatic Foods Inc.
These giant worms from Aquatic Foods Inc. are good for larger fish, turtle, reptiles, birds, and pond fish. They come from a quarter a pound to 10 pounds packaging.
Furthermore, they are dust-free (have been sifted) but may have smaller pieces, come in a zip lock bag them easy to use. Also, shipping is in a hard box or bubble bag to ensure they do not break since the freeze-drying makes them brittle.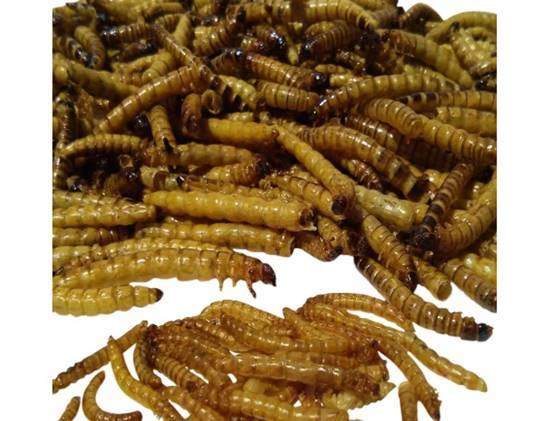 10. MBTP Bulk Dried Mealworms by Pound for chicken and wild birds 11 lb
These brands by Pounds are all-natural, i.e., they are non-GMO, have no fillers or additives of any kind whatsoever, and FDA and USDA have approved them.
These worms grow only on vegetarian diets and are suitable for reptiles, fish, chicken, ducks, wild birds, hedgehogs, hamsters, among other insects eating pets or farm animals.
Nutritional analysis: Protein (min) 51%, crude fat (min) 23%, Fiber (max) 8%, and moisture (max) 7%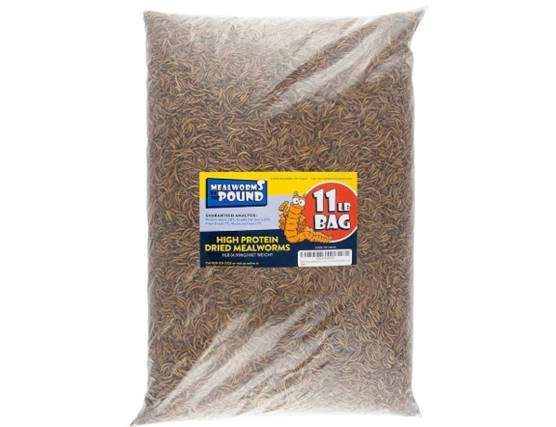 11. Maltby's Stores 10kg, 12.5kg or 20kg bulk Wild Bird
These Maltby's mealworms area an excellent quality that has a great flavor, features, and easy to pick packaging, and are a real value of your money, especially for people in the UK.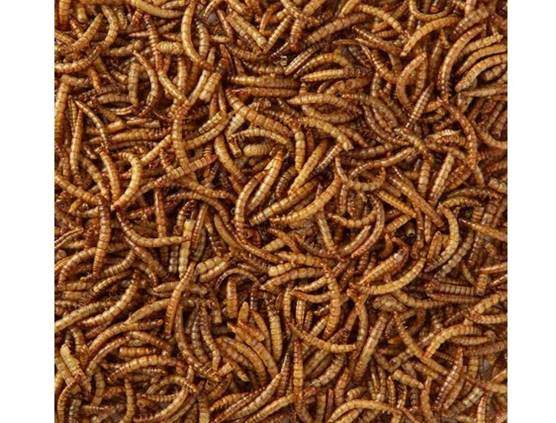 12. 5kg Wild Bird Dried Mealworms
This brand is a good value for your money, has consistent quality, great flavor, and one of the best brands you can get in the UK.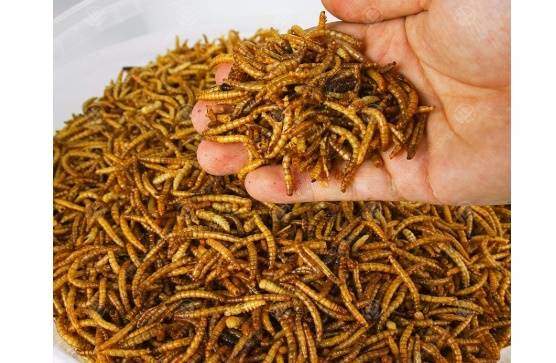 13. Kaytee Mealworms
These are high protein mealworms you can use to attract Wrens, robins, cardinals, woodpeckers, and bluebirds. They come in 3.5, 7, 17.6, and 32 Ounce packaging. Also, you can feed them to small insectivorous mammals, reptiles, or even amphibians too.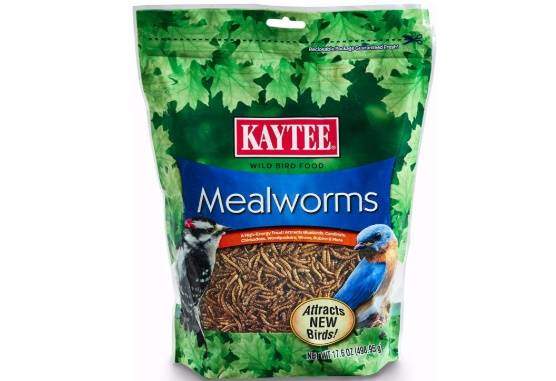 Finding cheapest dried mealworms for sale
To get the best price for dried mealworms to go for vendors who sell in bulk. Many bulk vendors sell as much as 10kg, 12.55kg, 15kg, or 25kg, and more. For instance, Hatortempt has a 66 lbs bag.
Furthermore, since they have a long shelf-life, buying in bulk will save on the shipping fee. Additionally, many vendors are willing to ship for free if you purchase large amounts.
Finally, compare prices from the pet stores near you as well as leading online ones including County Companion PetSmart, Petco, Walmart, Home Depot, Tractor Supply which have the famous Manna Pro Flock Party Mealworms, Wilko (UK), Lowes.com, Pickyneb, Paws Paradise, among many other farms and companies.