Domestic and wild rabbits may invade your garden, yard, or lawn, causing damage to your landscaping plants, eat your vegetables, flowers, fruit trees, or any other plants. They will also burrow on your lawn or gardens, something you don't want.
Even your rabbits may cause these damages or eat plants and grass treated with harmful herbicides, pesticides or ingest internal parasites while grazing.
If you want to keep rabbits off lawns, garden or yard, some ways to do so include exclusion (fencing), shooting, baiting, trapping, planting rabbit repellent plants or using homemade and commercial rabbit repellents and deterrents. Let us look at the best rabbit deterrents and repellents to buy.
Best rabbit repellent and deterrents
If rabbits are a total nuisance, here are some best ways to repel rabbits (wild or domestic ones). Ensure you follow what users recommend if you want the best results.
1. Best Overall: Orbit 62100 Yard Enforcer Motion-Activated Sprinkler
Orbit 62100 Yard Enforcer Motion-Activated Sprinkler has a sensor activated by motion, which triggers a sprinkler that produces powerful water jet as well as bursts of sounds that will make any intruder take off.
Buy it if you want to keep away not only rabbits but also dogs, cats, squirrels, herons, skunks, opossums, birds, raccoons, and other animals off your garden or lawn.
Key benefits
Safe and humane. It won't harm you, your children or pets like dogs and cats.
It has day, night, or 24-hour operation modes and can work as a manual sprinkler for 30 minutes.
Durable, UV resistant, sturdy, and leak-proof. Just fix it firmly to the ground to avoid topping or damage. Its brass horse swivel for connecting to your garden hose won't rust.
It is flexible does its job very well. You can adjust it to sprinkle water from 10-70 feet distance on a radius of a few degrees to 360 degrees covering 1600 square feet, and its adjustable sensor covers a range of 40 feet with a viewing angle of 120 degrees and a total area of 3,840 square feet.
Energy efficient with 4 AA battering having a total of 7500 on-off runs.
Has pass-through pots for additional sprinklers, making it possible to cover a complete circle area 3840 sq.ft.
Its intelligent sensor will differentiate tree movements when the wind blows and intruders preventing unnecessary triggers that may overwater plants.
Additional information
Price: $79.99
Coverage area: 1600 sq.ft., with a single sprinkler
Pressure range: 10-100 PSI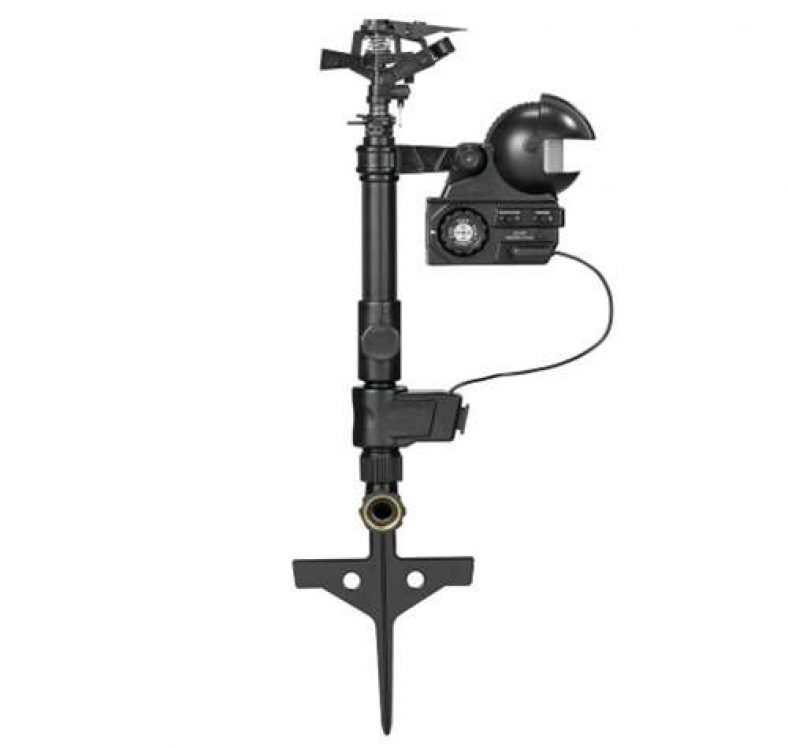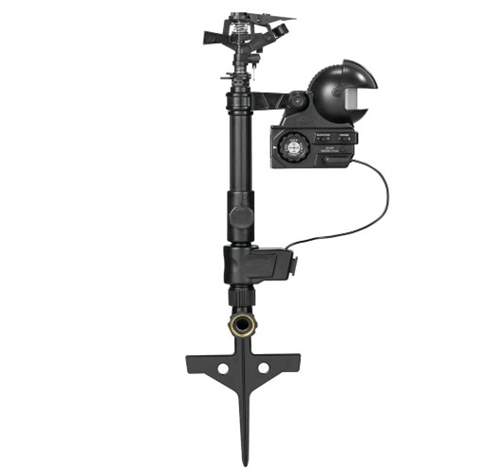 2. Best Rabbit Repellent Spray – Liquid Fence Deer & Rabbit Repellent Concentrate
Liquid Fence Deer & Rabbit Repellent will add a displeasing odor to your targeted plants preventing deer or rabbits from even taking a bite. It is the most effective rabbit repellent spray ideal for vines, shrubs, trees, flowers, and other ornamental and landscaping garden, yard or lawn plants.
Key benefits
Harmless to pets, animals, and plants. Just follow the manufacturer's use instructions.
Rainfall will not wash it off, and its effects will last for a long time (up to a month).
Usable throughout the year.
No need to change to other products since its long term use won't diminish its averting scent to rants, i.e., rabbits or deer won't become resistant to the smell.
Additional information
Cost: $0.91 per oz., with its price going down to $0.88 for the 1 Gallon option.
Coverage area: 6,000 sq.ft. per 40 oz.
Active ingredients: putrescent whole egg solids, garlic, sodium lauryl sulfate, potassium sorbate, and thyme oil.
More products – Liquid Fence Deer & Rabbit Repellent Granular and Ready-to-Use.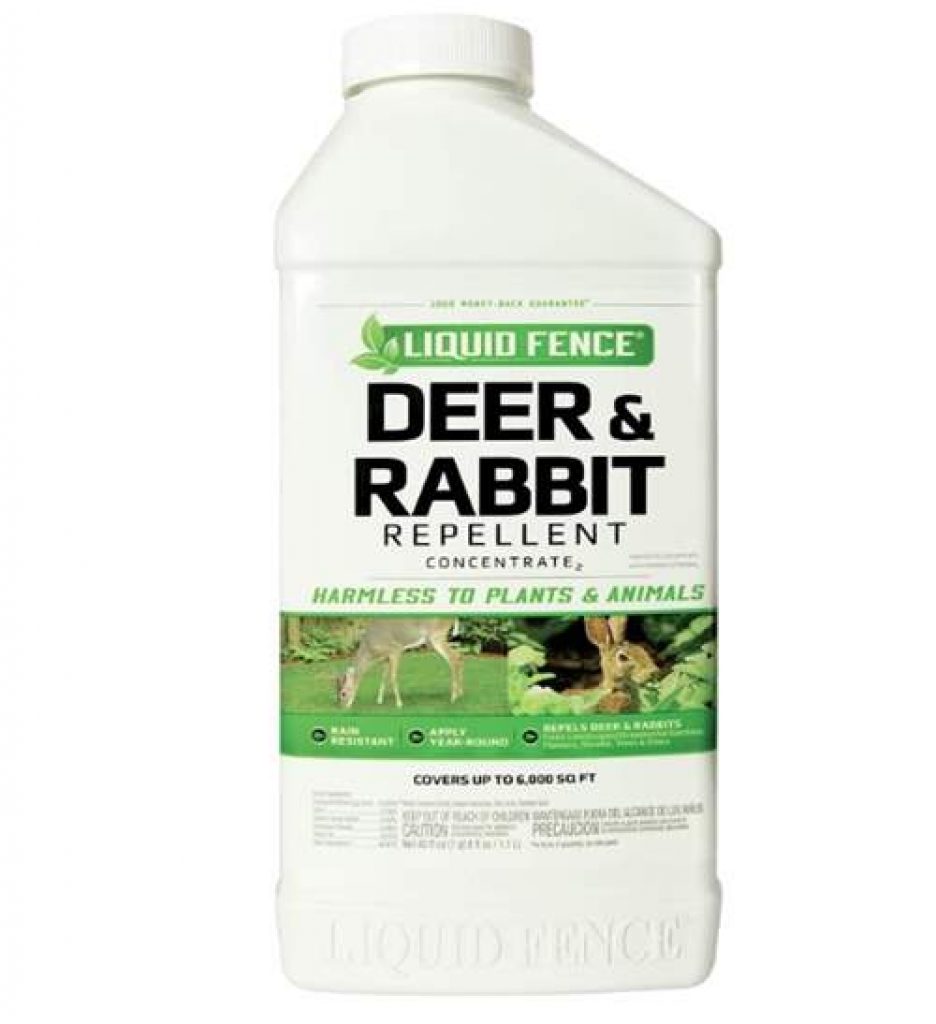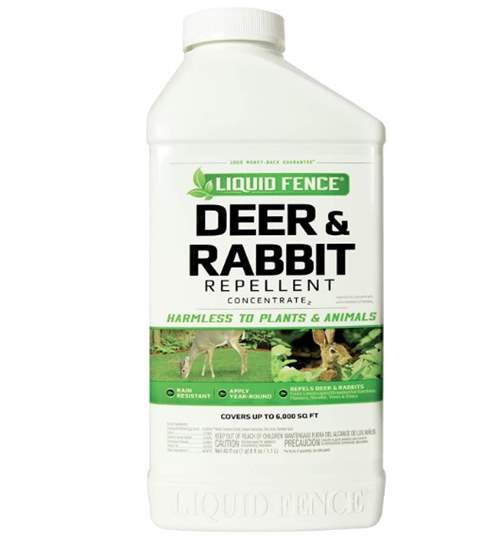 Warning: Avoid contaminating it with your food, water, or those of your pets and keep it out of your children's reach.Box Content
3. Best Granular Rabbit repellent: Enviro Pro 11025 Rabbit Scram Repellent Granular
If for its unique benefits like suitability in low temperatures makes you want a granular bunny repellent, Enviro Pro 11025 Rabbit Scram Repellent Granular won't disappoint you. It leaves a fear, stimulating scent that will make rabbits take off for fear of a lurking danger or death.
Buy it if you want something to spread it on the bed or surface of your garden, lawn or field with fruit plants like orchards, vineyards, and so on, flower, ornamentals, vegetables, nurseries, crops, vineyards, and so on.
Key benefits
Enviro Pro 11025 Rabbit Scram Repellent Granular has all-natural, organic, biodegradable, and environment-friendly ingredients.
You can use it around kids, pets, and other animals.
Unlike liquid bunny repellents, you can use it all year-round since it is water-resistant, and rain won't wash or wear it out. It has an average protection duration of 35-45 days.
Cost-effective since it has extensive coverage.
Additional information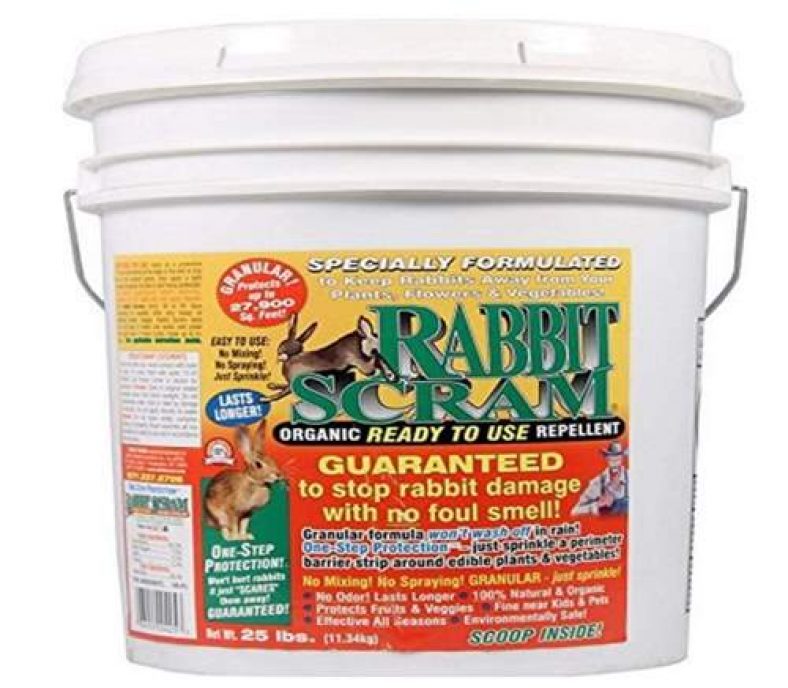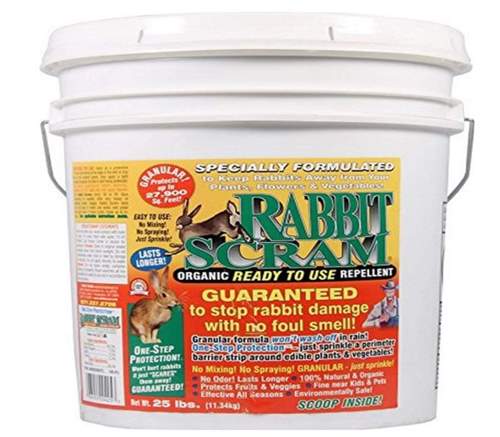 4. Most affordable: Nature's Mace Deer & Rabbit Mace 1 Gallon Concentrate
If you have a vast yard, landscape, garden, or field, we recommend Nature's Mace Deer & Rabbit Mace 1 Gallon Concentrate is the most affordable and effective rabbit and deer repellent liquid spray. It works by combining taste, taste, and fear to keep bunnies away.
Key benefits
Safe for use around kids, pets, and other animals as well as nature and aquatic life.
It is made with all-natural, premium quality organic ingredients.
It offers long-lasting protection since the rain won't wash it off quickly.
It has a pleasant minty scent, i.e., non-stink.
Very affordable and has a money-back guarantee.
Its efficiency is backed by years of research and university studies.
Additional information
Average price: 0.69 per oz
Active ingredients: Putrescent egg solid 20.0%, garlic 5.00%, white pepper 5.00%, mint oil 1.00%
Coverage area: 2 acres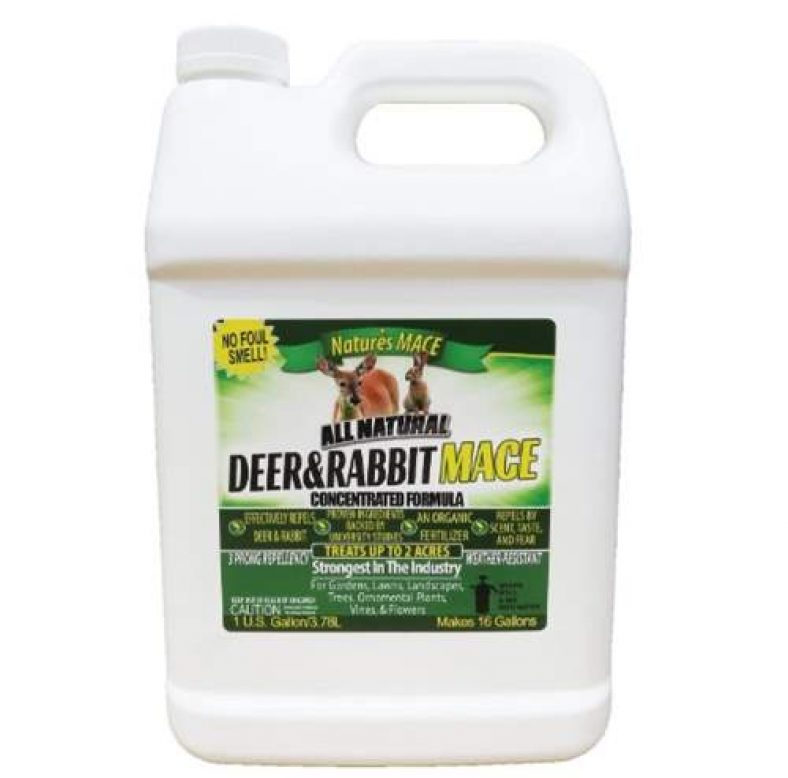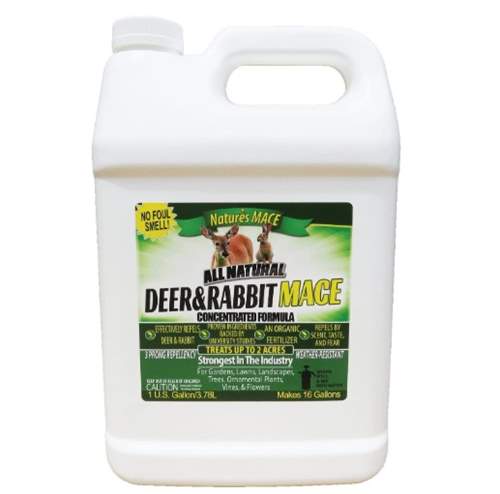 5. Best Ready to Spray: I Must Garden Rabbit Repellent 45oz Ready to Use Pump Spray
Are you trying to protect a small area that has roses, oriental lilies, tulips, daylilies, impatiens, pansies, azaleas, hawthorn, rhododendrons, or vegetables? I Must Garden Rabbit Repellent 45oz Ready to Use Pump Spray will serve you well, and these annuals, perennials, shrubs, and vegetables will be safe.
Key benefits
You can use it around your pets and children since it doesn't have any toxic or harmful ingredients.
Safe to the environment (EPA regards it as safe) and biodegradable.
It is made with three times more ingredients what competitors use.
No stinky smell. It has a fresh mint smell.
It comes in a bottle with a pump spray.
Additional information
Cost: $0.47 per oz.
Active ingredients: Garlic, eggs, paprika, potassium sorbate, xanthan gum as well as fish, castor, thyme, lemongrass, rosemary, wintergreen, and peppermint oils.
Coverage area: 1,400 square feet
Competitors: Liquid Fence Deer & Rabbit Repellent Ready-to-Use and Nature's Mace Deer and Rabbit Repellent Ready Use.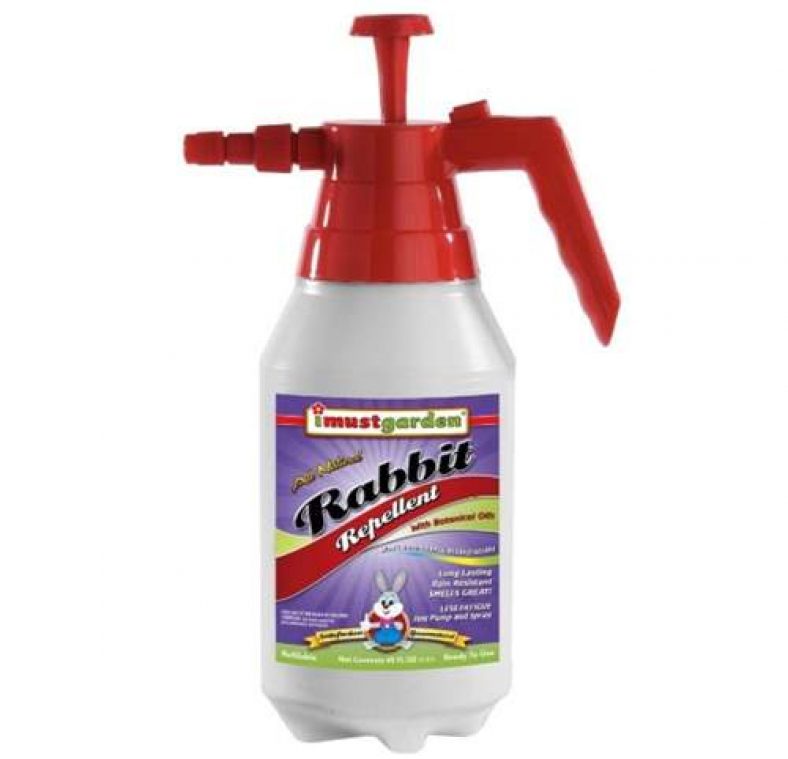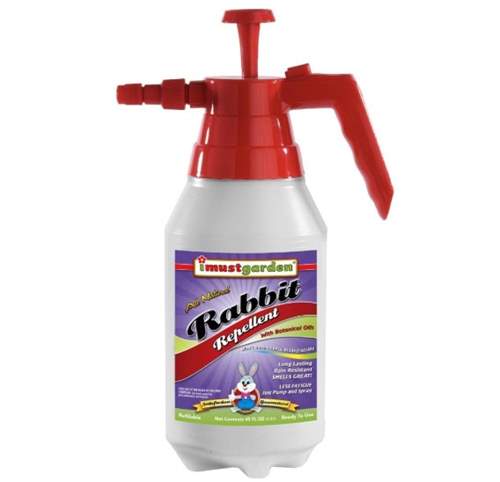 Warning: Don't use during hot sunlight as it may burn your plants. Instead, spray it during the morning after dew dries or evening.
6. Broox Solar Animal Repeller, Ultrasonic Sound, Outdoor, Waterproof, Motion LED
Broox Solar Animal Repeller has movement detectors (motion sensors) that detect animals in your garden, lawn, orchard, or farm and triggers ultrasonic sound waves while flashing LED lights to scare them off.
Buy it if you have not just rabbits but also moles, cats, dogs, birds, raccoons, squirrels, skunks, deer, and other animals visiting your garden or lawn.
Key benefits
It is harmless to animals. The short ultrasonic sound waves make animals uncomfortable but won't affect you or them in any way.
Uses solar, or you can charge the batteries with a USB cable.
It is made with high-grade ABS plastic that is weatherproof, water, and UV resistant.
Easy to install. Just mount it on a strategic place where the sensor can detect any incoming animals.
Additional information
Cost: $39.98
Ultrasound frequency range: it has five frequency modes ranging from 3.5 kHz to 45.5 kHz.
Sensor range: 110 degrees with a sensing distance of 25-30 feet.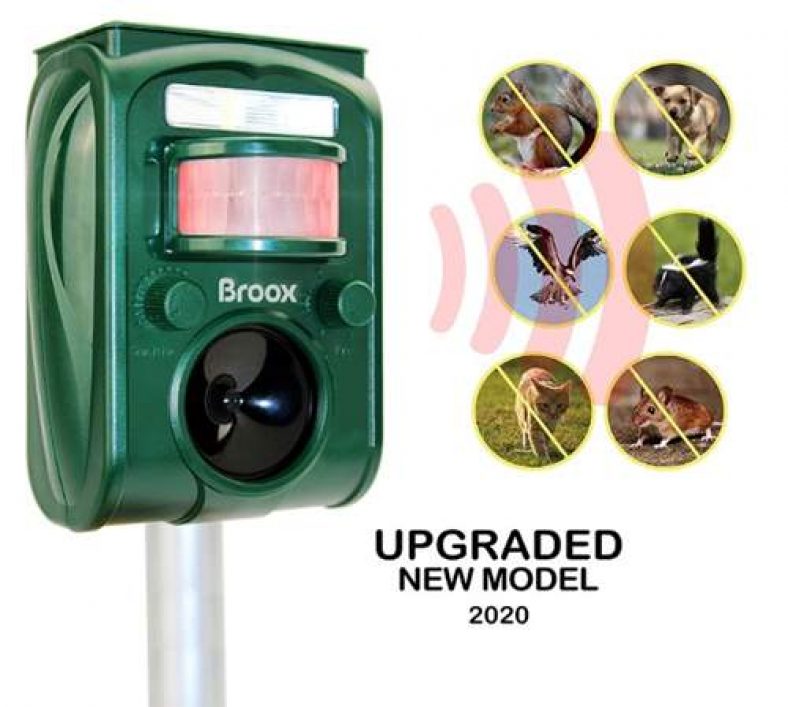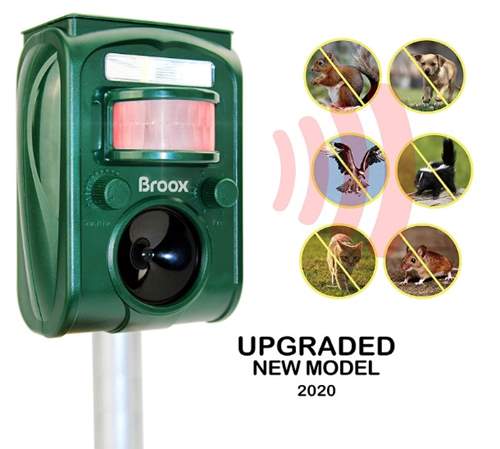 Other Good brands
Bonide (BND2405) – Repels-All Animal Repellent Concentrate
Homarden Garden Scare Cats – Humane Pest Control Outdoor Statues with Reflective Eyes
Shake-Away 5006258 Fox Urine Granules
Ortho Deer B Gon Deer and Rabbit Repellent Concentrate
Plantskydd Animal Repellent Ready to Use Liquid (Premixed) with Sprayer
Choosing best bunny deterrents and repellents
Besides buying the above, which are nothing short of the best bunny deterrents and repellents, you may want to search for a different brand. Here is what to look for in that brand.
Do you want liquid, granular or electronic repellents?
The first consideration to make is the type you want. Each type has its pros and cons. Here is an overview:
1. Rabbit repellent spray rabbit
These kinds are applied directly to plant surfaces like leaves, flowers, stems, bulbs, branches, and so on. Buy it if you want to any garden, yard or lawn, plant including grasses, bulbs, trees, flowerbeds, and other plants. Only use them on edible vegetables and fruits if recommended by their manufacturers.
While they are ideal for large areas, rabbit repellent sprays are not suitable during winter if temperatures fall below 40 ºF (4 ºC) as they need to dry before it rains.
You will get ready to spray (come in a spray pump bottle), ready to spray (not in a spray bottle), or concentrated. The latter is most affordable, but you will need a garden spray bump like TISLL Garden Pump Sprayer.
Finally, when using them, spray until plant surface begins to drip, wait until they dry, and follow spraying durations given by the vendor or when you start to see new rabbit damage.
2. Granular rabbit repellents
Granuller rabbit repellents are for placing on the ground in your lawn, garden, or yard, especially around targeted plants as well as on burrows, dens, pathways, and so on.
They are ideal during colder seasons, affordable, but if you have a larger area, you will something to broadcast them like Scotts Turf Builder EdgeGuard Mini Broadcast Spreader.
While most require you to apply them once a month, season, presence of damage may call for an alteration or if the manufacturer says otherwise.
3. Electronic rabbit repellent
They are smart devices with motion sensors that may trigger flicker lights, powerful water jets from sprinklers, or ultrasonic sound in the audible range of rabbits to scare them away.
They are the most humane, safe, very effective, and have many applications. You can use them on your gardens, lawns, shrubs, parks, nursery stocks, bushes covers, trees, around swimming pools, and so on.
While relatively expensive, once installed, you need to check if they are working or replace batteries. Some come with solar panels and rechargeable batteries.
Safety
If you have children, other pets like dogs and cats, ensure you choose a brand that is safe to use around your pets and your children. Also, it should be harmless to your plants.
Finally, don't forget to check if they are safe to use of edible plants or fruits or not. If not, don't use them on fruits or vegetables.
Safe to the environment
Go for organic, biodegradable brands approved for EPA and safe to marine life. Some are even beneficial as their breakdown is a source of manure or fertilizers to plants.
Efficiency
Do they do their job well? How long do they last? You don't want to buy a brand that will not protect your treasured plants or require applying them frequently for the case of granular and spray repellents.
Look at costs
Look at their cost versus area coverage and how often you need to apply them. These two factors will help you decide on which brand has lower running costs.
As you look at costs, you need to compare their prices as places like Walmart, Amazon.com, Lowes, Home Depot, and so on to get the best deal. Some offer free shipping and discounts to first-time buyers.
Other factors
Other essential factors to consider are their smell or odor, easy to use, convenience, whether they are human or not, and so on.
Other ways of keeping rabbits off lawn, garden or yard
Besides the use of deterrents and repellents, other ways to keep rabbits off your lawn, backyard, or garden include the following:
Habitat modification
Do away with anything that attracts rabbits like long grass, debris, nearby bushes, branches, leaves, warrens or tunnels, and so on. Also, trim your plants if possible.
Fencing and exclusion
Install a fence around your yard or garden with a netting fence. Ensure it is more than 2 feet high, bury it at least 6 inches deep, and its opening shouldn't be over an inch in size.
Alternatively, you can go for an electric fence, pop up fences as well as tree guards and cylinders to restrict access.
Try homemade DIY repellents
Try some products like hot pepper (cayenne or jalapeno), vinegar, garlic oil, putrescent egg solids, and aromatic plant oil like peppermint, clove, or cinnamon, among other products. They may give your plants a displease taste or smell that will deter these animals.
Have rabbit repellent plants
Planting plants that naturally repel rabbits like garlic, onions, and leaks by their strong smell or aromatic ones like basil and oregano may make bunnies choose to graze at another place.
Also, go for flowers like marigolds, geraniums, geraniums, wax begonia, cleome, lantana, and sweet alyssum that rabbits don't like.
Have a dog
Having dogs will naturally deter bunnies since as they walk around your yard, lawn, or garden, they will leave their scents.
Give them another place
If you have a large tract of land, you can give them a place to graze with plants and vegetables they prefer most. However, ensure the area doesn't turn to a hiding place.
Bait, shoot or trap them
If you find them a total nuisance, especially wild rabbits, hare, or jackrabbits, you may consider buying traps, shopping, or bating them.