A pet harness is a device with straps that are looped around an animal's torso and fastened with buckles or clasps (often the snap-fit ones and velcro). Rabbits can wear a harness and leash but not a collar.
At glance: Top Rabbit Harness
Four sizes (small, medium, large and extra large) made with a durable, flexible and comfortable material.
Disclaimer text…
Secure, available in small and large sizes, comfortable (made with soft, padded breathable nylon material)
Disclaimer text….
Simple, superior quality, lightweight, and most affordable.
Disclaimer text….
Best rabbit harness with Reviews
When looking for the best brand, you could opt to go for a rabbit harness and lead set or if you prefer a leash or buy them separately. Go for those designed for bunnies and not those for other pets, especially cats and kittens.
Here are the top brands you should give a try:
1. Niteangel Adjustable Soft Harness with Elastic Leash for Rabbits
If you don't want a fit all kind of harness, Niteangel should be your first choice as it comes in small, medium, large, and extra-large sizes, ideal for small to giant bunnies.
Furthermore, it comes in various colors such as blue, pink, grey, orange, black, purple, and royal blue.
It will last longer, thanks to its flexible mesh material, it is very comfortable and has adjustable chest and stomach straps fitted with a snap buckle to securely and safely hold your bunny.
Finally, for each size, you will be given its dimension and ideal rabbit weight. Don't worry about control since it has an elastic leash that increases in length tremendously if stretched.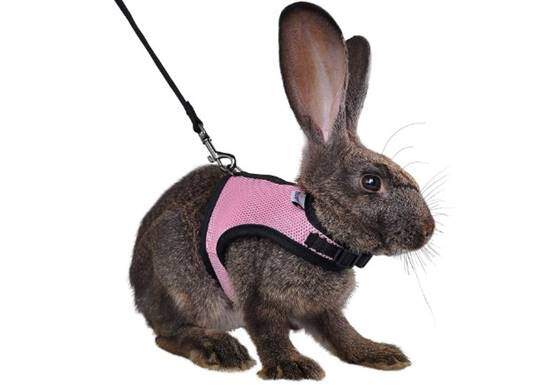 2. Pettom Bunny Rabbit Harness with Stretchy Leash
This brand comes in large and small sizes, has an elastic lead as well as a soft and padded breathable nylon material. It is adjustable to ensure it securely holds your bunny without making it feel restricted.
Easy to wear and remove, thanks to its plastic closure, strong loop, and hook. You can use it on your guinea pigs, ferrets, rats, mice, and chinchillas too.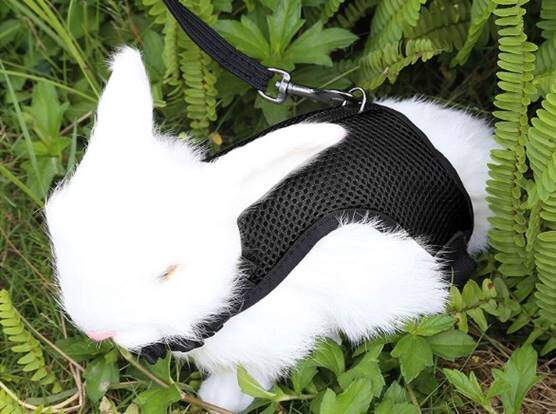 3. Calunce soft Rabbits Harness with Leash
If you have a bunny weighing 3-6 pound, these small, study and eye-catching harness is something you should consider. It comes in various colors has a stretchy leash, and you can adjust it to fit well.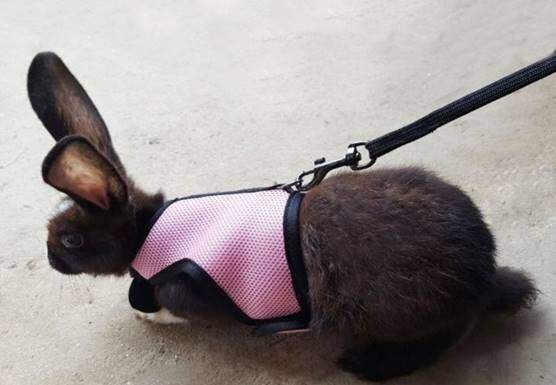 4. Persuper Rabbit Harness Leash for Running, Walking, Jogging
This is a superior quality brand made from soft-textured, durable, high-quality nylon usable all year round, i.e., during summers and winters
It is light in weight to avoid straining your bunny's neck, and you can use it on other pets like ferrets, pet pigs, puppies, cats, and so on.
Finally, it is easy to wear, is breathable, comes in various colors has a 47.2-inch leash, and is ideal for pets with 7.8-11.8 inch and 7-10.2 inch breast and neck circumference.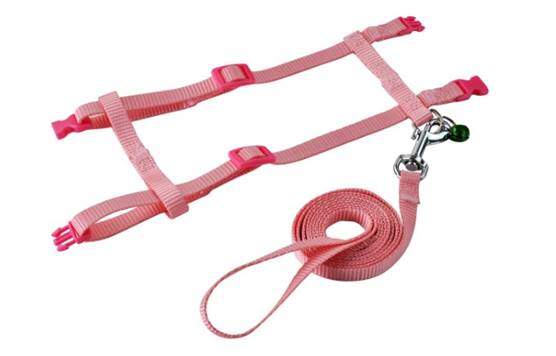 5. Coastal Rabbit Harness – Black
Exclusively made for bunnies, this single piece lead and harness combo is easy to adjust and will fit even the tiny bunnies.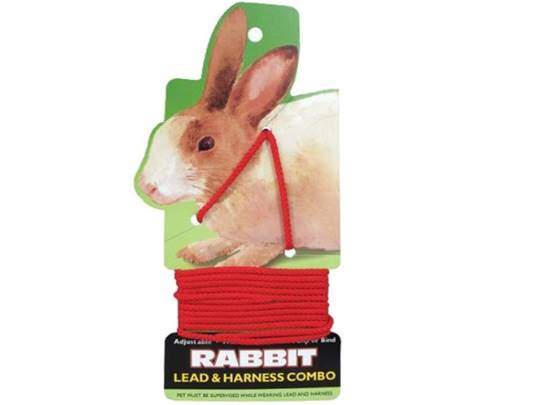 6. MEWTOGO Adjustable and Breathable Bunny Harness
It comes with a stretchy leash, is made from comfortable, high-quality material, it does not restrict your bunny, and it is entirely secure. Furthermore, it has a stretchy strap to avoid bunny chocking if he or she tries to pull hard.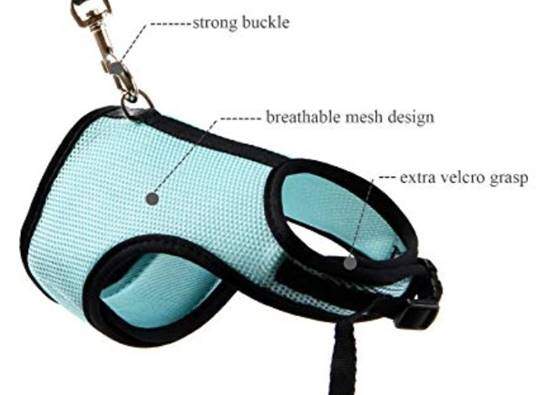 7. Other great brands
Other excellent brands include Trixie, EXPAWLORER, Petacc, Polkar, Kloud City, Coastal, Ueetek, You can have them monogrammed your bunny name. You will get even the monogrammed police harness.
Choosing a rabbit harness
Before we look review best rabbit harnesses in the market, it is good to know how to choose the right one. Comfort and safety should be on top of your considerations. Some of these things you must consider in place include the following:
1. For safety, go for wrap around the body types
This an important factor you must not ignore. Actually, there is a great debate on whether you should go for those that have only straps or those that will wrap around this pet.
Those that wrap around your bunny will minimize the possibility of the neck-snapping or injury should your bunny get startled or if it wants to jerk or dash away fast.
Therefore the proponents of the wrap type will advise you to go for those that look like a vest or jacket wrapping around your furry friend and not just straps. Their downside may be acting as a ventilation barrier and they may get wet.
Also, ensure they have a secure locking system. This will prevent your bunny from escaping since these pets can run very fast and they may be exposed to various prey, especially if you take it to a park or a public place.
2. Go correct size to ensure comfort
Always go for a size that fits your bunny well but does not make it uncomfortable. For instance, a large bunny and a dwarf or small rabbit will need different sizes.
It should ensure your rabbit is able to breathe comfortably (not block airways) Also, the harness should be close fitting without making your rabbit feel uncomfortable.
The correct size should allow one or two of your fingers to fit beneath it and be careful when choosing breeds that have long fur such as the Angora rabbits.
One good thing about these accessories is that they are adjustable to ensure they fit on your bunny correctly. However, this does not mean that you can go for any size.
3. Is it a rabbit harness and leash or lead?
Decide if you will be using a leash or a lead. The points of attachment for each will slightly be different since a lead means you lead your bunny while a leash means it leads you.
Ensure the lead or leash is elastic in case your bunny makes sudden movements including binkies or tries to run away.
4. Ensure proper rabbit harness training
It is important to ensure you adequately train your bunny. Begin by letting it put on the harness before you can attach a lead or leash. Whereas no specific breed is easier to train, consider its personality including temperate. You will have more success in dealing with a calm and curious one or those that enjoy something new.
If a new experience causes stress, our bunny may feel trapped, this will exacerbate the stress, and make training impossible. Training should be gradual. Let your bunny get comfortable first.
5. Fabric used
Consider the fabric used and ensure it does not affect your bunny's sensitive skin or it annoys it. Those made from cotton and silk will are often recommended. Nonetheless, those made from nylon and polyester mesh will still be good as they will be breathable.
Finally, the fabric used should be durable. You do not want to spend money every now.
6. Consider your preferences
Some people may prefer a white or pink rabbit harness. This is all about your preferences. However, go for something that is easy to clean and maintain. Furthermore, let it be unique and easy to identify if you often walk your rabbit to parks.
Where do you find rabbit harness on safe
We have reviewed some of the best bunny harnesses in the market. If you would like to get them, check your local pet stores. Alternatively, you can get them Amazon.com, eBay, PetSmart, Walmart, Petco, Pets at Home, among other online stores.
Always ensure you compare their prices and features. Avoid cheap ones if they are not safe. However, being cheap does not mean they are not safe.
One good thing about online stores is that you can get them irrespective of your location, whether you are in Australia, Canada, the US, the UK, or anywhere in the world. However, ensure choose the right ones.
How to put a harness on a rabbit – the H-type
If you do not know how to put your harness own, here is a video that illustrates how an H-type can be worn. Always follow a similar procedure if your bunny is willing to wear it. Hope you enjoy it.
Uses
They are often used on four-legged mammals such as the dog, pig, ferret, rabbit, rodent, goat, and at times cats. Nevertheless, there are those designed for parrots that are structurally different.
Those designed for quadrupedal (four-legged animals) will have one strap above shoulders and the other behind their front legs.
Since they are often be used together with a leash, one with a D-ring may make attaching your leash or lead much more manageable. The leash or lead feature an attaching clip.
They come in various designs, including the H-style, X-back, Y-back, among other designs you will get in the market. Each is designed to meet the various requirements of the animal it will be used on.
Although they were originally meant to "pull weight or to mount tools or for alerting signs," [1], whereas they are still used for the same purpose, most people used them to prevent their pets from running away while they take them for walks (restrain them).
Other uses include ensuring pet safety inside a car (car safety harnesses), assisting disabled dogs (assistance dog harness).
Finally, they should not be confused with animal collars which are worn on the neck by some animals such as cats, dogs, horses, etc. Rabbits shouldn't wear collars. With this overview, let us now turn our focus on rabbit harnesses.