Reptile hammocks resemble those humans use for lounging, resting, or sleeping on, usually woven, made from fabric or netting, and suspended between points.
Your bearded dragons can use them for basking, lounging, or as a sheltered or hiding place if they go beneath them.
Besides the above roles, they do help stimulate activity; i.e., these pets must climb or jump onto them to use them, and they will give them elevated vantage and creates more space.
Therefore, they are essential enrichments besides their decorative roles that will enrich your pet's life, make them active, and happy.
Best reptile hammocks to buy
Many brands of reptile hammocks exist in the market. Remember, you need something that will serve its purpose perfectly well. Therefore, before settling on a particular brand, consider the following tips:
Size: Since they serve various semi-arboreal and arboreal reptiles and amphibians, their sizes do vary too. Buy ones that are large enough to accommodate your pets well.
Durability – Go for long-lasting brands that will serve your pets for a long time. Doing so will save on the cost of having to replace them. Remember, beardies have a long lifespan of 10-12 years.
Safety – Their material should be safe, i.e., they shouldn't harm this lizard, i.e., they should be non-toxic.
Easy to clean – Proper hygiene is essential in keeping this pet healthy. Go for brands that are easy to clean and disinfect.
Personal preference, including color, look, and feel, will also influence what brands you select. Some of the best beardie hammocks in the market include:
1. Zoo Med Repti Hammock mesh – small, large and giant
Made with nylon mesh, the Zoo Med Repti Hammock is an easy to clean, comfortable lounging platform for your bearded dragon. Size shouldn't worry you as there is the small hummock that measures 14.7", a large one measuring 17.5" large and a 27" giant one.
Furthermore, it comes suction cups for attachment, and buying a ladder such as the Zoo Med's Lizard Ladder will ensure your pet accesses it with much easy.
What we love most about this hammock is its value for money, durability, and how easy it is to clean or disinfect it.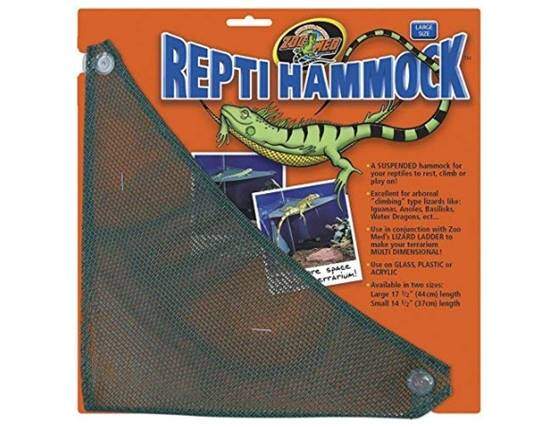 2. Penn-Plax Lizard Lounger – rectangular and triangular
Penn-Plax has versatile top quality hammocks that are either triangular, rectangular, or triangular plus extension. Made from hand-woven from 100% seagrass, these loungers are perfect for not just your bearded dragon but also iguanas, sugar gliders, geckos, hermit crabs, as well as other lizards and reptiles.
The thick seagrass used for weaving, strong suction cups, and leather strips for attachment makes it ideal for your beardie basking area or any other place in your terrarium.
If you need one, the small triangular one measures REP700 measures 10" x 12" and the large REP701 measures 14" by 14" with a ladder extension measuring 7" by 7" inches for access. Finally, Extra-large REP702 rectangular lounger measures 29″ L x 7″ W
Most users are happy with how easy it is to clean, its suction cup power, sturdiness, and the fact that they have a variety from which you will pick the right one.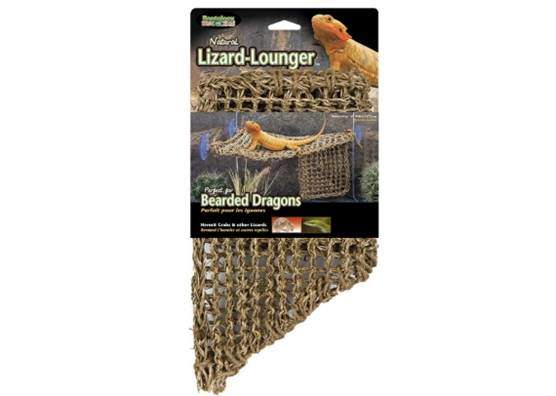 Rectangular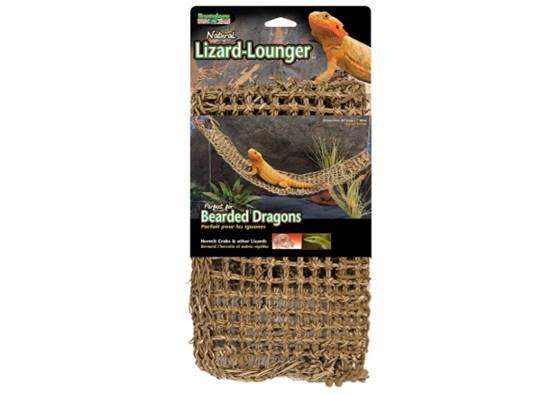 Penn-Plax also has a lounger with vines measuring 23" L x 14" W, a bridge lounger measuring 38″ L x 14″ W, and a Rectangle + Basking Shelf lounger.
3. Niteangel Bearded Dragon Hammock Reptile Lounger
The Niteangel Bearded Dragon Reptile Lounger is an excellent choice of a hammock. It is handwoven with seaweed, has a rough texture to help in shedding as these pets will rub their skin on it and quite comfortable.
Furthermore, it is easy to attach using the suction cup it comes with, and it is easy to clean, i.e., use a soft toothbrush to avoid damaging it.
Depending on the size of your pet, you have a choice of going for the 16" by 8" rectangular, 17" by 12.5" triangular or the 29.5" by 7.2" rectangular hammock suited for fully grown bearded dragons.
Reasons to buy it include the strong suction cups that will keep it securely attached to the sides of your terrarium, its affordability, and sturdiness.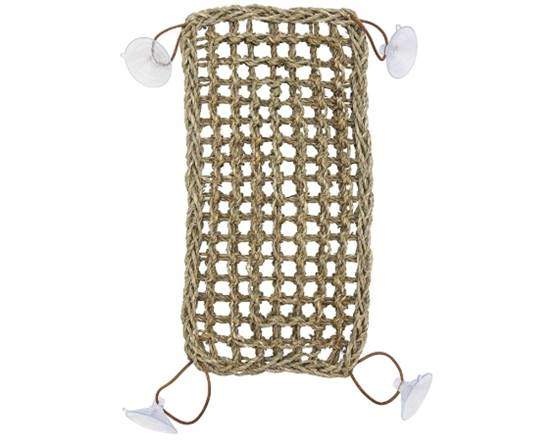 4. Wuhostam Reptile Hammock Lizard Lounger
Wuhostam pride themselves with top of the notch reptile accessories, including heat lamps, lighting lamps, heating mats, among other products.
Additionally, their lounger is another instinctual product they have where you have a choice of picking a triangular, rectangular or polygon durable and reliable hammock made of 100% seagrass. The Wuhostam Reptile Hammock Lizard Loungers are suitable for iguanas, bearded dragons, geckos, anoles, hermit crabs, and so on.
The triangular lounger measures 16.5 x 12.6 x 12.6 inches, and the rectangular one measures 29.5 x 7.1 inches while the polygon has a triangular piece measuring 16.5 x 12.6 inches and a rectangular part 11.8 x 7.9 inches.
Use their small ropes that have sturdy hooks to attach them to various to attach them at points that your lizard likes most to perch.
Your beardie will undoubtedly love this lounger. It is easy to clean and worth every penny you spend on it.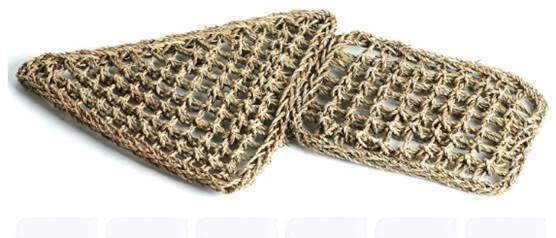 5. Aiicioo Lizard Hammock Lounger
AIICIOO has three durable, seagrass woven loungers. The 17 x12 x 12-inch small triangular lounger, the 17 x 13 x 13 inches large triangular with a 7 x 7-inch extension, and the 30 x 7 inches extra-large rectangular lounger.
All of them come with strong suction cups for attachment, making them usable with glass, acrylic, or plastic bearded dragon cage types, and they are easy to clean.
You can have it on a sheltered area or use it on their basking platform just beneath their basking heat lamps. However, if you use it in the basking area, ensure you give them a chance to move closer or further from the heat source by inclining it a little.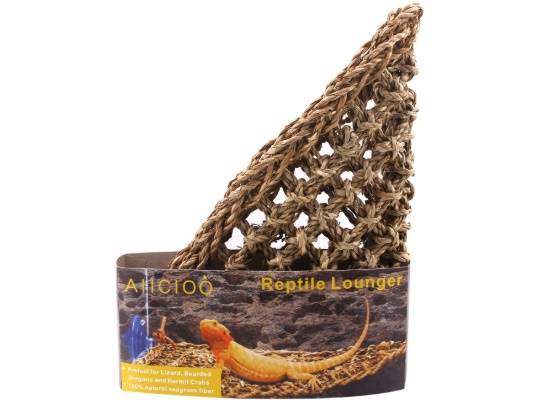 6. PIVBY Reptile Lizard Lounger Bearded Dragon Hammock
Like most other, this brand is made of 100% seagrass, making it sturdy, easy to clean, and durable. This rectangular-shaped lounger measuring 29.52"x 7.58" is an exceptional choice for not only bearded dragons but also your geckos, iguanas, anoles, hermit crabs, and other climbers.
To use it, attach it to your plastic, glass, or acrylic enclosure using the four suction cups it comes and attachment ropes.
Value for money, sturdiness, and easy use are some of the attributes that everyone mentions when it comes to this hammock.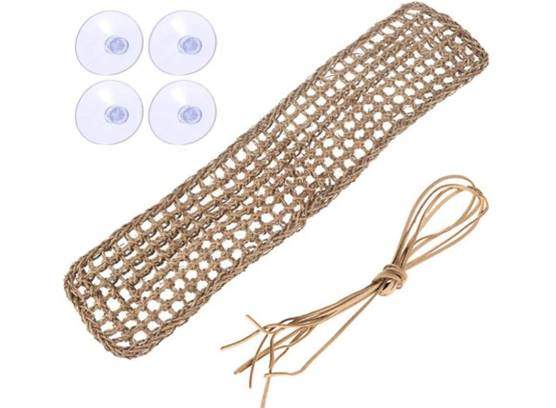 7. OutyFly Mesh Reptile Hammock for Bearded Dragon Lizard
If you don't happen to like loungers made from all-natural seagrass, consider this triangular lounger made from soft, breathable nylon. It has both suction cups and metallic rings to help you fix it onto your vivaria quickly.
With dimensions of 13" x 13" x 19", this brand is easy to clean (use vinegar or a special soap safe for reptiles), durable, and very affordable.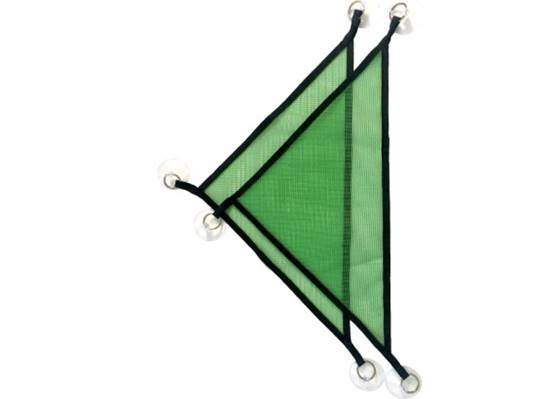 8. HuYaYa Lizard Lounger
The HuYaYa lizard lounger is a triangular hammock measuring 12.5" x 17" perfect for not only your beardie but also geckos, iguanas, chameleon, lizards, snakes, and hermit crabs. It offers an ideal place to exercise as they climb up and down as well as resting.
Like most others we have seen, it is easy to install, thanks to the strong suction cups and attachment ropes.
Finally, durable, affordable, and it is safe, thanks to its natural seagrass fiber material.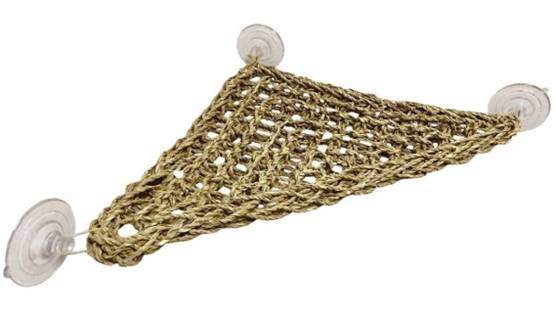 9. Others
Reptile Hammock Lizard Lounger by Aolan
GenRev 3pc Reptile Hammock Loungers & Ladder Accessories Set
ADOGGYGO Bearded Dragon Lizard Harness Leash Hammock Set
UEETEK Reptile Lizard Hammock Natural Grass Fibers Hammock Bed 4.2, 16
SunGrow
Where to get hammocks for sale
Amazon.com, Petco, Chewy, Etsy, PetSmart, Chewy, eBay, Pet Zoo (Australia) Walmart, Swell Reptiles (UK) manufacturer's sites, among others, have them.
If you need a cheaper one, compare prices and settle for the most affordable yet excellent quality.
DIY reptile hammock
Making a hammock is not a very difficult task if you are a DIY lover. You can weave it, sew it using a safe mesh or fabric material. All you need is to cut the right dimensions, have attachment strings as well as suction cups or attachment hooks, especially for the wooden vivarium.
The below video and many others on YouTube should guide you on how to make a very cheap one at home.