Besides picking the right size of a bearded dragon tank or enclosure, you need to decide on which type of material of construction you will be buying. Each cage type has its pros and cons and affects its durability, design, price, among other factors.
1. Glass terrariums or aquariums
These are the most popular type of cages in the market that will serve you well. Most bearded dragon enthusiasts will choose them first as they are the cool thing.
Pros
They are economical (they don't cost much)
They are easy to find. They are readily available in your local pet stores, online or you can have them custom-made.
You get a perfect pet viewing chance. You can see your pets from all angles.
They are easy to match or blend with your home décor and furniture.
Come with a top wire mesh or screen cover that will ensure proper aeration (air circulation) and ventilation necessary in maintaining lower humidity that is ideal for these pets.
They are durable or last long.
They give a sense of space as your beardie may not know how big the cage is.
Cons
They are heavy. Therefore, it will be cumbersome to move.
Your beardies may see its reflection, something that will bother or even stress. Some may begin surfing or clawing it. Consider investing in a high-quality reptile background to deal with this problem as well as will also create a natural-like look.
Not well insulated, something that will make them lose heat much faster.
When choosing a glass vivarium, ensure you get high-quality professional-grade glasses as they don't break easily. Avoid those made from fragile ones.
Some of the best glass terrarium for your bearded dragons include the following:
a). Carolina Custom Cages Terrarium, Tall Extra-Long
This cage is large, making it ideal for an adult bearded dragon. It features a sliding door that has a 12 inches waterproof base. It is sturdy, durable, and easy to assemble. Besides this 48Lx24Dx24H vivarium, Carolina Custom Cages have other sizes (dimensions).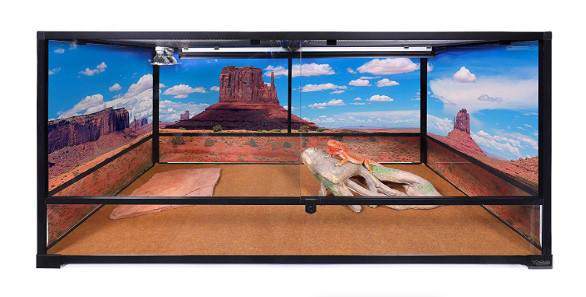 b). The Hagen Exo Terra Short All Glass Terrarium
The 24″ x 18″ x 12″ Hagen Exo Terra Short All Glass Terrarium is a great glass vivarium for smaller or baby bearded dragons. It has double separately opening front doors, a waterproof bottom, and a top screen that will allow UVB light penetration and ventilation.
Things we like about is its durability, easy to clean and assemble as well as its value for the money you will spend on it.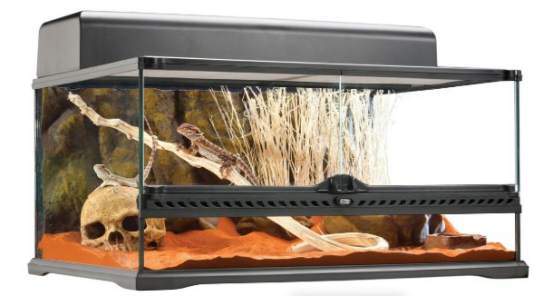 c). REPTI ZOO Reptile Glass Terrarium
This glass vivarium that comes in dimensions of either 36″ x 18″ x 18″ or 36″ x 18″ x 24″ has a sturdy screen that will provide adequate ventilation and space for mounting your infrared or UVB light.
Furthermore, it has a double-hinged front door, is raised to allow the use of the bottom heating pad, is sturdy, and very easy to install.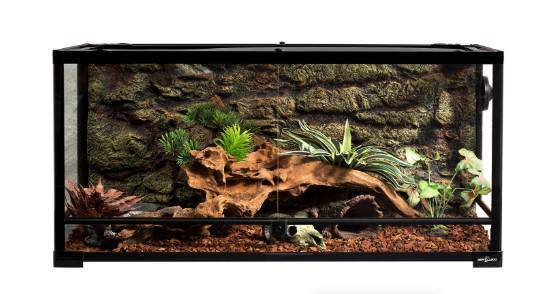 2. Wooden terrarium (wood and glass)
Wooded bearded dragon cages are very popular, especially in the UK and in the showroom. Sometimes they are known as wood and glass wood and glass terrarium since they have a glass, especially sliding glass front door with the other sides being wooded, making them an excellent choice if you are looking for a classy cage.
While wooden cages popularly used in guinea pigs, birds, hamsters, gerbils, cats, mouse, pigeon, and other small animal cages, you can still use it for your beardie, ball python, and other pets.
Pros wooden bearded dragon enclosures
They provide excellent heat insulation. Wood is a good heat insulator.
They are cheap and easy to make. If you are a DIY fan, a wooden vivarium shouldn't be an impossible task.
They will best blend with your home's interior décor and furniture.
They are light in weight, making them stackable (put into tiers if you have many beardies.
Cons
They quickly rot if not well taken maintained.
You can only see your pet from the front side that has glass.
If you are opting for a DIY wooden cage for your bearded dragons, once you finish making it, use a safe wood, coat with polyurethane and let it dry for several days to ensure any chance of toxicity.
Use any safe waterproofing that does not have heavy metal and low volatile organic compounds. Products like the TriCoPolymer VOC Free Non-Toxic, Lumber Seal as well as a Caulk for joints This will make cleaning and disinfection easier.
If waterproofed and sealed well, you can even have a bioactive wooden vivarium as it will not rot quickly.
Instead of a DIY wooden vivarium, there are many wooden reptile terrariums or cages for sale, including the Komodo Ecology Reptile Habitat, that will serve you well.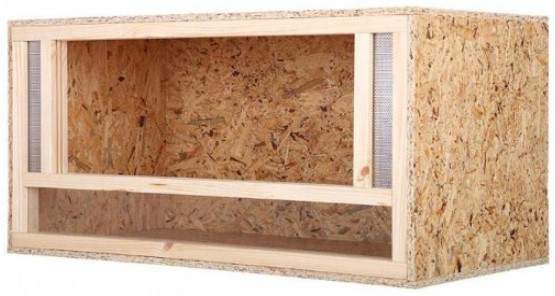 3. Plywood bearded dragon enclosure
These are more or less similar to wooden cages, and they are often combined with glass to give a chance to see your pet.
Some of the pros and cons of plywood reptile enclosure are similar to those of wood besides being lightweight, i.e., cheap and retains heat, and easy to work use.
On the downside, this reptile enclosure can rot if it continually becomes wet and is not well maintained.
If you decide to make your own at home, ensure you know how to properly seal your plywood reptile enclosure using safe products that will not harm your pet. Products such as Pond Armor SKU-CLEAR-QT-R Non-Toxic Pond Shield Epoxy Paint can do the work.
Finally, a good one can have a reptile screen on top and glass on the front side to allow you to view your beardie.
4. Melamine reptile enclosure
If you have a melamine kitchen countertop, you have an idea of how these cages are. Usually, they have melamine thermosetting resin and a strengthening material, which can wood or, at times, plastic.
Like wooden cages, they will have their front side with a sliding glass door, and they are an excellent choice for DIY fans.
Pros melamine bearded dragon cage
They provide excellent heat insulation, meaning they will be able to maintain heat for a longer time while keeping your beardies or other reptiles warm.
Melamine is fire resistant and will protect the wood used from burning.
Choosing a white melamine surface will ensure great reflection and will make you see our pets so well.
Melamine is durable
Cons
They are not easy to work with, i.e., they need an expert to work with them.
Like wooden cages, they offer limited visibility angles.
Poor maintenance can damage wood used.
If you opt for the melamine terrarium, proper ventilation is essential to help maintain the required humidity. You have a choice of making your melamine cage or looking for any available on sale.
5. PVC cages for bearded dragons
Polyvinyl chloride (PVC) is a thermosetting material which can be flexible or rigid depending on the plasticizer you use. This synthetic plastic polymer is an excellent choice of vivarium or terrarium for your reptiles like bearded dragons.
Pros
They are lightweight, thus the right choice if you want to move your vivaria more often. They are lighter than melamine.
They are very durable or will serve you well for a long time.
As a poor heat conductor, PVC will provide excellent heat insulation.
They are easy to assemble if you love DIYs
They are sturdy and hence a good option if you want a stackable cage
They come in many colors. You can easily blend them into your home décor.
PVC leaves a very smooth finish.
Cons
They are costly
They need proper aeration to ensure humidity doesn't spike
Some people find them less appealing
If you opt for PVC cages, enlist the help of a professional to help you in installing heating lamps, lighting bulbs, and other necessary fixtures.
6. ABS cages or tanks
They closely mimic PVC bearded dragon cages, with the only difference being the use of ABS plastics. The Acrylonitrile Butadiene Styrene or ABS are opaque thermosetting plastic resins. Therefore, their front side should have transparent material.
Pros of ABS cages for bearded dragon
They are light in weight and thus easy to move.
ABS vivaria are sturdy. If you are a breeder or have limited space, you can stack them together, which means they will be space economical.
They have no toxic odors (nontoxic plastics).
Cons of ABS enclosures
ABS plastics are very costly, i.e., it isn't easy to get a cheap vision cage for sale.
You need proper ventilation
7. Fish tanks
A common question I receive is whether you can use a fish tank for a bearded dragon. The answer is yes. You can use it. However, you will need to improvise it to work as a vivarium or terrarium for these reptiles.
It will be more or less similar to a glass terrarium. Fish tanks are not the ideal option as they made to serve a different purpose.
8. Vision cages
Vision cages are a product from CustomCages.com made into a one-piece molded enclosures for bearded dragons as well as other reptiles, snake, mice, rodents, rats, or snake cages, birds, tubs, bowls, and racks and Hydroponics Systems.
They have a sliding glass front door as well as features to allow you to fix lighting and heating appliances.
Pros
They feature inbuilt fixtures (lighting, heating, and so on)
They are resistant to heat from heating lamps, cleaning products, and chemicals.
They are sturdy, allowing you to stack them together in case you want to save space especially to breeders.
They don't have the usual plastic smell.
Cons
They are costly since they are custom-made; i.e., it is not easy to get a cheap vision cage for sale.
If you want a cheap vision vivarium for your reptiles, try used ones, especially on eBay or Craigslist, and so on. New ones are available at the manufacturer, Walmart, among other places.
9. Cages to avoid – wire
Avoid wire cages as they cannot retain heat. Furthermore, they will erode your bearded dragon's nose. In case any of the above pens HAS a wire, cot with plastic to ensure it doesn't hurt your pet.
10. Custom, DIY, or Professional enclosure or cage?
When it comes to deciding between going for a DIY cage, a custom made one, or a professional cage, you need to know what you need and serve you. It doesn't matter which option you go for if the results are a functional, durable cage.
a). Homemade or DIY bearded dragon enclosure or terrarium
If you opt for DIY, the best material will be wood, glass, melamine, PVC, plywood, and so on. Most will have at least one side with glass.
Pro of DIY bearded dragon habitat
DIY bearded dragon cage can be customized to meet your specific needs such as their size, dimension, the location you will place them, or match with your home décor.
Depending on the material used, a homemade beardie enclosure can be cheap, especially a glass and a wooden one.
You will get a chance to learn something new.
Cons of DIY vivarium
It can be time-consuming and requires your attention.
You may not make the best choice of material that will last long.
If you are not a DIY expert, you don't have to give you. Enlisting the help of an expert will ensure you end up with a stunningly looking cage that blends well into your home.
While you may be looking for a way to save on your vivarium, ensure it meets the minimum required dimensions for a breaded dragon tank.
Finally, if you are a DIY person, Mom.me has answers you may be having on DIY reptile vivarium. For how do you go about it, use Instructables, Bearded dragon World, and Northampton Reptile Centre, and many YouTube videos will guide you.
b). Professional and custom cages
Designed by professionals who understand what your reptile needs, professional enclosures will ensure you get something functional, durable, and stunningly looking. Furthermore, most are chemical resistant, easy to clean, and classy.
Where to buy a bearded dragon cage
If you need one and you don't prefer doing it yourself, they are available at your local reptile pet stores, online, on classified ads, garage sales, or newspaper classified. You cannot miss them at Walmart, Walmart Canada, PetSmart, Craigslist, Amazon, eBay, eBay UK, Reptile Centre, Exo Terra, Thatpetplace, Zilla, Zoo Med, among other places.