A reptile screen cover is essential in ensuring proper ventilation and securely protecting your reptile pets from predators or escape. Should they escape, it is not easy to find them as some may even hide due to excessive escape stress.
An escaped pet will not only lack crucial things such as the right warmth (temperature), humidity, UV light, water, and food but risk injuries or being killed, including accidentally.
One of the best ways to keep your reptiles is using a reptile tank lid to protect their terrariums as it allows free air circulation and correct humidity.
Buying a reptile tank lid
When choosing a cover for your reptile tank for your breaded dragon, geckos, monitor lizards, tortoise, corn snake, ball snake, skinks, chameleons, or even amphibians such as frogs, newt and so on, always buy a stainless one.
A stainless steel wire mesh lids since they are durable, don't rust, and they can withstand the heat lamps or ceramic heat emitters you used in maintaining the correct temperature where necessary. Avoid plastic and glass screens as they can melt, and glass will not allow free air circulation.
Secondly, it should match your vivarium dimensions and fight tightly. Such will ensure your pets don't escape, or predators can get in (predator and escape-proof). Most of the commercial terrarium screens come in different dimensions, and if they all don't fit your terrarium, you can cut it to ensure it correctly fits on your tank.
Thirdly, fasten it to stop it from fall or slide off your reptile tank. Most vendors have locking or non-locking fastening clips.
Since some pets require a UV light source, go for a mesh that allows maximum UV rays penetration, especially if you intend to mount your UV lamps on top of your vivarium.
Additionally, choose one that is sturdy and durable to save on the cost of having to replace it now and then.
However, depending on which type of cage you choose, some do not require a lid (are custom-made with their ventilation system. Furthermore, some come with their custom-made covers.
The best terrarium screen cover
You have an idea of what to look for in the best brands. It is time to review some we feel will work for you well.
1. Zilla Fresh Air Screen Cover
This brand should be your first choice if you need a terrarium lid. You have an option of choosing between the solid or screen covers with hinged door, or those with a hinged center.
a). Solid screen covers
Their black mesh will allow free air movement ensuring your pet is healthy.
They can withstand high heating temperature from your heating lamps
They are sturdy and durable, as well as corrosion, biting, and claw resistant. Even huge reptiles will not damage them.
Their rigid steel frames will ensure they retain their shape for a long time.
They come in various sizes, i.e., 12×6, 16×8, 20×10, 24×12, 30×12, 36×12, 36×18, 48×13 inches giving you a chance to pick a size that best fits your terrarium.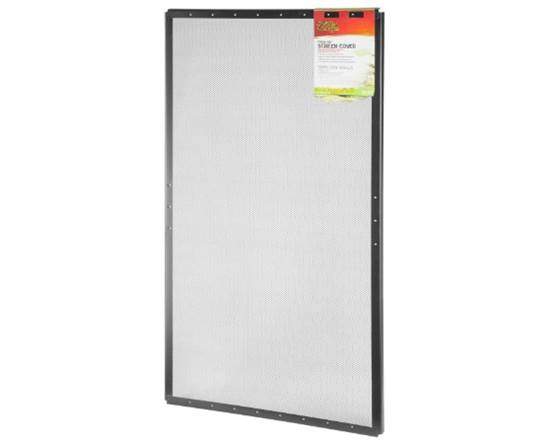 b). Screens covers with center hinges
They have all the benefits of the solid lids, but they are hinged along their length to help you efficiently access your pets. This feature makes them ideal for pets that need frequent access as you don't have to remove the whole lid.
Furthermore, they are easier to use lighting hood and come in various sizes, i.e., 20×10, 24×12, 30×12, 36×12, and 48×13 inches.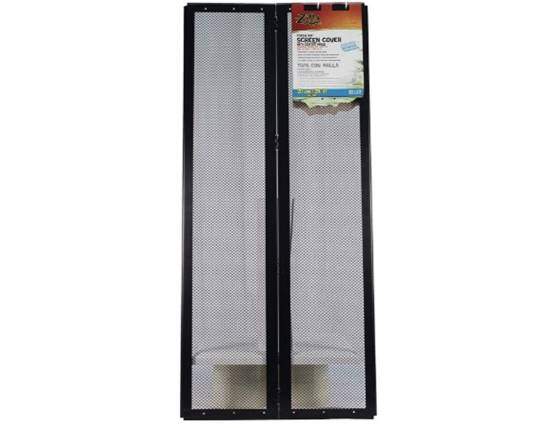 c). Covers with hinged door
This type feature a hinged door to make feeding easier without having to remove all the screen. Furthermore, they will ensure your pet doesn't escape as you are feeding it or accessing it.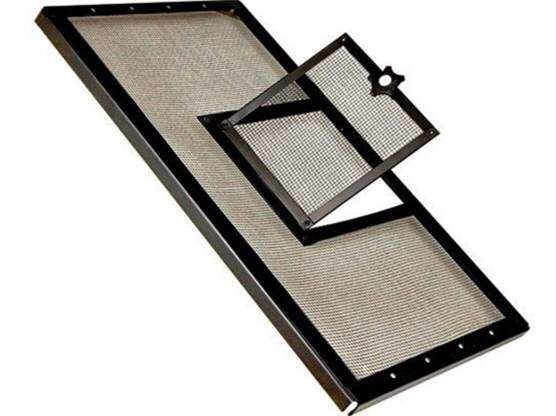 d). Zilla fresh air locking clips
Zilla also has non-locking screen clips, locking as well as heavy-duty screen clips help you fasted your lid.
Exo terra Aquarium Screen Covers
These durable and sturdy metallic screens are easy to install and will allow maximum UV light penetration to your terrarium while allowing free air circulation.
It is not just for pets, but you can use it to cover tanks for your live feeder insects such as crickets, grasshoppers, or locusts, and others will be well secured.
Finally, there are both the hinged and solid covers that come in various sizes for certain tank capacities.
12" x 6" for 2.5 gallons
16" x 8" for a 5 for gallons
20″ x 10″ for a 10-gallon terrarium tank
24″ x 12″ for a 15/20 gallons
30″ x 12″ for a long 20 gallon
36″ x 12″ for a 30-gallon vivarium
36″ x 18" for a 50-gallon tank lid
48″ x 13″ for a regular 40 long, 45 long or 55-gallon terrariums
48″ x 18″ 75 gallon tank
a). With Hinged Door
They are hinged at the middle along their width to give a chance easy access without having to remove the whole lid.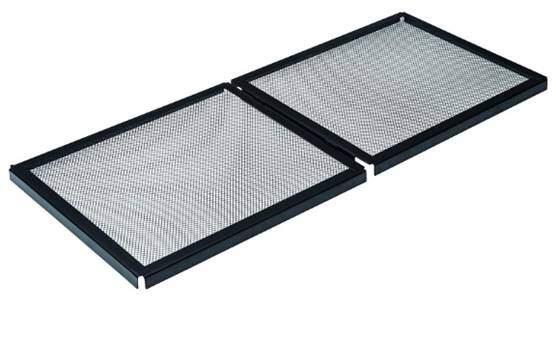 b). Exo Terra Screen Cover, 55 Gallon lid
This solid lid that will fit your 33 long, 40 long, or 55-gallon aquariums, i.e., if you are using Exo Terra terrariums.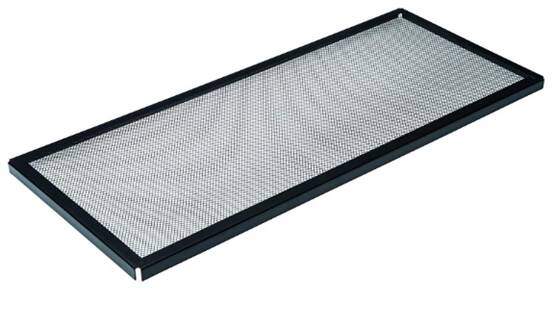 c). Exo Terra terrarium cover clips
You have a choice of buying buy Exo Terra Terrarium Clip Set Small or large clips. The small ones are ideal for a small vivarium that is not more than 29 gallons.
On the other hand, the Exo Terra Large terrarium cover clip set is ideal for s vivarium larger than 30 gallons.
3. Exo terra replacement lid
If you use Exo Terra Terrarium glass tanks, you can get replacement lids if yours gets damaged. These replacement lids are available in different sizes that correspond to your glass tanks dimensions.
Like the ones you bought your vivarium with, they durable, and sturdy metallic screens allow UV penetration. Furthermore, they are easy to install and will allow free air movement (ventilation). The one below is Exo Terra Replacement for Large Wide Pet Terrarium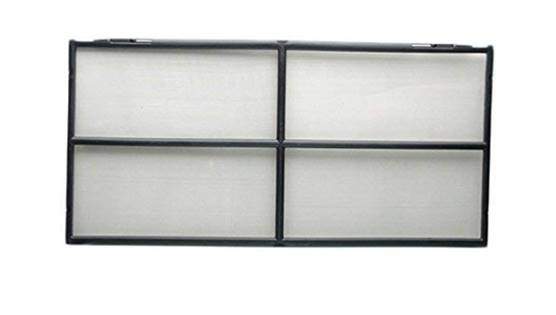 4. Fluker's Screen Covers
Fluker's screen covers are easy to install, durable, metallic mesh lids designed to work under the high heating temperatures while allowing maximum UV light penetration.
If you opt for the Fluker's covers, the available dimensions are 5.5 (8×16 in), 10 (10×20 in), 20 (12x24x in), 29(12×30 in), 30 (18×36 in), 40(12×30 in), 55(12×48 in), 75 (18×48 in) gallon tanks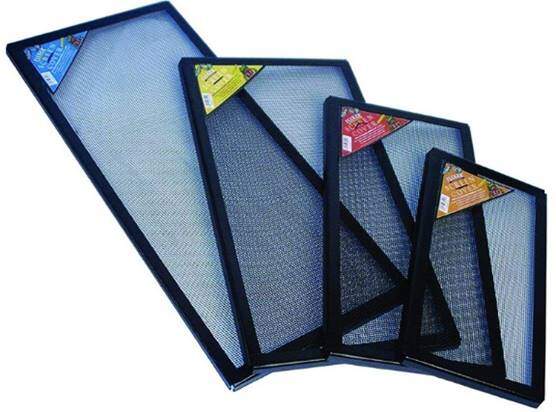 Other great brands
Where to buy them
The various vivarium mesh lids can are available in many pet stores near you. Also, check them at their manufacturer's websites, as well as online stores, including Thatpetplace.com, PetSmart, Amazon.com, Chewy, Walmart, and so on.
DIY screen lids
If you are a DIY person, it is not difficult to make your own DIY reptile tank lid. There are many online tutorials and videos to guide you.