Buying or making a terrarium background in one of the great ways to transform and add naturalistic appeal to your reptile enclosure as well as highlight its theme, including semi-arid (desert), tropical forest, aquatic.
Besides the aesthetic aspect, having habitats that closely look like their natural habitat makes these pets react best and happier.
Finally, some of your pets, such as bearded dragons, often get upset, disturbed, or stressed when they see their reflection, especially if you have a glass terrarium type, a reason why they glass-surf. In such a case, buying a background is one easy way to prevent such reflections.
Which background fits your tank?
The market has many brands of reptile and amphibian reptile enclosure backgrounds. Choosing the right one may be so baffling. To help you settle on an excellent one, here are some things to consider:
a). Type of pet you have – desert, jungle or aquatic
There are many types of pets to keep in terrarium and aquariums, which include bearded dragons, fresh and saltwater fish, turtle, tortoise, iguanas, geckos, frogs, newts, skinks, snakes, tarantulas, hermit crabs, scorpions, among other reptiles amphibians and invertebrates.
Each of these pets may require a different type of background to create the most natural-looking enclosures. It should closely resemble their natural habitats in the wild. However, you can also choose to digress and create a unique habitat.
b). Blends well
Always buy a background that blends well with your other décor and furniture, including your hammock, hideouts, feeding and water bowls, live and artificial plants, substrate, basking rocks, climbing branches, and so on.
c). Size
Since they are available in various sizes and shapes, consider the dimension of your reptile, fish, or amphibian tank. While you can still customize it to fit your enclosure, it should be large enough to allow you to do so.
Having a 10, 20, 30, 40, 55, 100, or 120-gallon tank doesn't say it all. You need to consider the dimensions, i.e., the length and height of where you want to place your background.
d). 2D vs. 3D reptile background
You can buy either two dimensional or three-dimensional ones. The former will be ideal if you are trying to economize on space while the latter is better if you want to create extra dimension for climbing and a more life-like enclosure.
e). Durability
Go for a brand that will last long and withstand the various terrarium conditions, including humidity and temperature. The material of construction may influence how long it will serve you.
f). Easy to clean
Maintaining proper hygiene is essential when it comes to having any pet, including your reptile and amphibians.
A good background should allow you to clean your vivarium easily and should not absorb or keep pathogens like bacteria or parasites. Avoid porous ones as they often harbor pathogens.
Finally, we cannot underscore the personal preference and cost when it comes to buying a good background for your vivarium.
Best tank backgrounds reviews
If you prefer buying backgrounds on sale, some of the best brands you should consider buying include the following:
1. BannersNStands Reptile Habitat Blue Sky with Mountains & Cactus
This BannersNStands is an alluring desertic background with cactus and mountains. Its lifelike look will convert your ordinary-looking terrarium to a breathtaking one.
Key features
You will get it in a wide range of sizes, i.e., about 17 different sizes
It is printed on a smooth, matt polyester making it tear, scratch and water-resistant
It features highly detailed and vibrant colors and images.
People love this background for its stunning look, vivid, and vibrant image, and how easy it is to install it. Just tape it behind your cage on the other side.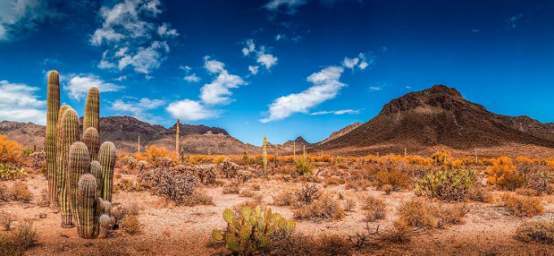 2. Exo Terra Rock Terrarium foam background Foam
The Exo Terra Rock Terrarium fake rock wall is a stunning, true-to-life background made from black, non-toxic polystyrene (foam) that will add charm to your reptile or amphibian cages.
Key features
Customizable, i.e., it is easy to cut so that it fits well in your reptile enclosure.
Natural-looking ideal for desert or tropical terrarium
It comes in many popular sizes, i.e., the 12" x 12", 12" x 18", 18" x 18", 18" x 24", 24" x 18", 24" x 24", 36" x 18", and 36" x 24" that fits the various Exo Terra terrariums.
It works well for both terrariums that are humid and dry desert-like ones.
Its material of construction, polystyrene is an excellent heat insulator, hence will help keep heat in your terrarium
The deep ridges will entirely hide tubing or wires for your heat rocks, thermometer and hygrometer probes, and so on.
What we loved most about it is its great naturalistic look, value for money, and how easy it is to install.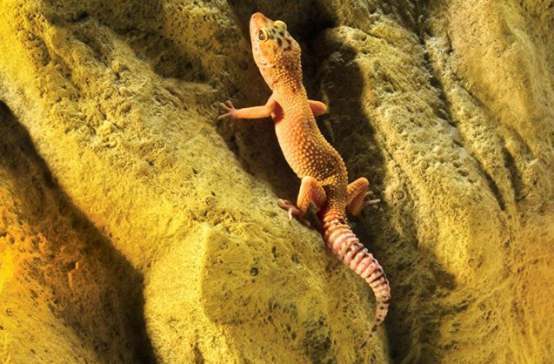 Some Exo Terra enclosures come with backgrounds such as the Exo Terra Glass Terrarium Mayan, Tiki, and Buddha. However, they seem not to sell these tank's replacement backgrounds separately.
3. Zoo Med Cork Tile Background Terrarium
With a bark-like natural appearance, the Zoo Med cork tile background is a spectacular brand designed to fit in the various Zoo Med reptile enclosures.
Key features
It is very resistant to mildew or molds, making it durable and ideal for even high humidity habitats.
Comes in four sizes, i.e., 12″ x 12″, 12″ x 18″, 18″ x 18″, and 18″ x 24″. However, you can cut or joint it together if you have a smaller or bigger vivarium.
It is easy to install or modify
Value for money, easiness in fixing it, and great appeal are the most noted attributes of this background.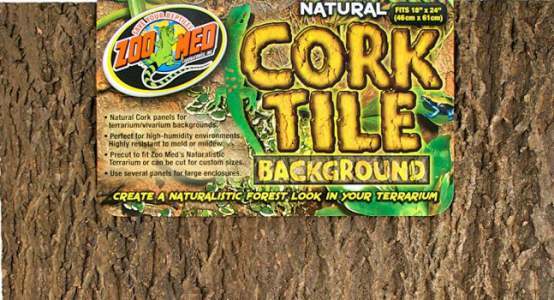 4. Universal Rocks Rocky Flexible Aquarium Background
This 48-Inch by 20-Inch background is not more than an inch is ideal for your reptile enclosures or aquariums.
Key benefits
It closely looks like a real rock
Is easy to install
Flexible making it suitable both on tanks that have center braces or on the wall. You need to bend it until it fits on the center braces.
You can easily cut it to any desired sizes.
This rock-like background is an excellent choice worth every penny you invest in it. However, ensure you buy clips separately since it doesn't come with them.

5. BNS Reptile Habitat, Terrarium Background, Cool Desert Sky
BNS has one of the most vivid and natural-looking desert horizon backgrounds suitable for desert reptiles such as your Western Banded Geckos, horned lizards, desert iguanas, bearded dragon, chuckwallas, fence lizard, desert snakes, small skinks, among other reptiles.
Key features
It features durable, tear-resistant material with a UV print
It is resistant to scratch
It is waterproof hence suitable for aquariums
It is easy to install. Just tape them on the backside on your vivarium or aquarium.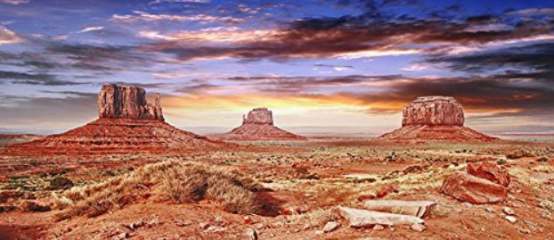 6. Universal Rocks Ledge Flexible 3D Aquarium Background
If you love a 3D rock background, this brown colored Universal Rocks Ledge is what you need. It is a natural-looking rock background that has ledges or projections where your pet can hide, rest, or climb on.
Key features
It is easy to install
You can cut or trim it to any size you desire to fit in your tank well.
Flexible as it can be used both on walls center braces, i.e., bend it around tanks that have a center brace.
It is light in weight
If you decide to buy it, this naturalistic piece is worth every coin you invest in it. However, ensure you separately purchase clips as it doesn't come with time.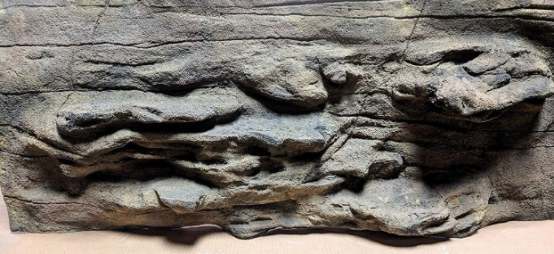 7. Carolina Custom Cages Reptile Habitat Background, Gothic Castle – 40 gallons
If a gothic appeal is all you desire, the attractive Carolina Custom Cages Reptile Habitat Gothic Castle landscape background will do precisely that.
Key features
With 15.75″ x 36″ dimension, it will fit in most 36x18x18 40-gallon terrarium tanks
Has a first quality UV light print on a moisture resistant PVC to ensure it lasts for a long time.
It is easy to install. All you need to tape it on the backside of your glass vivarium
Its excellent quality and easy to install features make most users love it. However, on the downside, it is a bit pricey.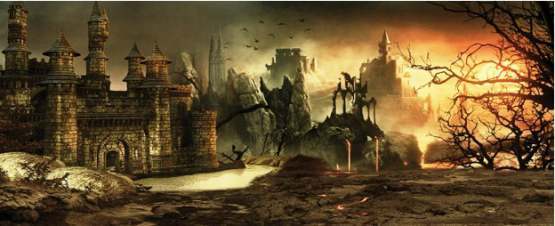 8. 24″ (60cm) Double Sided Aquarium Background Backdrop for Fish and Reptile Tank
This scenic background has a high of 24″ (60cm), and varying lengths, i.e., 2 ft, 3ft, 4ft 6ft, 8ft, or 10 ft, is ideal both for your reptile tank or aquarium.
Key features
The print is on a tough glossy vinyl of highest quality
You will get it in various lengths, which you can cut.
Printed with great details to give a life-like crisp, clear three-dimension impression.
It is printed both on the front and backside (double sides).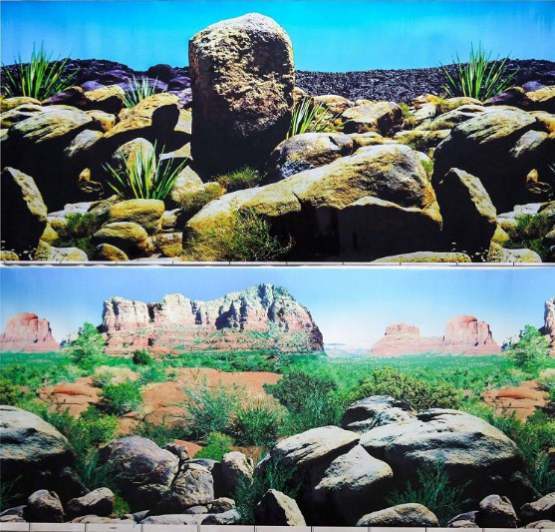 9. Galapagos (05401) Arid Terrarium Clings poster or wallpaper
If you have a freshwater fish aquarium, this is the ideal background for you. It comes in dimensions of 11.125-in x 36-in, ideal for a 30-gallon tank.
Key features
Features static clings installation without any mess. You don't need glue. Just stick it on the backside of your aquarium.
It can withstand UV light hence very durable
It has lively high-resolution imagery that will light up once you turn on your terrarium lights.

10. Reptile Habitat, Terrarium Background, Sunny with Green Trees, Waterfall & Mossy Rock
This background with a waterfall and a mossy rock is ideal for tropical and aquatic pets will as it closely mimics their natural habitats.
Key features
It comes in many sizes. You have the freedom to pick the one that fits your vivarium dimensions well.
It will last long, i.e., as it is scratch, tear, and water-resistant, thanks to its matt polyester material.
Has a realistic and naturalistic looking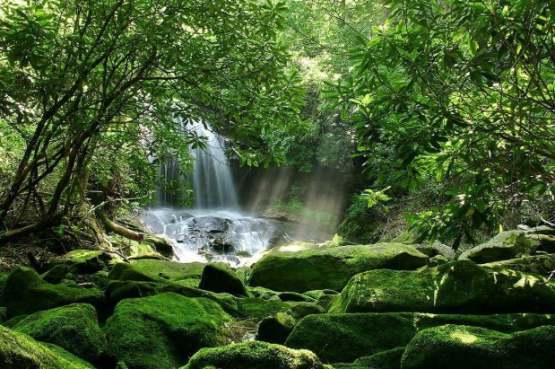 DIY Vivarium or terrarium backgrounds and ideas
If you are DIY savvy, you don't have to spend money on a reptile or amphibian tank backgrounds. Instead, you can make your own. Some of the excellent ideas include:
a). Printable terrarium background or wallpaper
Buy printable one and have it printed on a PVC or smooth, matt polyester with a very smooth surface or a poster board.
b). Plant backgrounds
If you have pets that thrive under high humidity, a real plant terrarium background will work well, mainly if made from safe tall plants or vines.
c). DIY reptile tank backgrounds
We don't intend to go into details or steps. Instead, we are going to list some excellent guides. Look at them and choose what works best for you.
Some excellent guides online include
Josh's Frogs – Has a detailed, step by step guide for a professional-looking vivarium background. They use wood, dry fine ground coconut fiber, net cups, vivarium safe silicon, and Great Stuff Spray Foam (expanding foam).
Instructables – In making theirs, they use foam boards such as styrofoam board, Great stuff, coconut husks, brown spray paint, bark chicks, rocks, or other décors and gorilla glue.
Bigalspets – Has a helpful stepwise guide to making a natural vivarium background using black expanding foam, black aquarium silicon, Reptile Mulch Bedding, cork bark, and driftwood.
Ndherpetoculture – have a good but a little complicated guide ideal for pros.
Finally, always ensure any product you use, including glue, paint, sealants, and so forth, are safe to your pets.