Reptiles and amphibians need a specific temperature and humidity to thrive well. Some such as the green iguanas, chameleons, frogs, basilisk, salamanders, spiny-tailed monitor, mountain horned dragon, and water dragons need moist conditions with high relative humidity.
Others will require moderate humidity such as ball pythons, a king snake, corn snakes, tortoise, toads, crested geckos, and so on.
Finally, reptiles like bearded dragons, uromastyx, leopard geckos, chuckwallas, blue tongue, skinks, or those whose natural habitat is semi-arid thrive in lower humidity.
Humidity control and measurement
There are many ways to regulate humidity that include varying ventilation and temperature within allowed levels depending on the specific reptile or amphibian you have as well as introducing or reducing moisture in their vivarium.
Misters, waterfalls, drip systems, humidifiers, dehumidifiers, foggers, water bowls, spray bottles, live plants, etc., can help you in humidity control.
Besides humidity control, you need an excellent humidity gauge to measure it accurately since these pets tolerate specific humidities and temperature levels.
Features of best reptile hygrometers
There are many brands of hygrometers in the market, and this may present a daunting task to beginners as they may not know which brand will serve them best.
When buying a hygrometer, here are things to consider:
a). Digital or analog?
Digital hygrometers have sensors, including remote sensing probes and a display unit (LCD) on the instrument. They are very accurate, durable, have more features such as memory, ability to measure temperature, etc.
Besides, digital hygrometers are affordable, and you don't have to recalibrate them now and then. However, they are susceptible to technological glitches, need batteries or power source and don't respond as fast as analog ones,
On the other hand, analog ones are antique, appealing, stylish, and don't misfunction due to technological hiccups. However, they are not as exact as digital ones, have no other features, and require recalibration.
Also, these analog devices are expensive to maintain, and you will have to replace them from time to time.
b). Suitability
Different hygrometers have for different uses. There are those for incubators, guitar rooms, baby's rooms, indoor, outdoor, greenhouses, reptile tanks, and so on.
Some brands such as ThermoPro TP65A Indoor Outdoor Thermometer Digital Wireless Hygrometer or Meade Instruments TM005X-M Wireless Indoor/Outdoor are highly rated. However, are they the right ones for your use or not?
Always go for brands that meant for reptile tanks or similar habitats and not others as they will serve you well and longer.
c). Display
Go for brands that come with a more prominent display LCD screen. If you want to buy analog ones, they must be easy to ready too from outside your vivarium.
d). Durability
One of the major complaints that many reptile owners complain about is durability. Most of the humidity meters in the market don't last long. Not serving for extended duration means you have to replace them continually.
Instead, go for a long-lasting brand that will serve you well for a long time. While its initial price may seem high, its overall cost may be lower if you don't have to replace it often.
e). Accuracy and a more extensive range
Go for brands that give precise readings, especially if you have reptiles that thrive well in a small temperature range. Some can post huge error margins, such as 20% RH.
For instance, the optimum temperature for bearded dragons is 35-40%, to be able to maintain proper humidity level get a precise brand.
Besides, some have a lower range, such as one beginning from 25% RH onwards. Such will not be ideal if you need to measure lower humidity.
e). Features
Buying a brand that is both a thermometer and a hygrometer that work independently will save on the cost of purchasing each of these two instruments separately.
Furthermore, it should be easy to use, mount, and set up in your vivarium and have other features such as memory.
f). Portable and great design
It should be portable, light in weight, and feature a great look to make mounting easier as well as storage.
g). Price
It should be within your budget constraints. However, while looking for an affordable brand, do not compromise on some of the vital features such as durability and accuracy.
h). Other factors
ISO and NIST certification – This will work as a guarantee that the brand you are buying is reliable and accurate as independent certified bodies test it.
Battery life – If you go for digital brands that use a battery, ensure their battery is durable. Alternatively, for standard battery sizes, you can buy a long-lasting battery.
Best terrarium hygrometers
It is a fact that digital hygrometers have the edge over analog ones. However, a high-quality analog humidity gauge can be very accurate too.
From our experience, answers we got from most herp experts and vets recommend, as well as by looking at user ratings, below is a review of brands that will not let you down. Now that most will also not need terrarium thermometers (they are dual or combo).
1. Zoo Med Labs Digital Thermometer Humidity Gauge  Combo
If you need a reliable, effective, and highly rated digital combo thermometer and humidity gauge reader from your reptile, amphibian tanks, incubator, or other vivaria, this Zoo Med Labs device, is a must-have.
Key features
It features two independent remote probes for measuring temperature and humidity at different points. Therefore, you can detect these two parameters at varying locations.
The probes are waterproof, making it suitable for water or air use and have mounting suction cups.
Easy to read LCD digital display with both Fahrenheit and Celsius. However, ensure the LCD doesn't get into the water.
Ready to use as it comes with an LR44, 1.5 v battery
Value for money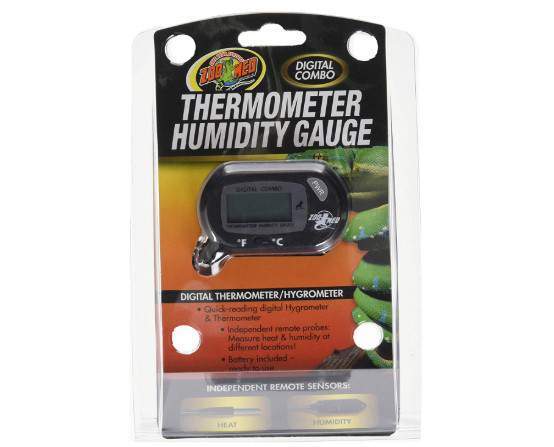 2. The Zilla Terrarium Thermometer-Hygrometer
The Zilla 2 in 1 terrarium digital thermometer and hygrometer can measure a temperature of 3°F to 122°F (-5°C to +50°C) and relative humidity of 30% to 90% with high precision.
Key features
It has two 57 inch long-separate probes, making it suitable for even big reptile tanks as well as with suction cups for easy mounting.
It comes with an inbuilt alarm, clock, and calendar for setting reminders such as when to feed them, check conditions, or give them medication.
It has memory to tract temperature variation within the above range.
Easy to read LCD
A long-lasting LR44, 1.5v battery.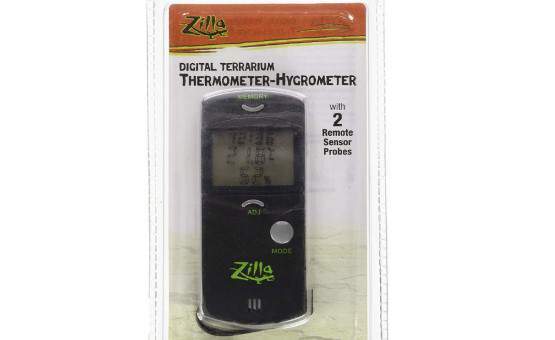 3. Komodo Combined Digital Thermometer and Hygrometer
Closely monitoring your terrariums temperature and humidity requires an investment in top-rated measuring devices. The Komodo Products have a combined digital thermometer and hygrometer that will go beyond your expectations.
Key features
Programable, i.e., it gives you a chance to set the highest and lowest humidity and temperature and once exceeded, it triggers an alarm to notify you.
Features a calendar and alarm to help you set reminders
Comes with to separate remote sensing probes
It provides accurate centigrade and relative humidity measurements.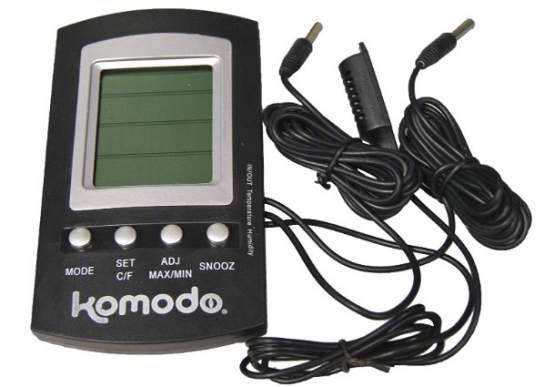 4. ETHMEAS Digital Thermometer and Hygrometer for Reptiles Terrarium
This ETHMEAS digital device is a superb combo device for measuring the indoor and outdoor temperature (with a range of 10-70°C for indoor and -50 C-70 °C and humidity 10% – 99% RH.
Key benefits
It is highly accurate and reliable with a temperature accuracy of ±1 °C and humidity accuracy of ±5% RH.
It features a robust plastic casing for its two sensing probes and study and durable suction cups for mounting the sensors.
It keeps records of the lowest and highest temperature and humidity history or memory.
It comes with large magnets, Retractable tabletop stand, or spring-mounted retractable clips for mounting it.
Has easy to read LCD with both Fahrenheit and centigrade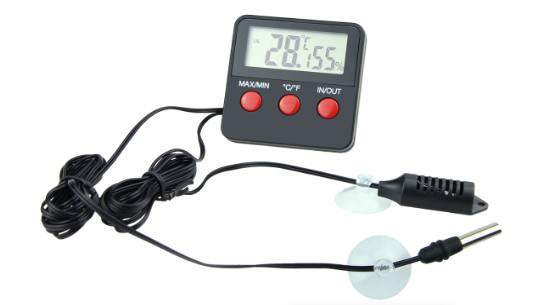 5. Exo Terra Digital Hygrometer with Probe
Unlike most of the devices, which we have reviewed with are 2 in 1 functionality, this is only a digital hygrometer.
Key features
A remote sensing probe with a suction cup for attachment, making it very durable.
East to read via its LCD lens and easy to use as it has only one use button.
It has a minimum and maximum programmable memory
Features a hook and fastener for mounting the equipment or can be fitted this manufacturer's lighting bulb fixtures, i.e., slide it into the Exo Terra linear fluorescent tube or Exo Terra Compact Incandescent Fixture.
Precise measurements
Very affordable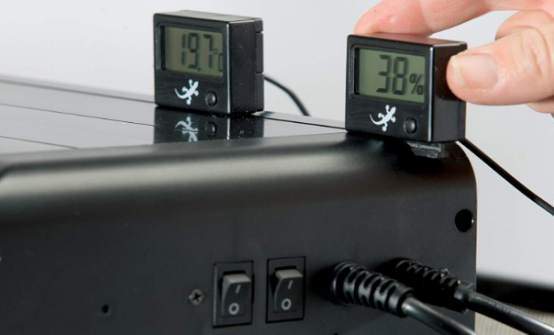 6. Exo Terra Digital Thermometer Hygrometer
The digital combo equipment measures both relative humidity and temperature with two separate probe sensors.
Key benefits
Easy to operate as it features only a single button for running it.
It has a minimum and maximum temperature and humidity memory making it useful for knowing how high or low these two parameters go.
It comes with two remote sensors making it accurate and durable.
Besides installing it with a hook and faster it comes with, you can slide Exo Terra Compact Incandescent Fixture or Exo Terra linear fluorescent Top.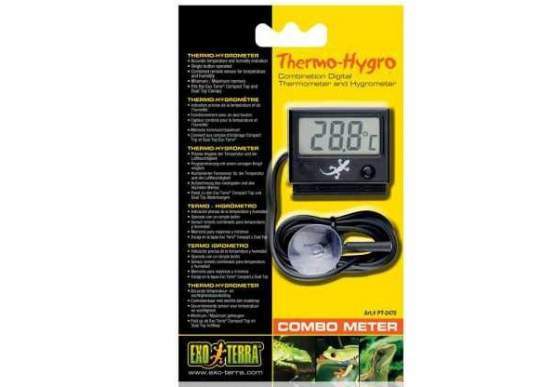 7. Repti Zoo Reptile Terrarium Thermometer Hygrometer Digital Display
If you want to accurately monitor the temperature in your vivaria, brooders, propagators, hatches, and so on, the Repti Zoo is a proper temperature and humidity measuring equipment to buy.
Key features
Great precision with a temperature range of 14℉ to 122℉ and a relative humidity range of 20% to 99% with an accuracy of +/-2℉,+/-5%, respectively.
East to install as it features a suction cup on its back.
Come with an extra battery will give you a battery life of almost a year.
Has a 12 months guarantee
It has a substantial easy to see display LCD lens.
Since it lacks a remote sensing probe, you must mount it inside your vivarium or tank.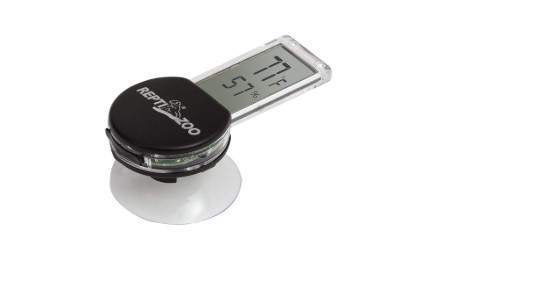 8. Zoo Med Dual Terrarium Analog Thermometer and Humidity Gauge – Economy
If you prefer analog thermometer and hygrometer, this Zoo Med paraphernalia should be your first choice.
Key features
Comes in a single compact unit measuring 6 x 4″, making it space economical.
It Has velcro support for quick relocation or removal in case you need to clean it.
Low priced.
Downside
Numerous complains of its inaccuracy, unreliability and short lifespan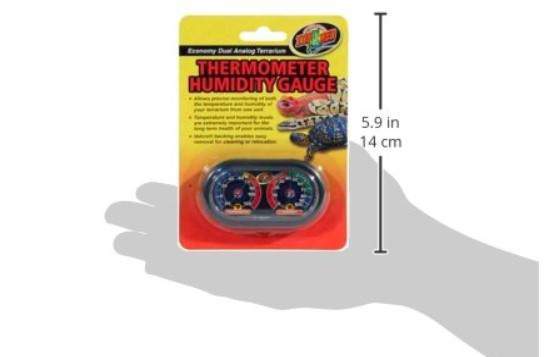 9. Zoo Med Precision Analog
If precision is your main concern, Zoo Med has an alternative of the Zoo Med Precision Analog Thermometer and Humidity Gauge, which is more precise, i.e., made with German precision movement.
Furthermore, it has a broader range of humidity, i.e., has a temperature range of 20° to 120°F (-6° to 49°C) and humidity range of 0 to 100%.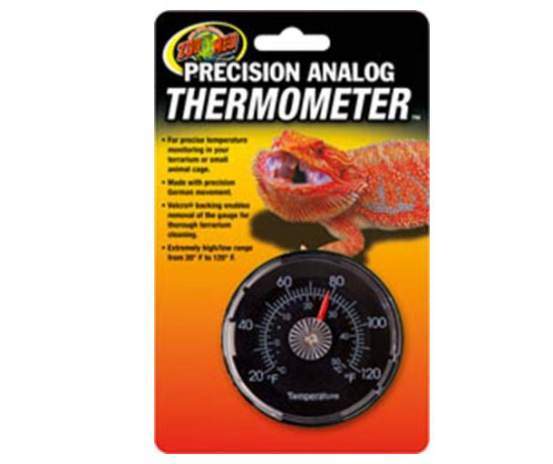 11. SensorPush Wireless
If you are unable to check your terrarium continually, you can go for the wireless SensorPush hygrometer and thermometer that comes with an Android or iOS app and a 325ft range on a light on sight.
Besides being accurate, reliable, having many features, and so on, the sensor is not waterproof, it doesn't last long in a colder environment, and it is costly and not designed for vivarium use.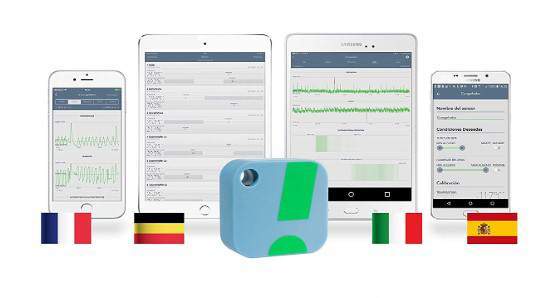 Other great brands
Besides the above reptile tank hygrometer, most of which are combined, you can also buy the following brands.
Fluker's Hygrometer for Reptiles
Thermometer World's Reptology Reptile Hygrometer Humidity and Temperature Sensor Gauges Penn-Plax Reptology Reptile Hygrometer
OTGO
ONLY DEGREE