Birds can be very messy. They require thorough cleaning, disinfection, and deodorization of their cages. Otherwise, no one will want to go near their stinky, dirty enclosures!
When it comes to what to use, you have a choice of going for either homemade or commercial brands we are going to look at in detail.
Vinegar, baking soda, bleach, hydrogen peroxide, hot water, lemon juice, are some of the home products you can use. For instance, there are many tutorials on cleaning a bird's cage with vinegar and other products online.
Finally, although it is not a difficult task, if you are unable to do it yourself, get a bird's cage cleaning service near you and let the professionals do it.
Tips for buying bird cage cleaners
Whether you are buying it to your parrot, budgerigar, cockatiel, cockatoo, domestic canary, lovebird, Loriini or any other type of bird, there are considerations you need to put in mind that include:
Its safety – It must be safe to your birds, other pets, your children, and yourself.
Efficacy – Does it clean the cages with easy? How about deodorizing and disinfecting them?
Cost – How much does it cost and how long will it serve you? Is it worth each penny you will be spending on it?
Let us briefly look at some of the top brands that will not let you down.
1. Poop-Off Bird Poop Remover Sprayer
The Poop-Off Bird Poop Remover Sprayer comes in a 32 oz spray bottle. It instantly dissolves organic bird dirt and tough stains from cages and perches as well as from walls, carpet, upholstery, outside your car, on bird toys, nest boxes, breeders, clothing, and so on.
Why should you buy it?
Easy to use and effective – It is easy to use thanks to its flow control brush. It and will quickly remove droppings, vomit, splattered food from all types of avian diets including nectar bugs, seed, fruits, bug residues, nuts, hand feeding formula, meat, vegetable, greens, grain formulated diets from any painted or washable surfaces.
It is very safe – You can use it while your birds are still in their cages, and it does not have solvents, orange oil or any other toxic substance.
Highly recommended – Many users are satisfied with it; hence, it is the highly-rated from over 400 users who have rated it.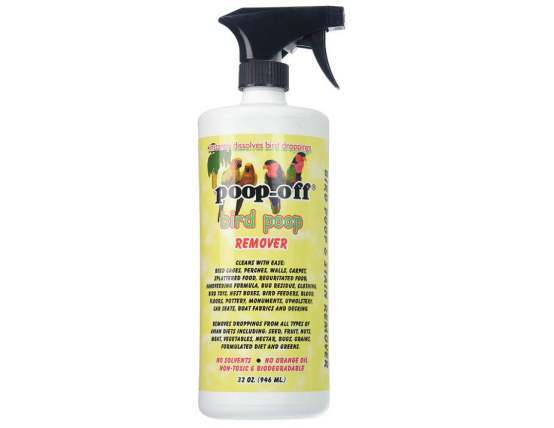 2. Nature's Miracle Bird Cage Cleaner
Made by Nature's Miracle, this cleaner will not only clean your cage but also deodorize it, leaving it with a fresh scent. You can use it on other stained surfaces, including walls, upholstery, carpet, and so on.
To use it, remove bedding, drinking water, toys, pets, and food and spray it on the dirty areas. Wait for up to five means before scrubbing the surface to remove any debris. A rough cloth, brush, or paper towel will work well.
Why is it the right choice?
Great cleaning ability – It removes hardened or sturdily caked poop or food debris easily without much hustle. It will significantly reduce the scrubbing and soaking duration.
Non-irritating effective deodorizer – As an effective deodorizer, it will get rid of the firmly embedded smell without masking these odors or leaving behind a scent that will irritate your pets' respiratory system.
Safe – You can use it while these pets are around. Also, it is cashew free and safe for all bird breeds.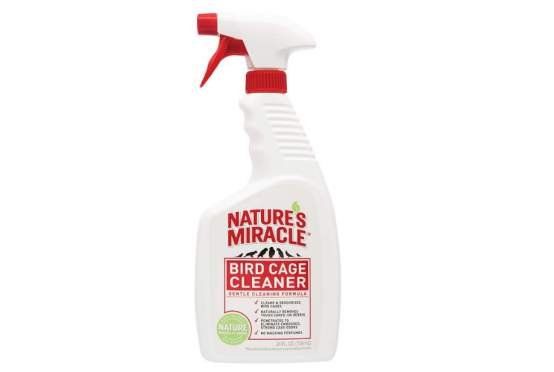 3. Nature's Miracle 30 Count Bird Cage Scrubbing Wipes
If you are looking for wipes, these dot wipes for scrubbing are the best for cleaning and deodorizing your bird cages.
Besides being safe for these pets and giving you value for your money; you need to buy them because:
Great results – They are thick and will effectively remove any debris that has dried on your cage or any other washable surfaces. The dots give these wipes a rough texture to ensure you get an excellent grip to lift-off hardened dirt.
Deodorizing – Besides removing the hardened debris, it will also use its botanical extracts to control even the most embedded odor if used regularly.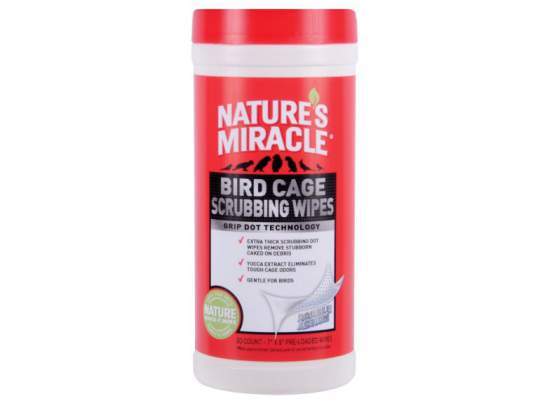 4. Natural Chemistry Healthy Habitat
Healthy Habitat is a must-have if you have birds, ferrets, guinea pigs, reptiles, and other small pet animals. This product gets rid of any soiling and foul smell from food and organic animal wastes from their surface or substrates.
Why is it a must-have?
It is safe – It has biodegradable ingredient free of any pesticides that have pyrethrin. You can use it directly on your pets, especially rodents and reptiles, or their habitat without rinsing or even drying them. Also, it has a balanced pH formulation to minimize any irritations.
Efficacy – It will effectively clean and deodorize cages and habitats, getting rid of any odors while leaving behind a delightful citrus scent.
Kills parasites – It is EPA approved for killing mites on reptiles as well as other external parasites such as ticks and lice.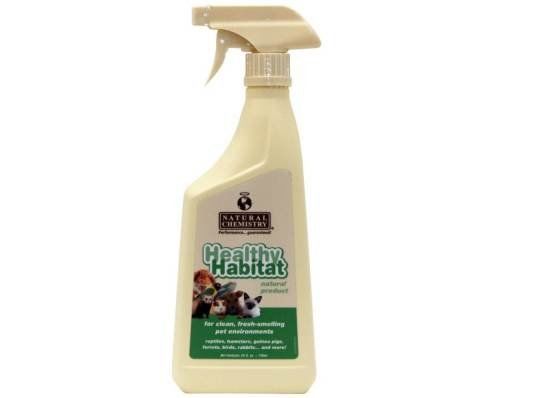 5. Absolutely Clean Amazing Bird Cage Cleaner and Deodorizer
Made by Absolutely Clean, this product is all you need to quickly get rid of any kind messes and the stench from your bird enclosure and habitat.
Practical and easy to use – It has a fast-acting formulation. You need to spray and wipe it down. All the messes, stains or odor will be no more without leaving behind any residue or greasy films.
Safe – It is chemical-free, i.e., it has only all-natural ingredients that breakdown the strong foul odor and firmly embedded debris leaving your enclosures smelling fresh and free from any harmful fumes.
Veterinary approved – Its approved for use in the US for birds of any bird breed and age. Most users are happy with it since it is friendly to their hands, works fast, is safe, and leaves behind a pleasant scent.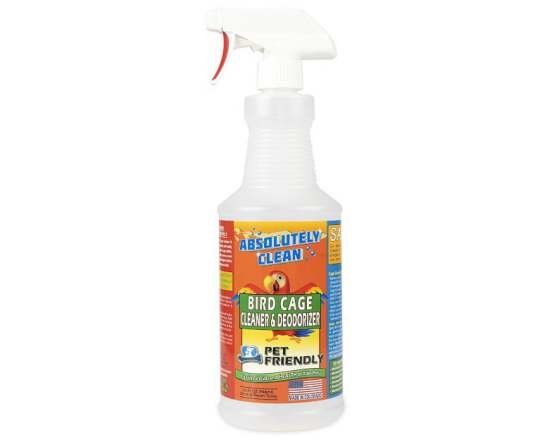 6. Johnson's Clean 'n' Safe Disinfectant Trigger Spray for Cage Birds
The Johnson's Clean 'n' Safe will clean, deodorize and disinfect your cages, killing any virus or bacteria in your bird's habitat. You can use it on their feeding bowls, drinkers, aviaries, enclosures, and any other surface.
Some of the breeds it is best suited for include cockatiel, finches, parrots, canaries, and budgies. However, if you intend to use it on fabrics, polished or plastic surfaces you consider delicate, do a small test to be sure it will not cause any severe reaction.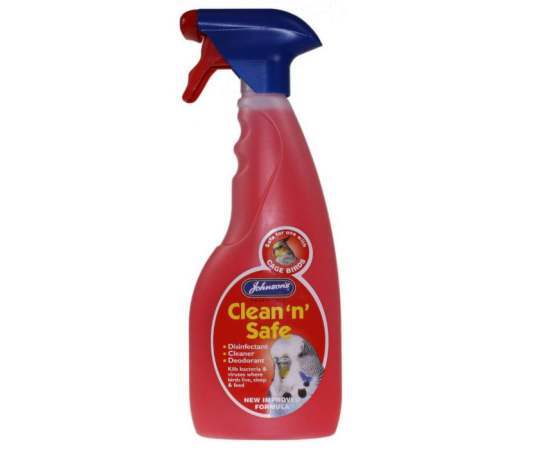 7. Mango Pet Focus, Aviary and Cage Disinfectant – Concentrated
This bird-safe cage cleaner will kill bacteria, i.e., both the gram-positive or negative bacteria. Also, it will prevent cross-contamination from occurring.
Furthermore, it has a blend of safe surfactants that will dissolve old and fresh poop and other organic wastes and get rid of even the strongest odor. You only need to spray and wipe it off. However, for feeding bowls, drinkers, syringes, and so on, rinse them afterward.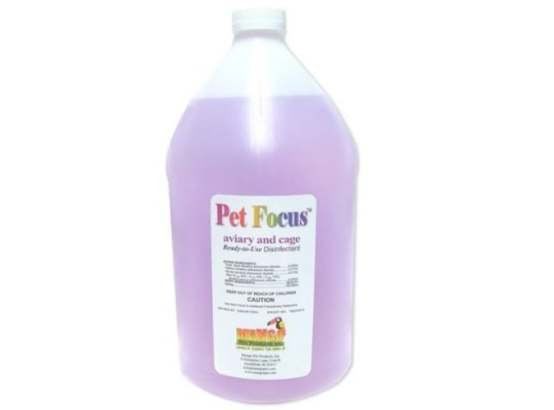 Other great brands
Kaytee Clean Cage Safe Deodorizer
Professional Strength Cleaner, Stain Remover, Deodorizer, Odor Eliminator for Small Animals
Natural Cage Cleaner with Odor Prevention: Cage & Toy Wash for Small Animals & Birds
Aviclean-cage cleaner-CONCENTRATE
Where to buy them
If you need the above brands or other bird's cage cleaning supplies, including brushes, disinfectants, and so on, begin by looking for them at that pet store near you. Most online stores also have them, including Amazon, Walmart, Chewy, PetSmart, and so on.
Conclusion
Whether you opt for DIY bird's cage cleaners or commercial ones, you need to be sure they are safe to your pets, effective and will deodorize and disinfect the various items you are cleaning.