Before we let you know if rabbits can eat Swiss chard or not, let us look a little more into this vegetable.
Swiss chard, chard, or Beta vulgaris subsp. vulgaris is a leafy vegetable in the family Amaranthaceae. Its other common names include silverbeet, beet spinach, leaf beat, seakale beet, or perpetual spinach.
Depending on the cultivar, it may have reddish or green leaves while its large stalks may be white, red, or yellowish. Both leafstalks and leaves are edible. You can sauté or stir-fry it, use it soups, or omelets, eat it in a raw salad, and so on. Boiling it makes it less bitter.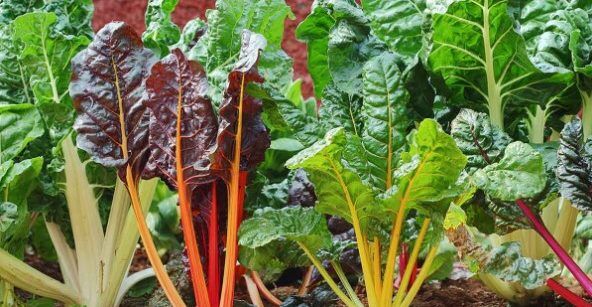 Finally, the common cultivars are rainbow (mixed colors), the red-ribbed varieties like Ruby chard and Rhubarb chard, as well as Lucullus and Fordhook.
Can I give Swiss chard to my bunnies?
Yes, rabbits can eat Swiss chard, including the red, rainbow's, and any other cultivar. However, these pets should eat it in moderations and occasionally.
Chard is an excellent source of vitamin K, vitamin C, vitamin A, magnesium, iron, manganese. Also, it has some riboflavin, vitamin B6, choline, vitamin E, potassium, sodium, phosphorus, calcium, among other nutrients. However, it is high in oxalic acid (oxalates).
It joins other leafy greens like spinach, parsley, mustard greens, beet greens, radish tops, and young sprouts that are high in oxalates.
High oxalates increase the likelihood of your rabbits having calcium uroliths (urinary bladder stones). Furthermore, while in the digestive tract, it may bind with some minerals to reduce their bioavailability, among other effects.
Therefore, when feeding chard to your bunnies, don't mix it with others that are also high in oxalate. Instead, mix it with turnip greens, spring greens, kale, wheatgrass, watercress, raspberry leaves, cilantro, radicchio, Bok Choy, dill leaves, fennel, mint, basil, arugula, carrot tops, among others that are low in oxalic acid.
How much should they eat?
Since it is high in oxalic acid, it may interest you in knowing how much chard to feed your bunnies. This is a genuine concern. However, the answer is simple. Just mix it with other 4-5 leafy greens low in oxalic acid. A cup of this chopped combination is adequate for a rabbit weighing two pounds.
Keep its frequency low, once or twice a week, and avoid it if your bunnies have urinary bladder stone problems.
Also, ensure the source is free of farm chemicals, don't cook it and introduce it gradually as you check if it causes any stomach upsets.
Finally, remember that all fresh plant materials should account for only 10-15%, while hay should be unlimited, and high fiber pellets should be 5% of their daily diet.
Conclusion
Swiss chard is ok and safe if you properly feed it to your furry friends. Excessive amounts may cause diarrhea, just like any other veggies since they are low in fiber.
Finally, excessive amounts fed regularly may predispose your rabbis to calcium uroliths.